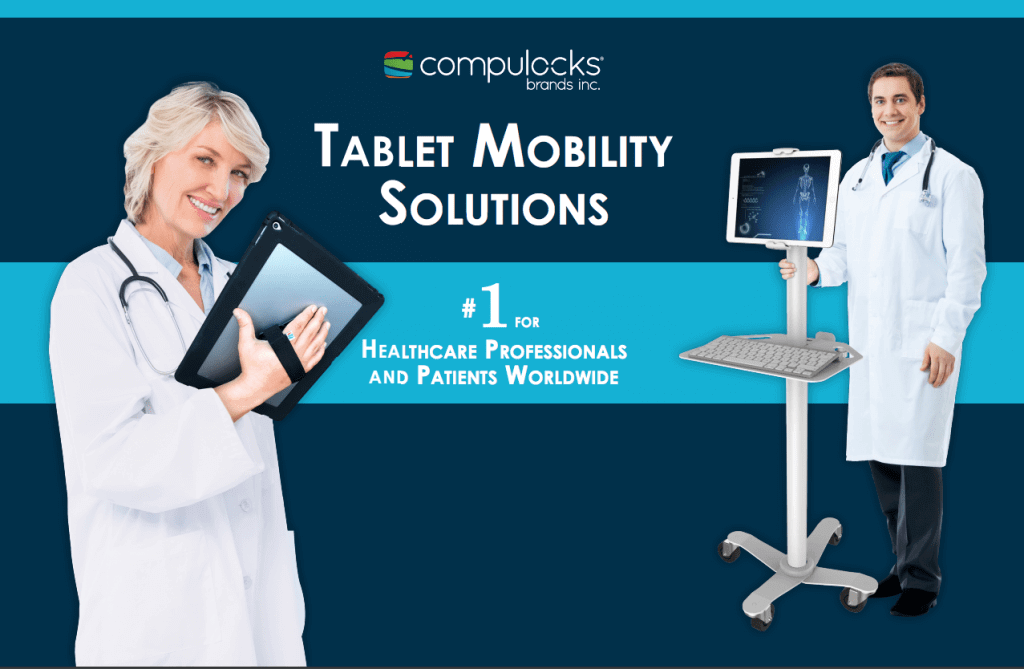 It took some time, but the healthcare industry has now fully evolved and embraced mobile computing technology for all. Tablets are revolutionary, transformative devices for healthcare professionals who constantly need to gather and access information instantly. Creating secure solutions that make the tablet effortlessly mobile without adding weight or compromising any functionality is invaluable to the industry.
A recent study shows that 83% of patients are less anxious and more trusting in healthcare personnel that use tablets to collect information from them, and believe they are more efficient than those that don't.
For innovative mobile tablet solutions, Compulocks is the #1 choice of hospitals, healthcare management facilities and institutions worldwide because all products designed are the most efficiently portable, user friendly solutions on the market. We understand the challenges faced with mobility deployments and have focused on offering the widest range of products for all devices, including all models of Apple iPad, Samsung Galaxy Tab and Microsoft Surface.
Here are some of the top use secure mobile solutions for the healthcare sector:
Articulating Tablet Medical Reach Arm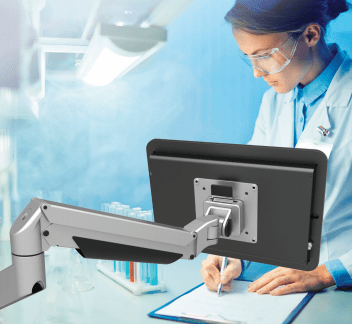 Surely to be found in every medical exam room and by every hospital bed in the near future is the Medical Reach Arm (available March 2017). This wall / counter mount is the perfect solution in a healthcare practice where there is limited space. Patient care or a bedside monitoring system is simplified with this VESA mount tablet enclosure that has 'no screw' tightening clamp and a tethered released head.
Medical Tablet Rolling Kiosk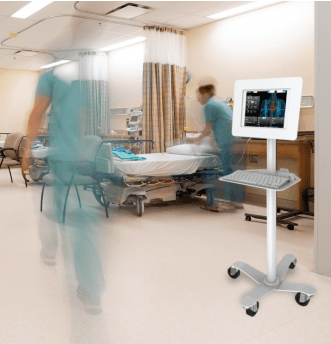 A secure mobile solution for any level of healthcare; height and display adjustment, tablet security and cable management are key features of this Medical Tablet Rolling Kiosk. Take patient care and comfort to the next level. Hospital and clinic medical cart, adheres to safety standards required for a healthcare device.
Features:
• Adjusts to true sitting height and standing height, enhanced by tilting tablet.
• Locking casters keep the wheeled stand in an anchored position
• Smooth powder coated surfaces stand up to commercial cleaning
• Tilt, rotate and swivel the screen to the perfect angle for you or the client
• The work-surface tray provides a convenient platform for a keyboard (optional)
• Cable management and storage area provided for wires and power sources
Hand Grip and Dock Tablet Stand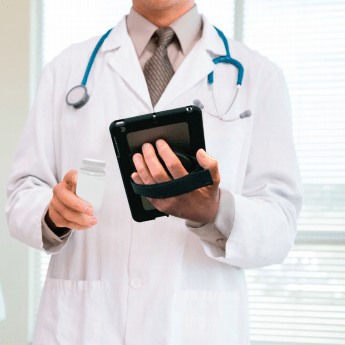 Tablet mobility at its best! A secure "dock and go" docking stand with ergonomic hand grip will make for ease of rounds and patient checkups.  The Medical Grip & Dock Tablet Stand can be bolted down or adhered to the counter ensuring a fully secured anchoring point for this mobile tablet solution.  The ergonomically designed hand grip connects to the tablet with industrial strength adhesive and has an adjustable strap for a comfortable fit. It functions with a 360 degree screen rotation between portrait and landscape orientation modes for full user interaction.
Tablet ChargeBox

The Tablet ChargeBox secure charging locker is a lightweight storage option for up to 10 tablets with an integrated 10-port USB hub. Compatible with tablets up to 11 inches in screen size, the ChargeBox can hold a wide variety of models including iPad, iPad Mini, Galaxy Tab, Nexus, LG, Kindle and more. Lightweight and compact, it allows for total tablet storage wherever you need it. The carrying handles on the sides of the ChargeBox allow for a mobile storage solution and the mounting holes offer secure wall hanging.
Compulocks is focused on providing security and display solutions for all mobile technology devices to strategically support our customers' business requirements.
All of these products and more will be featured at HIMSS 2017 in Orlando #HIMSS2017 (February 19-23, 2017).
Please message [email protected] to learn more.