Summer should be all about sun, fun and unplugging from technology while spending long days at the beach, not shopping around for new hardware solutions. Therefore, we have taken it upon ourselves to create a list of our hottest new products that recently hit the market so you don't have to go looking.
A Tablet POS Stand designed to be the face of your business. Made of high-grade aluminum, it is lightweight yet durable and stylishly modern with clean curves and the "hanging" screen look. Ultra-Secure brackets with tamper proof screws hold the tablet in place to ensure stable usage. With the options to bolt the Nollie to the counter or add a secure swivel base or security cable lock, the Kiosk can be set up on a variety of surfaces or on top of a cash drawer. Taking all aspects of a Tablet POS Kiosk into consideration, the Nollie has connected credit card reader brackets that secure these devices in place. There are specially designed brackets for both lightning and audio jack support compatible with the most popular card swipe peripherals.
HyperSpace Rugged iPad Enclosure
Two high-grade aluminum plates secure a molded rugged iPad support that grips the iPad safely in place providing device damage protection. Ten studs hold all the components in place secured with unique security screws fastened through the device to ensure unwanted prying of the frame.  The rubberized holder comes equipped with 4 Block Panel Inserts, stored within the frame, so the user can control what level of access you want to provide. Each panel can be slotted to cover the volume rocker, on/off button, audio jack or lightning connector. The rear plate has a 100mm x 100mm VESA pattern and a center wiring channel for cable management.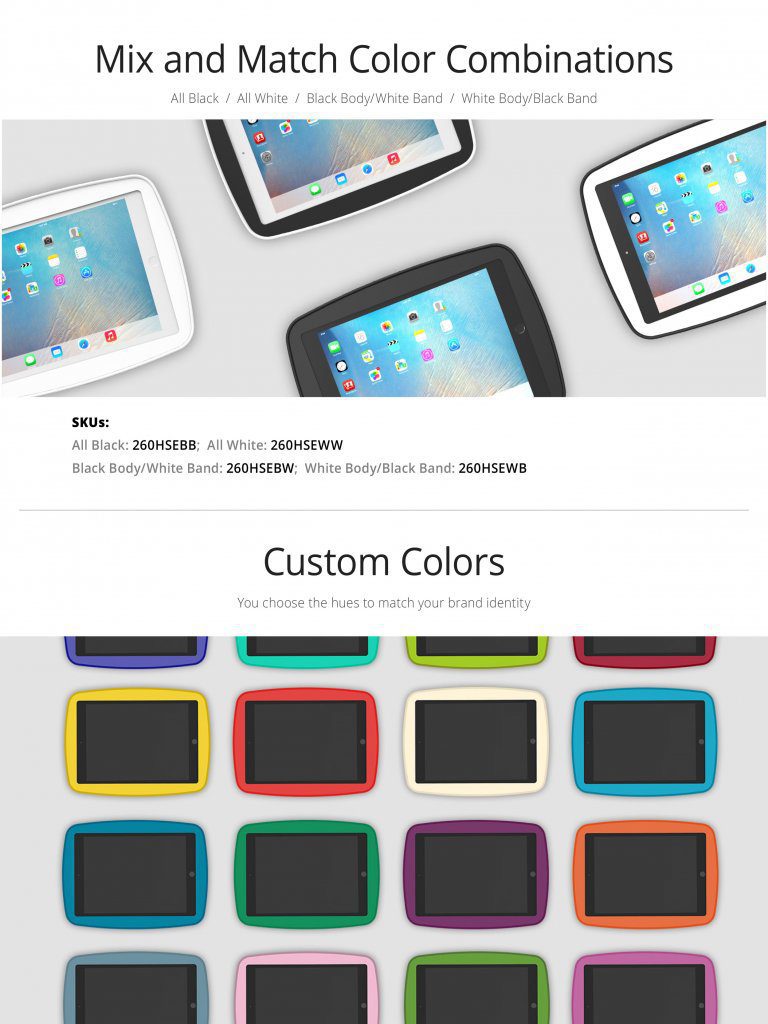 MacBook Pro Touch Bar Ledge Lock
Ledge Lock Slot Adapter for Macbook Pro Touch Bar 13″ and 15″. With a simple turn of a screw your MacBook will have a compatible cable lock slot that will work with our security cable locks. The proprietary design does not require any adhesive or alteration to the body of the MacBook Pro and does not affect any functionality of the MacBook. The slim design of this extremely secure lock slot adapter integrates seamlessly with MacBook's minimalist appeal, and is ultra-lightweight at less than 0.1lb so it adds minimal bulk and allowing for the MacBook to fit in a sleeve or bag.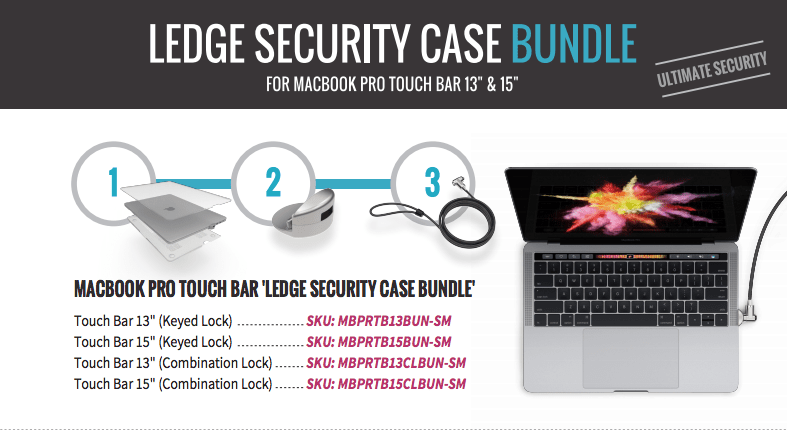 The Surface Studio Mount is a high security lock solution for any installation of the Surface Studio including Design Studios, Art Schools, Museums and Media Companies.  Our Secured Surface Studio Mount provides total protection for the hardware components and peripheral cable security with an optional rotation base so that the screen can easily swing around. Included is a keyed locking head to ensure the Studio is secured in the mount, additionally you can bolt the base plate to the work-surface or connect a cable lock to the Surface Studio Enclosure for increased theft protection.
Features
* Designed exclusively for the Surface Studio
* Low-profile, complementary design
* Protects Against Accidental Knock-overs
* Security Cable Lock Slot
* 360 Degree Swivel Plate (Optional)