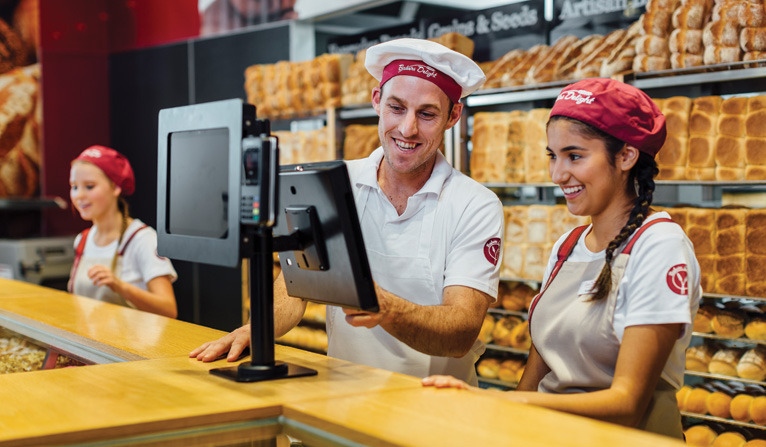 How Every Restaurant Can Effortlessly Improve ROI With Tablet Use
With industries globally turning to digital solutions – whether that be digital marketing or digital payments, the time for a digital revolution is coming for industries across the board.
While the food and restaurant industry has already made some headway with digital upgrades – self-service kiosks, digital payments acceptance and more – there's still some way to go.
Technological Trouble, Overcome
Restaurants are costly enough to run, without the added expense and headache of dealing with technology. For one thing. Training staff to use expensive tablets both require large investments in costs and time – two things that restaurateurs might not have readily to hand. For another thing, you can never be too sure how a customer base will react to changes, no matter how beneficial.

But – ultimately, adding just a few technological upgrades, in the form of tablets, can do wonders for any restaurant, customer experience and ultimately, ROI. Here's why.
Tablets Remove the Worst Part of a Waiter's Job
Although you might think that customers come to a restaurant for the sense of care and dedication of your wait staff, you might want to consider a slightly different perspective.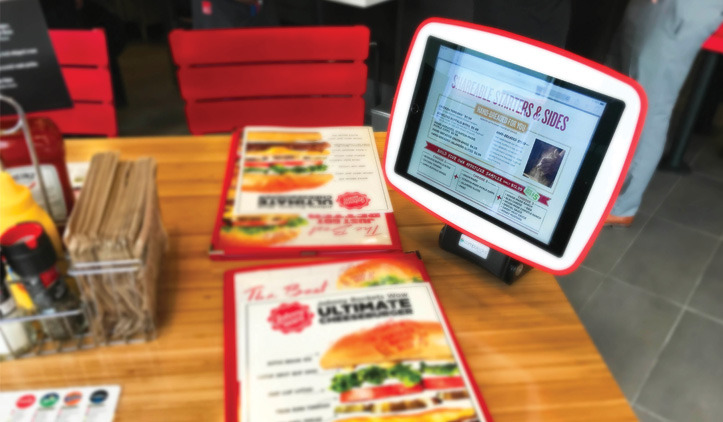 Two of the most common restaurant customer complaints have to do with waiter inefficiency and order errors. Yet, by adding a tablet to each table, customers can easily bypass these issues, ordering from the tablet when they're ready to while also ensuring that their orders are written correctly.

Because, your waiters have a tough job as it is – communicating with the kitchen and ensuring all their customers are happy: by removing and digitizing these two tasks, it will result in happier wait staff, as well as happier customers.

Cost Reduction…and Upsell Opportunities
Although there are some initial costs for buying the tablets, ultimately they will save your budget on continuing to print menus when items are updated or removed, or even for replacing new hires (see above).

Tablets, on the other hand, will instantly update with every change…and even show your customers easy add-ons and upsells. Even better – you can even split-test new menu items or appearances, see which version works better with your audience, and apply the winning test instantly.
Easy, Actionable Data Analysis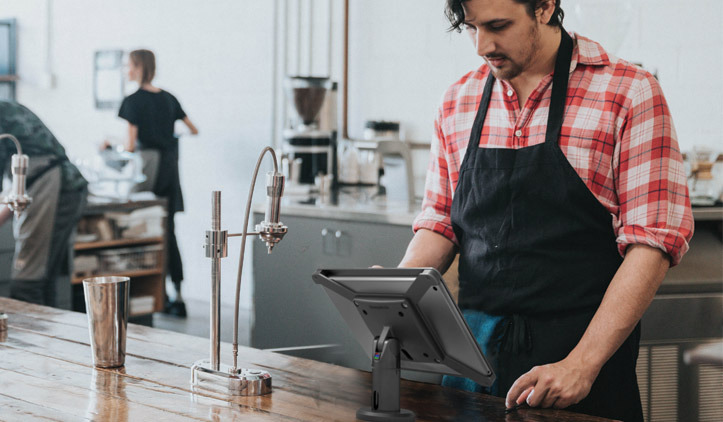 The core of any restaurant business is its customers, and knowing exactly what makes them tick (and what will keep them buying and returning) is the secret sauce holding every business together.

With tablets, restaurants can effortlessly gather user data as customers go about their usual behavior, and later analyze it to understand what's working. By analyzing these customer behavior patterns, it's much easier to know what customers want and provide them with it, thereby making for happy customers, with more ROI for the restaurant.
Tablet Security – Protecting Your Investments
Ultimately, since a restaurant's bottom line can be unpredictable, you want to make sure that any investments you make will be protected. Luckily, with Maclocks' innovative, custom-designed and built tablet security solutions, there are effortless ways to bring tablet technology into a restaurant, without having to worry about any expensive accidents.
Dual-Screen iPad Kiosk
Maclocks' Dual-Screen iPad Kiosk does several jobs in one, and is effortlessly versatile: compatible with most iPad versions (Mini, standard 9.7, 10.2 and 12.9), the kiosk is pole-mounted, with either one or two screens. Each device can be tilted, flipped and swiveled, making it an ideal solution for client communication (dual ordering, games and competitions, serving two customers at once), upsells and collecting customer signatures, or even as a point of sale.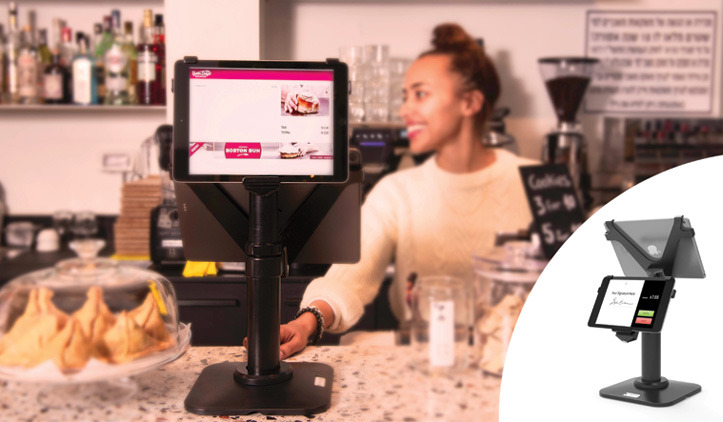 Axis Premium iPad POS Kiosk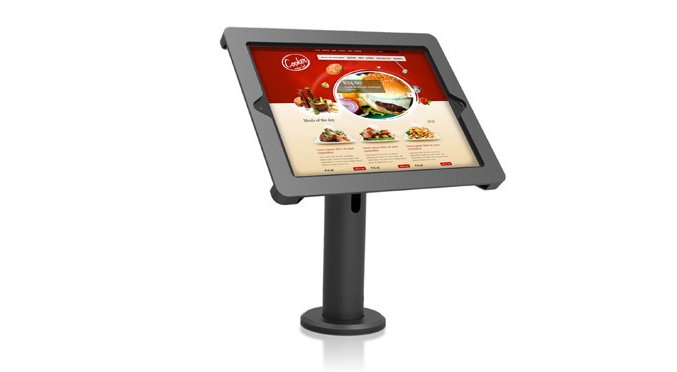 This Axis Premium iPad POS-ready kiosk is the ultimate in minimalist, unobtrusive design: both secure and tamper-proof, it is an ideal solution to display latest menu additions, promotions, specials and other marketing-related information to customers. It's compatible with all 9.7″ iPads from 2011 onwards, as well as 2019's iPad 10.2″ model.
Hand Grip and Dock Tablet Stand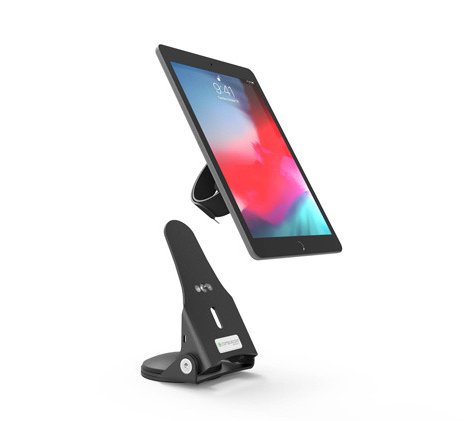 Perhaps the most perfectly suited tablet configuration for the restaurant industry, the Hand Grip and Dock tablet Stand is a chic, effortless and light solution for handheld tableside orders (not to mention completely error-proof).
The ergonomic strap allows wait staff to easily carry the tablet without fear of dropping breakage, while the quick-lock system and universal tablet suitability make it the most versatile but effective piece of hardware for any restaurant – read more about its impact in this TabIt case study.

Nollie iPad POS Kiosk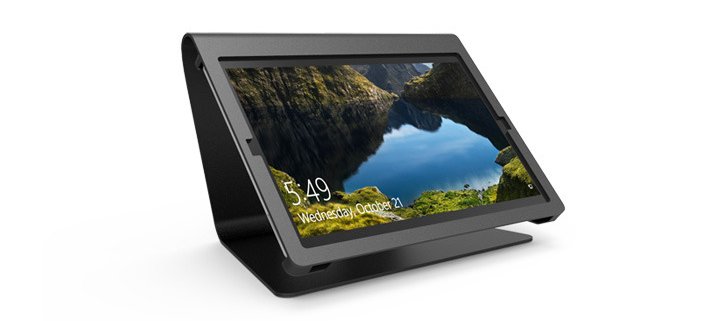 POS-ready through and through, the Nollie iPad POS Kiosk is stylishly designed to be the modern face of your business, while being completely lightweight but durable. It can be bolted to the counter or added to a swivel base for 360 degrees rotation and is ideal for accepting customer payments, as well as customer signatures.
Space BrandMe iPad Enclosure Floor Stand
Allowing you to both advertise your brand while also serving customers, the Space BrandMe iPad Enclosure Floor Stand is perfectly designed for customers to give feedback, place takeaway orders, or provide marketing and upsell opportunities to clients.

Complete with iPad enclosures to allow the display of virtually any iPad model, the stand allows for continuous charging of the device while mounted, as well as a lockable, high-grade aluminum enclosure to prevent any accidents.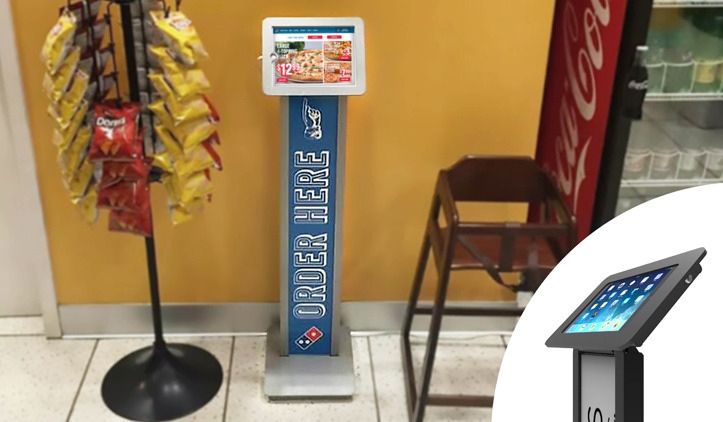 Integrated Tablet Experiences for an Upgraded, Modernized Restaurant Industry
With such seamless tablet integrations, any restaurant wanting to compete in the restaurant industry needs to 'get with the time' – and tablets are a simple, foolproof way to improve any restaurant's credibility.

Having an integrated system will raise employee job satisfaction, customer satisfaction, reports and key insights about your business performance and experience – not to mention cut costs and explode ROI, all at the same time.

Whether it's a customer searching for nutritional information, looking to give feedback or save on mistakes made by a waiter, you can't really afford NOT to have tablet integrations in restaurants.
Become a true competitor in the ever-changing restaurant industry – check out Maclocks' range of restaurant-ready hardware security enclosures now.