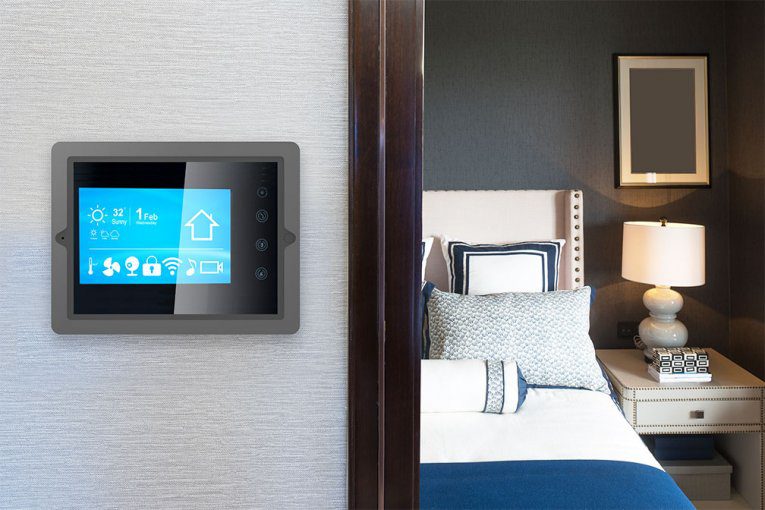 Revolutionizing Hotel Marketing and Customer Loyalty with Tablets
The hospitality industry has always relied heavily on face to face interaction – after all, guests coming to a hotel would want a friendly person to greet and check them in, or a server in a restaurant to recommend specials and answer any questions.
But in the modern landscape, is that really everything that the hospitality industry can offer its patrons?
Just as with other industries, technological innovation has really revolutionized hospitality: from improving and optimizing the customer experience, to providing a sense of community and even slashing running costs.
Here are just a few ways that the latest technology – and Maclocks' innovative products for protection – can help to improve your customers' experience, and at the same time, massively improve your profit margins.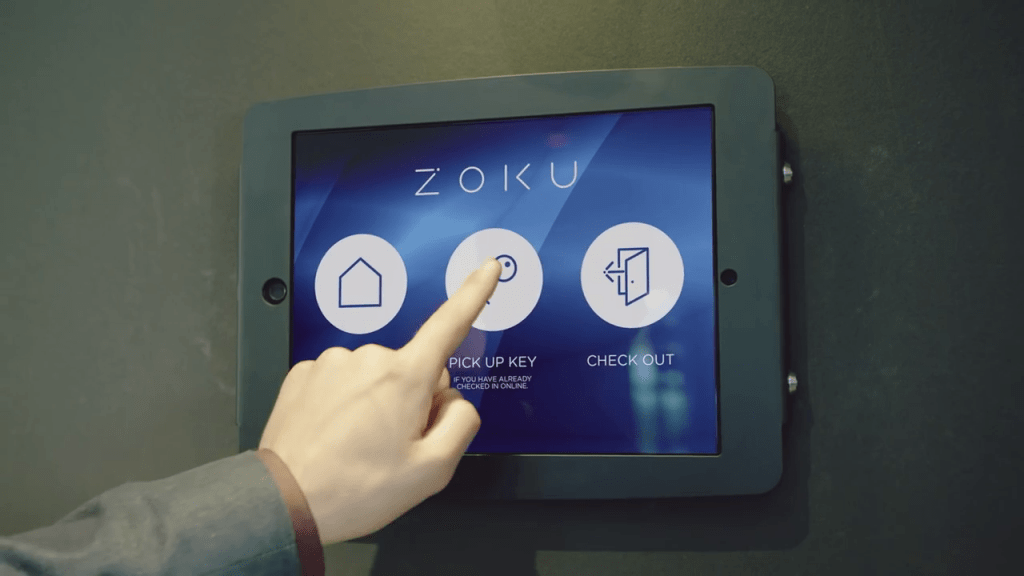 Loyalty-inspiring technological upgrades
The ongoing quest to discover and improve guest loyalty is pretty easily solvable with just a few choice technological upgrades.
Guests are after a few, very straightforward things when it comes to their hospitality experience:
Ease of interaction – whether that's booking, checking-in or ordering something, this is often the first touchpoint a customer has with a hotel, restaurant or other tourist experience. It needs to go quickly and flawlessly – with machine-like efficiency.

Incentives – whether it's a free night, free bike rental or a free side dish, customers absolutely love getting things for no extra cost- and it will make them remember the experience fondly. Technology allows for far lower overheads (once you remove the human cost) and smoother systems (ordering, collating, organization), meaning there's room in the budget to complement extras for guests.

Personalized, dedicated attention – with the rise of millennial travelers, there's a greater need for dedication and personalization. Having a hotel guest choosing their type of preferred pillow, or notifying you beforehand as to certain allergens or personal tastes to their menu can go a long, long way in ensuring each customer is a returning one – without relying on any potential human error that might ruin their experience.
The potential technological upgrades for guest hospitality is such a versatile, dynamic area, that you can't afford NOT to be a part of the revolution: from guest engagement, acquisition, and retention, to guest services, technology can improve every area of the hospitality industry.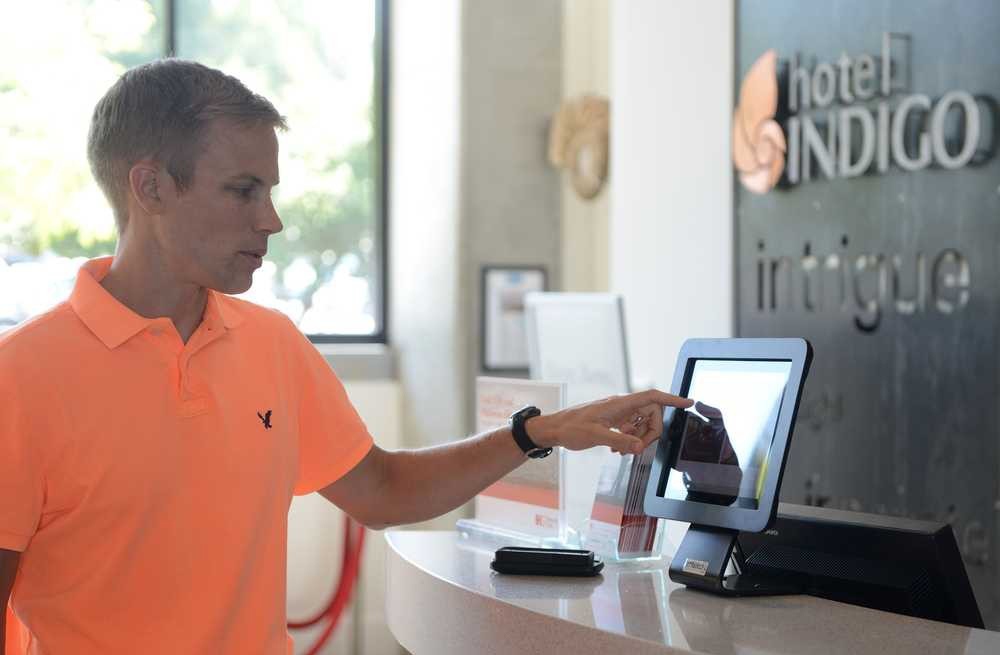 Compulocks' Innovative Hardware Security Solutions for Every Guest interaction
But, when deploying multiple iPad, Android or Surface tablets, you need to prepare for potential extra costs – in case of accidents or breakage.
Luckily, Compulocks' custom-designed and manufactured hardware security enclosures will protect and enhance every guests' technological interactions – meaning you get to breathe easy, knowing there'll be no costly repairs needed any time soon, and the guest gets an enjoyable (and loyalty-inspiring) exciting experience.

Hand Grip and Dock Tablet Stand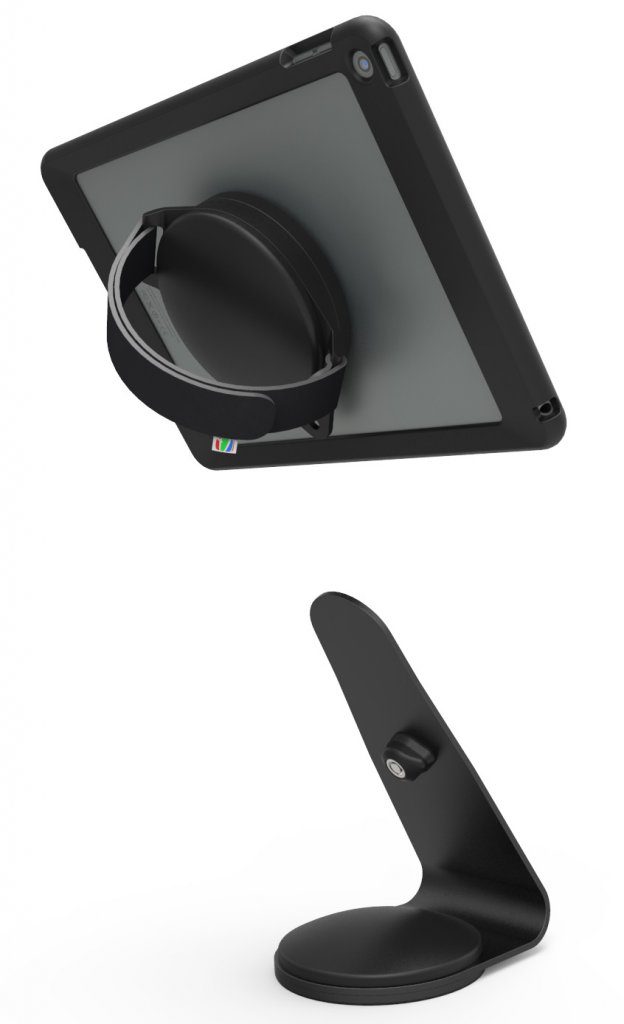 Whether it's for a desk-side check-in experience, feedback or ordering upgrades, Compulocks' Hand Grip and Dock Tablet Stand can be handheld by a staff member, or the guest themselves or docked for extra protection.
It's a highly secure "grab and go" system, with full 360° rotation. It's also compatible with Compulocks' cable locks solutions, for extra peace of mind!
iPad Enclosure Floor Stand
For an entirely modern self-service experience, offering guests the chance for a seamless, quick first interaction, Compulocks' Space Adjustable iPad Enclosure Floor Stand is ideal.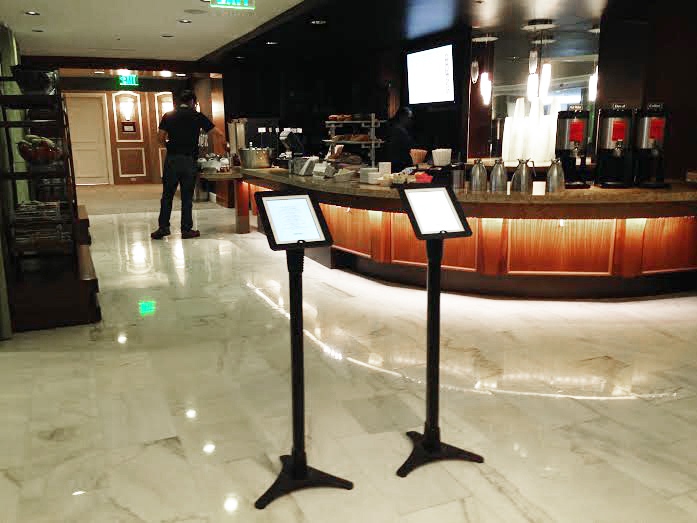 Compatible with a range of iPad models (iPad Mini, iPad Air, iPad and iPad Pro), each iPad model, be it old or newly released, has its own custom-built enclosure, which adapts to the stand, all without compromising on your device's security, or security solution.
The stand has a high-grade aluminum lockable enclosure, so there's no chance of breakage in case accidents happen. It's also height-adjustable to fit any environment, complete with cable management through the stand's pole

iPad Single/Dual Screens for Kiosks
Perhaps the most game-changing device for busier terminals – restaurants and very busy hotel lobbies, Compulocks' Single or Dual Screen iPad POS Kiosk Pole Stand provides your guests with two for one – literally.
With multi-iPad compatibility (iPad Minis; all 9.7 iPads released from 2011; 2019's iPad 10.2; iPad Pro 12. 9 – 2nd/3rd generation), the adjustable pole height makes this an ideal solution for POS systems.
It's flexible, allowing the iPads inserted to tilt, flip and swivel, and to be height-adjusted. The stand also comes with a standard t-bar lock slot for even greater peace of mind for any high-traffic or unsupervised areas.
The Benefits of Kiosks and Stands for Owners, Staff, and Customers: Loyalty and More
Kiosks are becoming even more ubiquitous in the hospitality industry, and for good reason – they're useful, easy and interactive and customers love them.
For business owners, hospitality staff and customers too, a kiosk allows for a much quicker, more private experience.
Kiosks are where your customers are. Customers who have come off a long or difficult flight may be more comfortable with a multi-lingual, highly-customizable non-human experience.

Customers are more likely to opt-in and sign-up to extras with a form of technology they are comfortable with – without having to have any of their personal details overheard by other people in line.

Real-time analytics can help owners and staff alike to further optimize the customer experience – maybe a check-in process is taking too long, or you've noticed that one particular offer is selling really well, and choose to promote it further.

Reinforcing loyalty: repeat customers want to be recognized and rewarded, and technology can do that far faster than a human staff member. Offering loyalty rewards and upgrades to relevant customers – and privately, during their kiosk experience – makes for happier customers…while also notifying other customers that they "could have" earned X amount of points if they had done X, Y or Z.

Kiosks reduce the costs of human error – whether that's a customer missing a flight due to a long check-out line or a mistaken food order, kiosks are efficient, accurate and foolproof.
The hospitality industry is undergoing a complex technological revolution, allowing infinite connections with the company's customer's behavioral data. Not only do kiosks easily allow for upsell opportunities and top customer service, but your customers will enjoy (and be grateful) for the smooth interaction – and keep coming back for more!