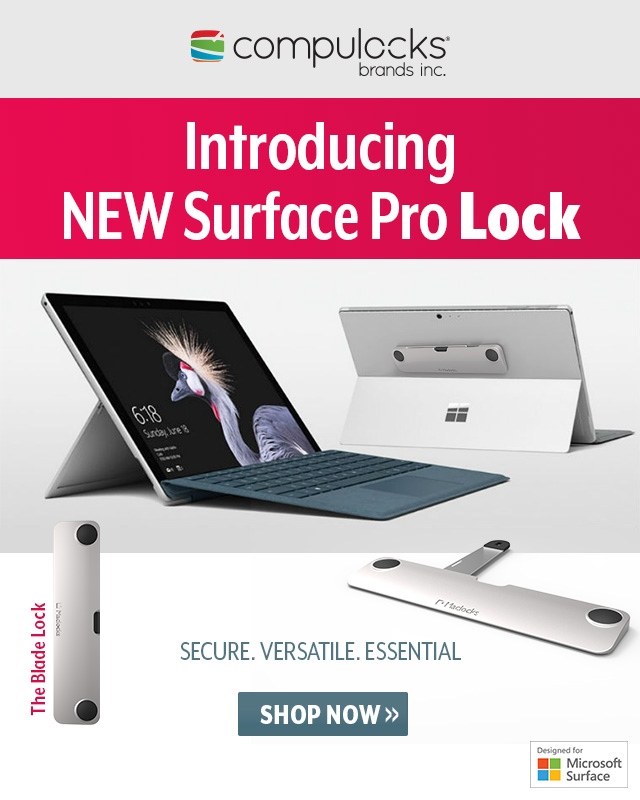 The Blade Lock is the ultimate security solution for the New Surface Pro.
With a motto of "No Slot – No Sweat" the industrial adhesive bracket attaches to the New Surface Pro and incorporates a lock slot to the tip of the retractable blade. It's minimalist style essentially hides it from plain site and is designed to complement the New Surface Pro ergonomically comfortable and improves airflow and ventilation to help maintain optimal device operating temperature.
The Surface Pro's major strengths are in its sleek modern design and flexibility, so its only fitting that The Surface Blade Lock have similar attributes. You can either attach the Blade to the screen or keyboard of the Surface and each one has its own unique advantages. Connect to the screen and you have an ergonomic hand grip for use as a tablet or adhere it to the keyboard for an improved, more comfortable, typing experience.
The Blade Universal Lock gives you options – the option to choose your device, the option to choose your lock, the option to lock it when and how you want.
Seemingly simple the Blade Universal Lock is extremely tough and durable with the ability to hold up to 150lbs of force!
Blade Specs:
Length – 7in (17.4cm)
Width – 1.6in (4.1cm)
Thickness – 0.31in (8mm)
Blade Length – 3.14in (8cm)