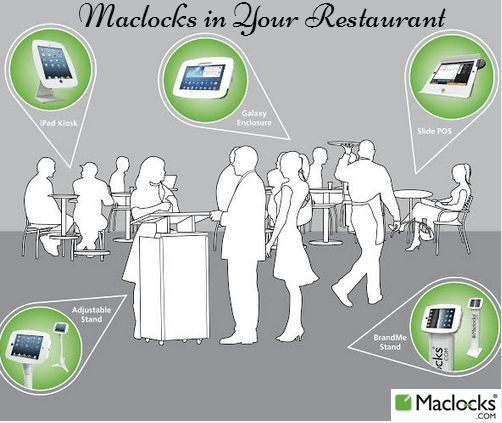 5 Ways Customers Can Use Tablet Based Solutions in Your Restaurant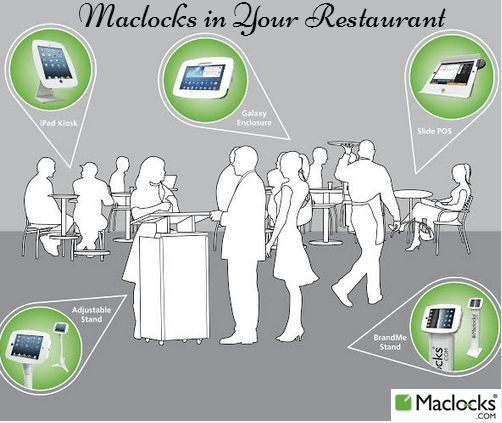 Some industries have jumped right into the technological boom, while others are a bit more hesitant. Even though restaurants might have been part of the latter group, these days technology, particularly tablet based solutions, are definitely a part of the entire dining experience at almost every food establishment. The question remains – what are the best ways for customers to use tablets in a culinary setting?
Welcome Host – Tablets are pioneering restaurant front-end management by bringing interactive mobile technology to the welcoming post. The tablet affects the customer at the entrance, even before the start of the dining experience. It can be used to manage wait times. The tablet will automatically notify the customer by sending a message to the patron when their reservation is ready as opposed to standing around waiting, which can often lose guests if the wait is a lengthy. For this we recommend the Adjustable Stand.
Digital Menu – Tablets are a modern and interactive way for customers to check out the nutritional information and see appealing visuals, to specify any dietary restrictions, as well as receive personalized recommendations based on their order. They can also display far more information than typical paper menus, and are much easier to update and keep in sync. Digital menus offer an easy way to keep customers aware of new menu items and daily specials. Technology is now on the menu! For this we recommend the iPad Kiosk.
Entertainment – It is important for customers to have completely enjoyable dining experiences, and part of that involves the entertainment possibilities. Tablets are perfect for encouraging customers to share on social media where they are, play exciting games, interact with other patrons over a trivia game, or stream entertaining videos. When customers are having a good time, they are more likely to hang around for a longer period and make more purchases, which will boost sales and create a crowd. It will also turn regular customers into returning customers who will recommend the establishment to others. For this we recommend the Space Galaxy.
POS – Customers can pay their bills with tablets, and then have the option to email a digital version of the receipt to themselves. The tablet might even encourage customers to leave a bigger tip with a tip suggestion feature. Tablets can take out the challenging part of splitting the check or calculating the tip amount with a tip calculator, and the customers are likely to pay what is suggested to them. For this we recommend the Slide Pro iPad POS.
Customer Feedback – A great time to get customer feedback is before they leave the restaurant, while the details of the experience are fresh. With tablets on the tables, guests can provide that instant feedback. The tablet can also be integrated with various social media outlets, allowing the customer to publish their feedback on their social pages, or even on the company page. Customers are more likely to provide information and connect socially if it is on their own terms, and even more so if it is tied to a discount or contest. For this we recommend the BrandMe Stand.
Tablets are a practical solution that can easily be implemented in the restaurant business. They are a driving force in keeping customers happy, whether it is at a fast food joint, neighborhood hotspot, or chain restaurant. However you decide to use a tablet at your establishment, be sure to display it & lock it with Maclocks.