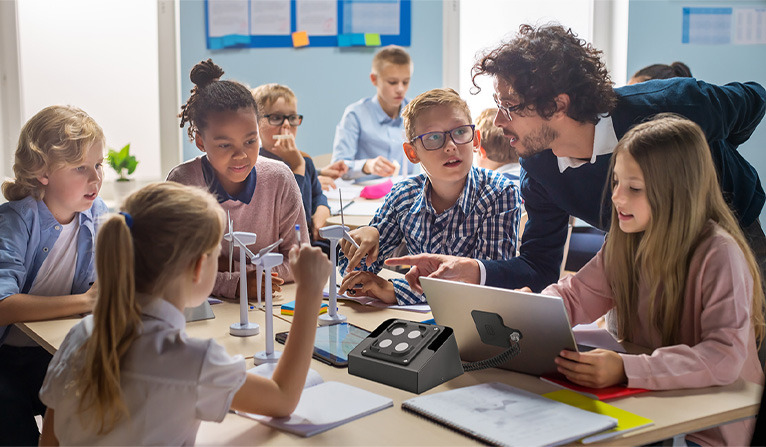 Make Back-To-School Secure and Easy Going (No Matter Where You're Learning From)
Premium Security and Display Solutions For Schools, Colleges, and Universities
In just a few weeks time, schools, colleges and universities will be welcoming students back, in a very different way to how they would have done only this time last year.
Although no one can be certain (anywhere in the world) exactly how that's going to look, and more importantly, whether learning will take place in the classroom, remotely, or a combination of both, one thing's for certain: learning and student interaction will never be the same again.
It also means that technology and hardware will play an even more important role when it comes to student learning, and that now is the time to get prepared for the new 'normal'.

Here at Compulocks, we're working night and day to ensure every school, class and student can effectively learn, safely and comfortably, wherever they may be doing so from.

Compulocks' Innovative Back to School Solutions
Whatever your stage of learning, however, you may end up attending classes, Compulocks has a range of cutting-edge and specially-designed technological solutions for your every need.

Schools and Universities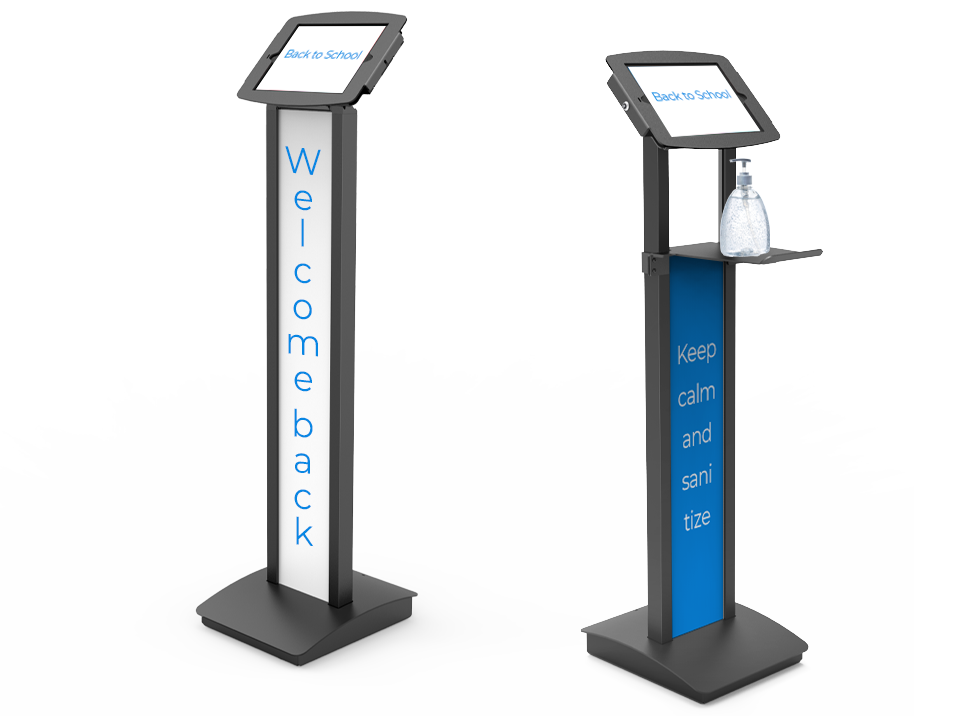 Whether you are planning to perform a digital attendance check or give messages and updates to students (and beyond), the BrandMe Floor Stand is a perfect solution.
The BrandMe stand is a secured floor stand for iPads and tablets that enables a full-tilt for adjusting the viewing angle. It allows you to add a tray for alco-gel and wipes and can be easily branded with the school's name and logo, or any other message.




Inside the classroom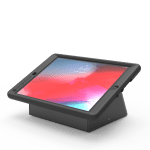 When teaching in front of the class, or sharing a live online lesson, you need to have the right equipment to ensure a smooth and easy digital interaction with your students. Compulocks' interactive solutions for classrooms can be adapted for your particular learning setup:

The Audio-Video Capsule is a secured tabletop or wall mount for iPads and tablets with a hidden section for cable storage. The AV Capsule mount offers a 30-degree viewing angle and can be secured to a table or a wall. With a cable management area for continuous charging and a built-in lock slot, the AV Capsule is an excellent aid for e-learning, to hold digital and remote lessons.

If you have or are planning to have an Apple TV in the classroom, you will want to use a dedicated mount to ensure the Apple TV is secure in its place. Compulocks' Apple TV Mount and lock allow you to fix the security bracket to any flat surface (wall, desk, etc.) while allowing easy access to all buttons and ports.

Learning from home
Whether your students have been learning from home for some time, are already used to it, or this is a completely new learning environment for them, one thing's for sure – they'll need some new equipment.
That also goes for college or university students, especially those in close quarters with other students, who will also need to find practical solutions while not compromising their learning, but which will be appropriate and safe for studying.
Compulocks' experience in developing quality security solutions means every student can keep their iPads, tablets, and other devices no matter the brand or type, secure and protected at all times, wherever and whenever.
Whether you are using an iPad, tablet, MacBook, or laptop, Compulocks have a range of Locks to suit any brand and model, providing you with an elegant and easy to use locks, of which there is a full range for every type of device to be secured with.


Important Considerations for a Distance-Learning Back to School Season
Although there are a hundred other things to keep in mind, not least your health, planning ahead and getting through the pandemic, when it comes to preparing for a back-to-school season that will likely consist mostly of distance learning, there are several other considerations you need to think about.

Securing your hardware
The above-recommended products from Compulocks' are custom-designed and manufactured to protect every and any brand what type of device. This is incredibly important, even if you aren't physically in contact with people beyond your immediate family. From secure lock slots, to tablets enclosures and beyond, it goes without saying that your devices need to be secure in case of accidents, drops, or otherwise – whether you're in the classroom or at home.
If you do end up in a classroom with all the students, this is doubly so, with most security enclosures also able to protect against theft.

Keeping your device clean and protected
Although this advice is not exclusive to a pandemic, being able to regulate disinfect your device, whether you're in the classroom or outside, is a basic security precaution. Even more so nowadays, but you also need to keep in mind that doing this can potentially harm your device. You need to make sure that, when disinfecting your device and any enclosures, you are careful to hold the device correctly, and not use any potentially corrosive materials.


Keeping Yourself and Your Hardware Safe and Secure This Back-To-School Season
However the situation might end up (or even change along the way, and even at the very last minute!) being prepared for every eventuality when going back to school, whether that's in the classroom or outside of the classroom, will be one less thing to worry about.
Being prepared in advance for every possible outcome will also mean you can easily get back to what's most important: learning, rather than running around trying to find the necessary equipment.
Compulocks has everything you need for the back-to-school season, wherever it may end up taking you, however many times it may change, whatever complicated arrangements it may be.
Stay safe and secure this back-to-school season with Compulocks.