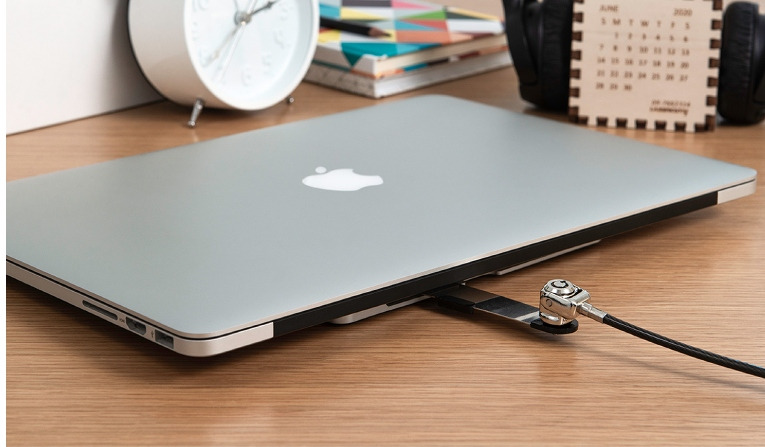 The Best MacBook Locks for 2020
Nowadays, it's not enough just to secure your online data: the first line of cyber defense is – and always has been – your device itself.
Think about it: it's far easier to hack into your passwords and other sensitive cloud-based information when you have the actual device in front of you.
As such, it pays dividends to invest in a secure hardware solution or laptop lock – at the very least, for peace of mind; at most, to keep your device secure.
What is a Laptop Lock?
A laptop lock or cable lock is pretty much as it sounds – it's an external lock that is adapted to fit your specific device.
They look similar to a bike lock, with a small wedge that clamps around your device, to which you insert a cable, securing the device. These are attached to a cable that wraps around any object you want it to – although it's best to wrap it around something fixed or that is very difficult to move.
The lock part of the laptop lock comes with a number combination style, or a key and lock style. There are several different options to choose from.
Maclocks has a wide range of laptop locks, custom-designed and built for every type of laptop – here are 5 of our top picks to keep your MacBook secure and out of harm's way!
1. The Ledge – MacBook 16" Lock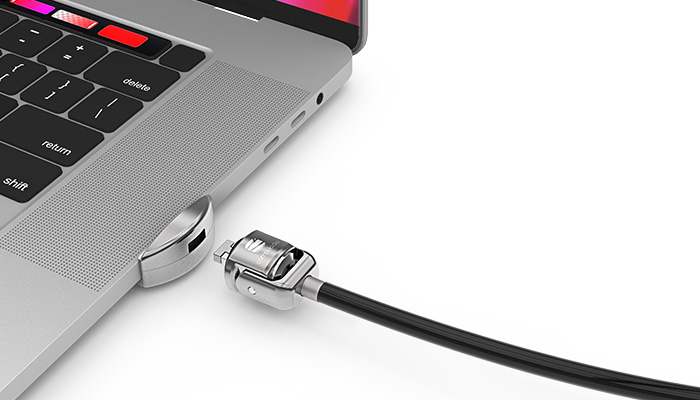 The Ledge MacBook lock, which was exclusively designed and built for MacBook 16" device, has it all: it's sleek, it's secure and it's easy to assemble.
Complete with a standard T-bar lock, you can choose if you'd like a combination lock or a keyed lock to keep your device secure.
It's slim, it's lightweight (weighing less than 0.1lb), and it attaches seamlessly to your device, while also allowing your MacBook to easily fit into a sleeve or bag.
If you're looking for a Ledge-like hardware security solution, but have a MacBook model other than the 16", then we recommend the…
2. Universal Ledge Security Adapter for MacBook Pro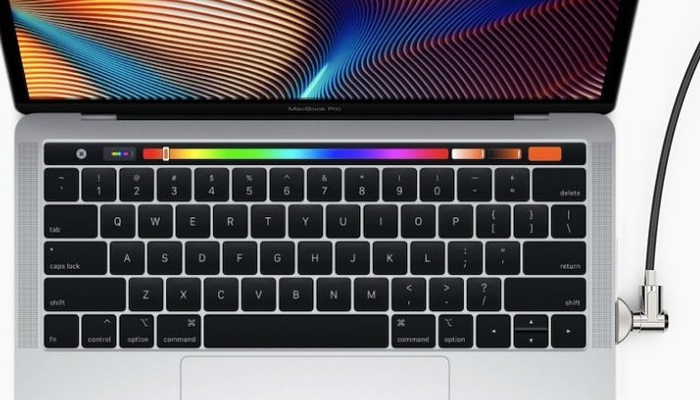 The Universal Ledge MacBook Pro Security Lock gives you best-selling hardware security protection and is compatible with MacBook Pros 13" and 15" models.
Custom-designed and the first-ever dedicated security lock for MacBook Pros, it's the world's smallest, most revolutionary security solution for MacBooks. In fact, it's suitable for both MacBook Pro touch bar and non-touch bar models!
It's slim, it's super-lightweight (weighing in at just 0.1lb) and doesn't require any alterations or additions to your MacBook device.
3. The Blade – Universal Lock Slot Adapter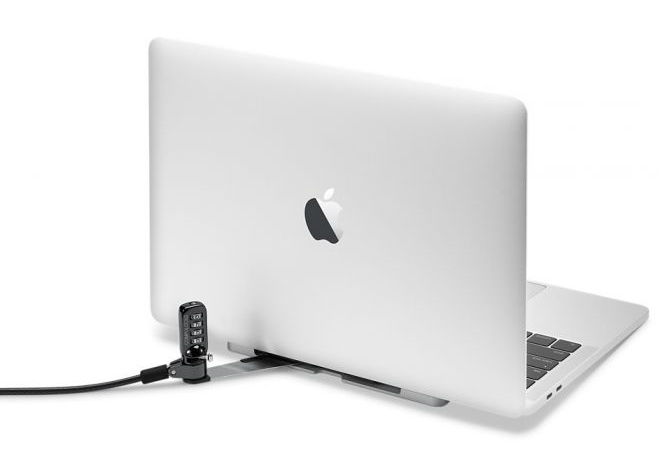 If you're looking for a hardware security solution that adapts to a few different sized devices, or for different brands with different specifications, the Blade Universal Lock Slot Adapter is the one for you.
Chop and change it to any notebook, tablet or laptop – it's adaptable and highly durable, holding up to 100lb of force. Choose from either silver or black for your blade's color, and attach it via an industrial adhesive (included) for a minimalist, almost hidden- but secure solution.

4. MacBook Pro Retina Lock and Protective Case Bundle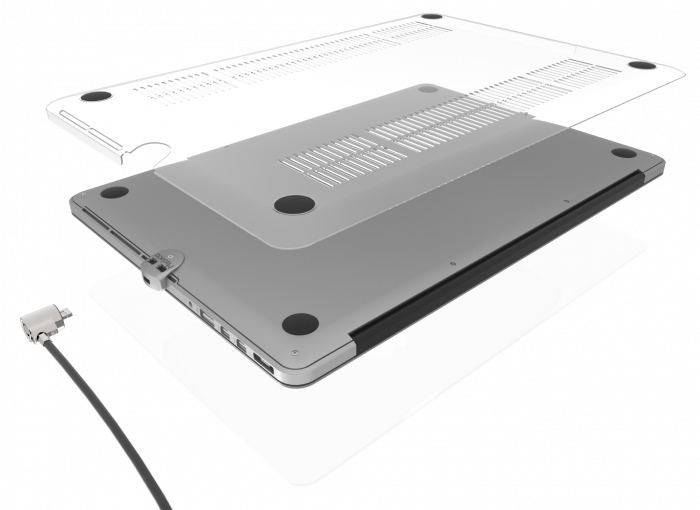 The smallest MacBook lock on our list, the MacBook Pro Retina Lock and Protective Case Bundle gives you two types of security: a proprietary, custom-designed for MacBook security cable lock adapter and hardshell external case, for extra theft or fall protection.
As with our other models, the Ledge Lock Slot Adapter is a discreet, custom-designed security addition to your MacBook device. Lightweight, practically unnoticeable but entirely secure, it's a must for any MacBook Air or Pro (excluding 2016/17 MacBook Pros and MacBook Pro Touch Bar models).
The bundled hardshell case is designed to easily accommodate the Ledge lock slot, as well as safely contain your MacBook device from accidental falls or theft.
5. Universal Cable Lock

For every brand and model of laptop, tablet or notebook, Maclocks' Universal Security Combination Cable Lock is what you'll need. As a universal solution, it offers secure hardware protection with adaptability: it comprises of a 4-dial combination lock with a T-bar lock head design, and a 6ft galvanized steel cable.
With a looped end, you can tether it anywhere, and it's compatible with all standard lock slots. It's a truly versatile, flexible solution, that goes beyond MacBook models: it can be used to secure monitors, printers, scanners and any other hardware you might want to secure.
Buying a Mac Cable Lock: Quick Tips
Although it's a pretty straightforward (and clever!) purchase, if you're buying a Mac cable lock, you need to take several things into consideration when choosing the correct one for you:
Attachment method
MacBook models all differ from one another, and so the attachment method you might see on one of Maclocks' custom-designed cable locking solutions might be the right fit for another MacBook model. It's always a good idea to check whether the cable lock slot adaptor you're interested in fits with your MacBook model.

Strength of cable
Perhaps obvious advice, but the lock's cable should be cut-resistant and long enough that you can anchor your lock and device to something secure. All of Maclocks' coiled galvanized steel cable locks are tangle-free and have their own attachment solutions.

Type of lock
Whether you're great with numbers or easily misplace your keys, it really matters when it comes to choosing the right cable lock for your Macbook: a combination lock is an easy way to keep your device secure, without the need for any extra attachments, but if you're quick to forget information, a keyed lock might be a better choice for you.

Bottom Line on the Best Macbook Locks
As the saying goes, "Always better late than never", and this is incredibly true for Macbooks: it's always better to be prepared against theft, breakages or otherwise and a MacBook lock is a small investment to make. After all, it will always cost more to replace a MacBook, than to secure it in the first place.

For even more innovative hardware security solutions, check out Maclock's range of products.