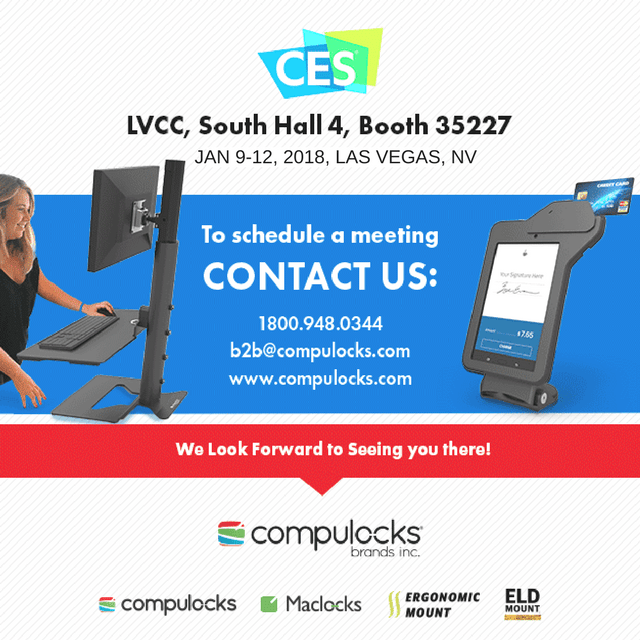 Starting off 2018 with a Bang at CES!
CES is THE largest trade show in North America and each year attendance for the show grows in popularity. Every industry that is touched by consumer technology will have a core group of industry leaders introducing something amazing and groundbreaking at CES. For the last 50 years it has served as the global stage where next-generation innovations are introduced.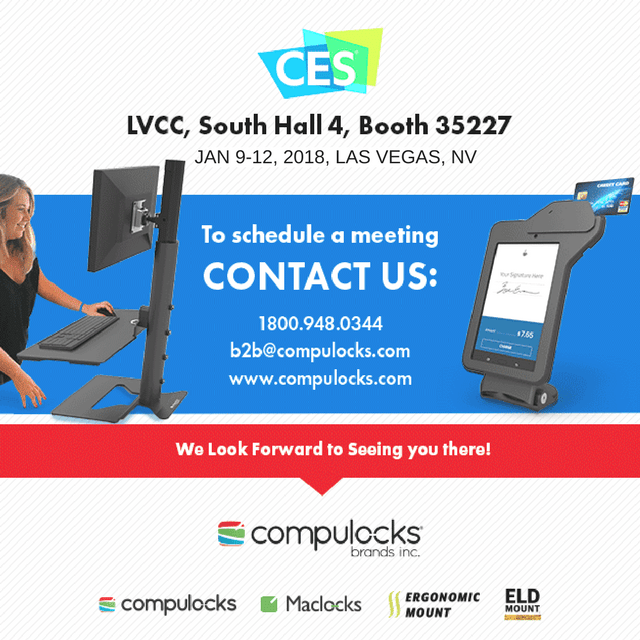 Compulocks is taking the opportunity to be at CES and proudly show off all that we have developed in the last year – including mPOS/POS, ELD vehicle mounting, Ergonomic mounting solutions, and Integrated Mobile Power Solutions with our tablet enclosures.
ELD Flex– Ruggedized Tablet and Smartphone protection with industrial strength cases and secure mounting options for any vehicle.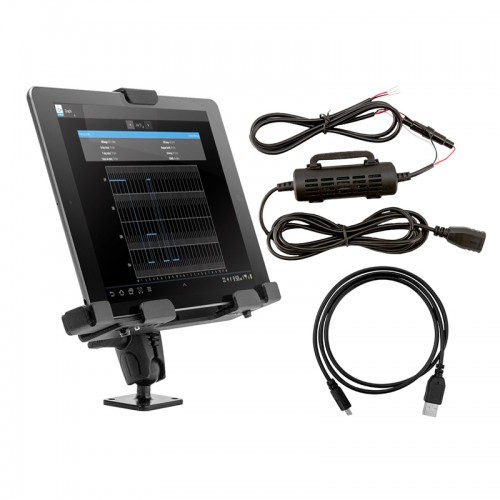 This locking tablet mount bundle is ideal for commercial and enterprise applications where tablet security is essential, and includes everything needed to set up a tablet in a fleet vehicle or point-of-sale environment: a locking, adjustable tablet drill base mount with security hardware, a 6-foot fixed install USB vehicle power adapter (for hardwiring in vehicles), and 3-foot USB to Micro USB cable. The 4-Hole AMPS mount base can be screwed or drilled into any flat surface (screws not included). The adjustable tablet holder is made of aluminum and features a key lock (keys included) that keeps tablets measuring up to 10 1/4" x 8 5/8" x 7/8" securely in place.
HyperSwipe Enclosure – The HyperPOS is a Galaxy Tab E 8.0 enclosure with a built in MagTek uDynamo dock with handheld capabilities. Two high-grade aluminum plates secure a rugged holder that grips the Tab E safely in place providing device damage protection. Studs hold all the components in place secured with unique security screws fastened through the device to ensure unwanted prying of the frame. The ruggedized enclosure can be paired with a hand strap or used with our ergonomic Grip & Dock solution.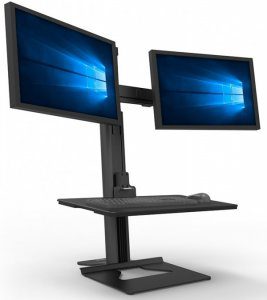 Sit Stand Workstation – Transform your home or office desk into an ergonomic sit stand workstation! Reach Dual Workstation is a freestanding sit stand tabletop desk that supports two flat panel monitors or tablet enclosures. It features easy height adjustable screen mounts and platform so you can work in the healthiest way possible. A pneumatic post allows for seamless adjustment and an 18" vertical range, you can lock the lift of the workstation to your desired height with the secure pull cylinder. There is an additional monitor lift so you can set the screens and the keyboard platform independently, for the most comfortable viewing and typing experience.
Compulocks Brands Inc. will be at Booth 35227 at CES, 

January 9-12th 

in Las Vegas. We would love to meet you there and see how we can partner together to make 2018 a great year.