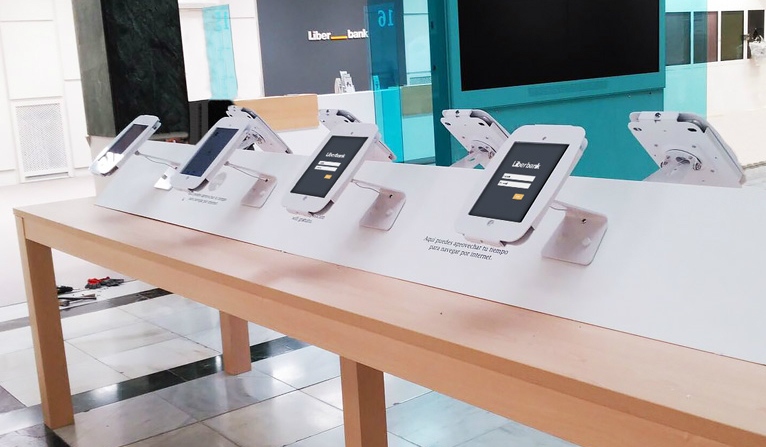 Pursuing Digital Transformation in Banking and Financial Services with Tablet Kiosks
The banking industry is only becoming more competitive. Thanks to the rise of disrupting fintech actors, as well as evolving customer habits that demand maximum efficiency and proximity, banks need to continuously up their marketing game just to stay relevant.
Kiosk-based banking is nothing new – the idea was initially conceived as a way to manage and provide basic banking services; nowadays, kiosks have evolved to the point that they're incredibly flexible and can offer so much more for a bank's customer base.

The Service Benefits of Kiosk-Based Banking
One kiosk can be used in so many ways across both a bank's customer base and their on-site staff:
Customer self-service – the most obvious use for kiosks is for customers to self-select the services they need – allowing for reduced waiting times, and better customer satisfaction
Customer application processing – new customers looking to open accounts can easily and quickly do so via kiosk – saving time, effort and even paper. This alone would improve customer experience and cut down on branch costs.
Staff training and customer onboarding – staff can easily be trained via tablets and kiosks, with all of the information needed right at their fingertips. Customers too can benefit from this, allowing customers the chance to check eligibility for new products or transfer existing ones.
Data collection – for both monitoring staff and processing customer data, saving vast amounts of time and costs – and prevent any human errors.
And with such precious, cost-cutting and customer-pleasing resources, you need to ensure that your kiosks are safe and damage-proof. Luckily, there's an easy solution for each of these needs.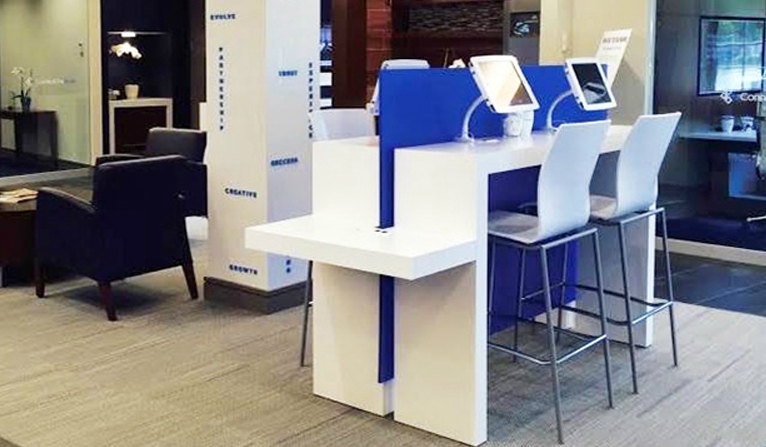 Compulocks' custom-designed and manufactured kiosk enclosures
Compulocks' is the leading name in custom-design and manufactured hardware security enclosures – with a security solution for every type of model, manufacturer, and size!
The BrandMe iPad Enclosure Floor Stand
Providing both a branding opportunity and a safe, enclosed solution for tablets and kiosks, the Space BrandMe iPad Enclosure Floor Stand is compatible with a huge range of iPad models (iPad Mini, iPad Air, iPad, iPad Pro), and will continue to be adaptable for new iPad releases in the future.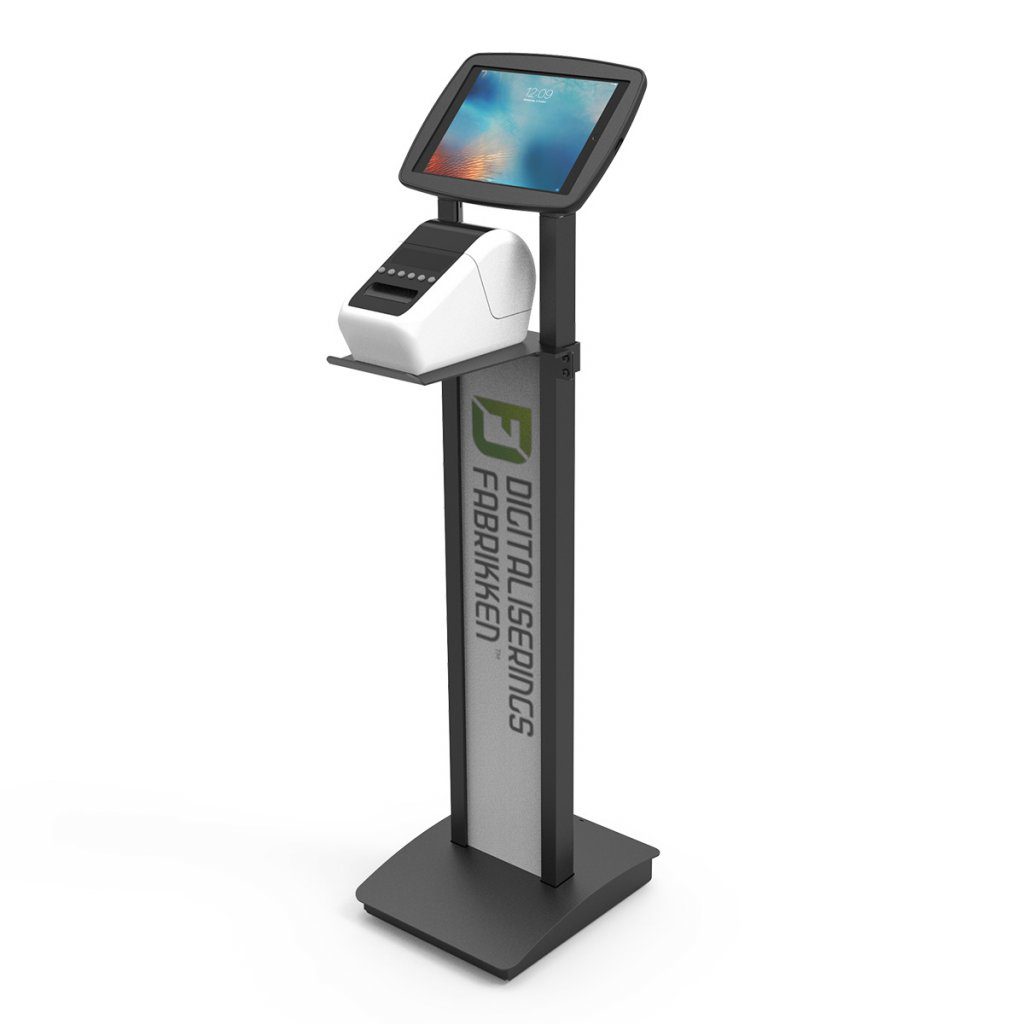 The stand allows for continuous charging while mounted, as well as cable management and secure storage. It's fully compatible with Compulocks' range of security cable locks and has a fully reversing tiltable mount.
The Nollie iPad Kiosk
Designed to be one of the first interactions customers have, the Nollie iPad Kiosk is designed to be counter-top kiosk-mounted. It's lightweight yet durable, as well as stylishly modern with clean curves and complete with the "hanging" screen look.
It's compatible with a whole range of iPad models such as iPad Air, iPad 9.7, iPad 10.2, iPad Pro (Surface version is available too) and is the perfect solution for retail banking, demos, services ordering, digital signatures or card reading, coming with an added slot for credit card reading.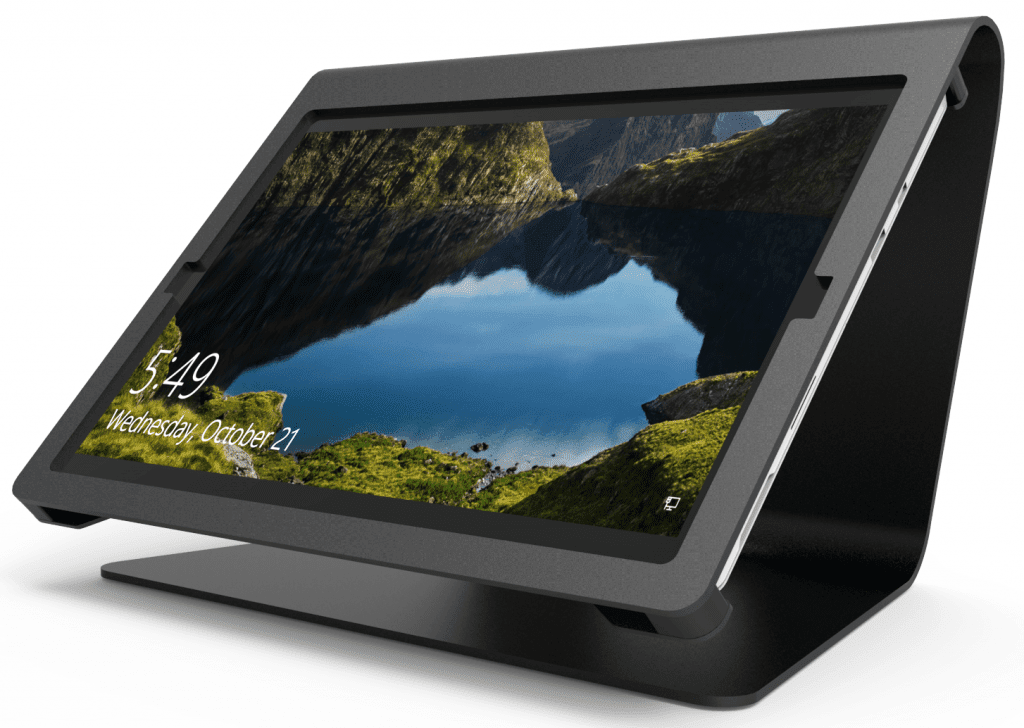 It's made from high-grade aluminum, with ultra-secure brackets to keep the tablet from falling or being stolen. It can also be bolted to the counter, or be sat on a secured 360-degree swivel base, or cable lock. As a result, it lends itself to a variety of in-banking customer usages.

The Axis Premium iPad POS Kiosk
A perfect solution for customer self-service, training or staff-customer interactions, the Axis Premium iPad POS Kiosk is credit card reader compatible, allowing for easy reading of customers' financial information for identification purposes.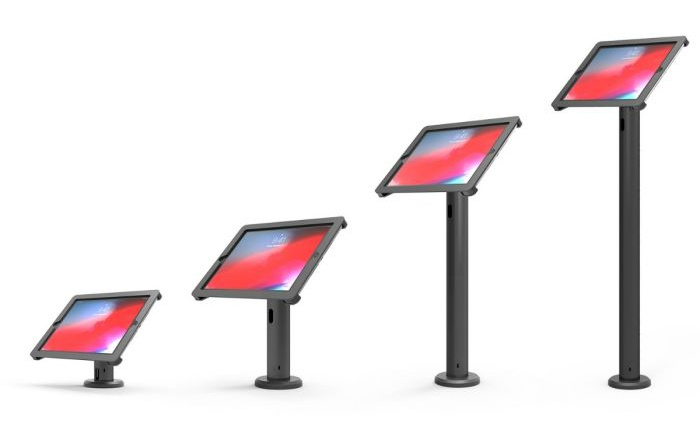 It has both tilt and VESA head mount and has a range of stand heights available. The Axis is compatible with all 9.7" iPad releases from 2011 onwards, including 2019's iPad 10.2". The Axis hardware enclosure comes as standard with a tamper-proof screw kit and is constructed from high-grade aluminum.

Customer-Facing Benefits of Banking Kiosk Technology
While most of the benefits of kiosk banking are pretty obvious – convenience, for one thing, and customer independence – there are some pretty important other benefits for customers that kiosk banking provides:
Better security – because customers won't be exchanging information with a staff member, customers can input their sensitive information non-verbally. Or, better yet – have a card-reader read their information in an instant.
More marketing opportunities – offering customers access to new products and other personalized offers at just a click of a button (or a handy popup) can really improve conversion rates – and make for far shorter customer interaction.
Stronger brand awareness – in such a competitive industry, having the choice between a bank that's up to date on all of the new and innovative upgrades, and competitors who stick to more traditional methods of operation is a no-brainer: customers will flock to banks that are seen as more efficient, accurate and with whom they have a pleasant experience each time.
Streamlining of costs – it goes without saying that kiosk-based technology can provide the same – if not better – service as a human staff member, but do so far quicker and more cost-effectively. That and, technology reduces the chance for any human error- which could be the key between a happy, returning customer and an angry, lost customer.

The Successful Customer Adoption Challenge
In a digital app-driven world, providing self-service banking tools will improve consumer satisfaction, customer retention, and increase conversion to new services with lesser staff.

While banks will increasingly focus on innovative time-saving services, they must keep on investing in merchandising promoting the services, the security of the devices put in public spaces, a clean cable-free environment as much as user-friendly interfaces