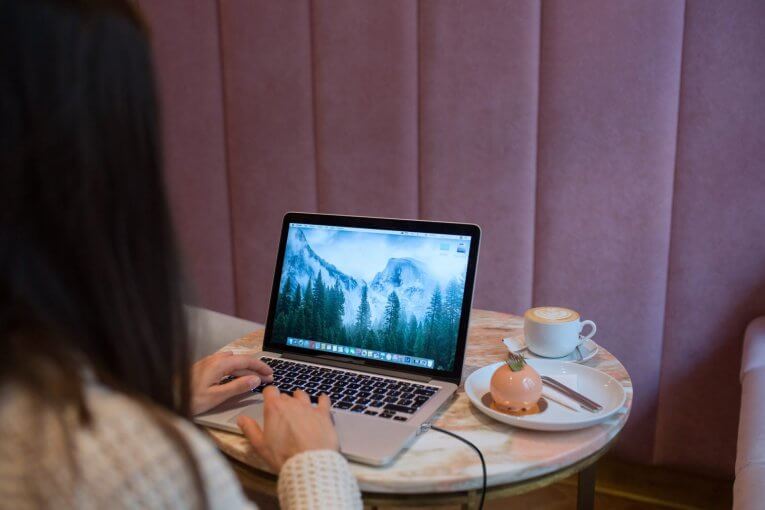 How to Stay Secure While Working Remotely
Many offices around the world are still closed, forcing employees to work remotely, from their home (if they are lucky enough to have the space and the quiet they need), or from other places if they feel the need to get some fresh air. Either way, if you've found yourself on a new experience of remote working, then you're going to have to think about more than just where you'd like to base yourself.
A Quick Guide to Remote Working Security Issues
Even if you are working remotely from home, you might need a bit of a change of scenery… and so decide to work remotely from another location (not least to get away from the kids, right?).
The thing is, with the sudden burst of unexpected freedom, you might not have taken into account the security risks you need to prepare for.
And these security risks are exactly the same, regardless of whether you're looking to work from a coworking space, a library, a coffee shop, or elsewhere. That's because, any time there are other people around (who aren't your immediate family, but even then, maybe also your immediate family), you need to find a way to secure your electronic devices.
This could be either from other people moving your device for whatever reason, or attempting to steal it, or even protecting it from yourself – because we've all had an accidental device dropping incident before (or two, or three), right?
The pandemic has left us all tense and anxious enough, without having to think about keeping your devices safe on your remote working time – even if it's for literally a minute or two while you go to the toilet, get another cup of coffee, or have a well-deserved cigarette break.
What to Watch out For in a Remote Working Security Solution
Your electronic devices need to be protected, but if you're moving around locations (for example, from your home to a coffee shop), you need to make sure you have everything you need, and that it all fits in your bag.
Maclocks is with you all the way – and has a solid range of mobile and light-weight security solutions to keep your electronic devices protected during your remote working time.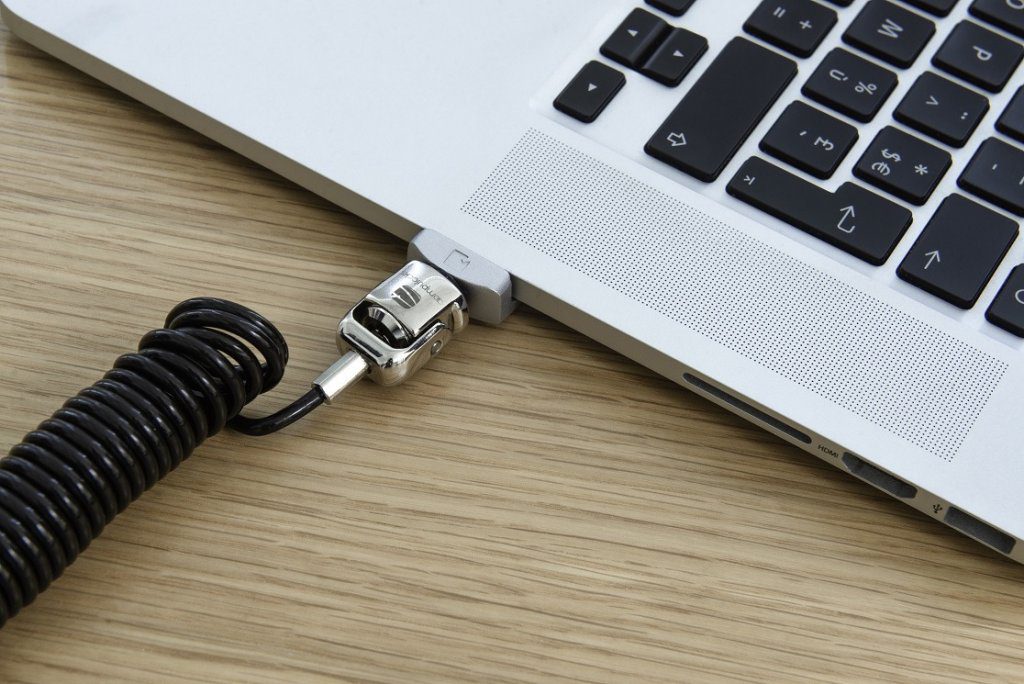 Security Solutions to Keep You Safe While Remote Working
Whatever device you have, whatever the size – Maclocks has a range of security solutions to keep you happy, your devices secured – and maybe even help you get your work done too!
By far and wide, the best, most lightweight and portable option we can recommend to you is a secure cable-lock for laptops, Macbooks, tablets and iPads.
Many brands have a built-in lock slot, to directly connect a cable lock. For those devices, you have the option of securing your device either via a traditional key, with the Universal Cable Lock or with a numbered combination (the best option for you if you're likely to lose your keys!) with the Combination Cable Lock.
While most laptops and devices come with an inlet for external locks, that you can then insert and securely lock your device, Apple devices (and some Microsoft devices) don't have a way to connect this external lock.
But never fear – Maclocks has custom-designed an add-on external lock slot for just this reason!
You can see this customized solution with the MacBook Air and Pro Ledge Lock, which is the world's smallest and most cutting-edge cable lock adapter. It takes seconds to secure your device, and gives you a way to add the lock slot onto your device. On top of that, it weighs a minuscule 0.1lb, making it extremely portable. It's also compatible with all MacBook Pro touch bar and non touch bar models, from 13" and 15" models, and the lock slot can be mounted on either the left or right-hand side of the trackpad, for added flexibility.
A similar solution for Microsoft Surface Pro or Go owners would be the Surface Pro/Surface Go Security Ledge Lock. As the world's slimmest security cable lock adapter, all that's needed to secure your Microsoft device is the Ledge adapter (giving you a way to clamp your cable lock to the side of your tablet), and then secure the cable lock to something immovable. It's lightweight, it's portable, and it's a way to make sure your devices stay where you want them to!
For all other brands and devices without existing slots for security locks, the Blade Universal Lock Slot Adapter is available in two gorgeous colors – black and silver. It's compatible with any ebook, tablet or laptop, and can hold up to a whopping 100lb of force (in case someone tries to pull it really hard. Don't worry, they won't succeed). It's super minimalist, at just 7 inches in length, and 0.31 inches in thickness – and yet, it's super strong, and highly effective at keeping your devices where they're meant to be.
Dell users – fear not – you have a solution just for you! This 2-piece bestseller will 'wedge' onto your device, complete with a loop-ended security cable that you secure to a solid object or surface. You'll have two keys to open the lock with, for safekeeping!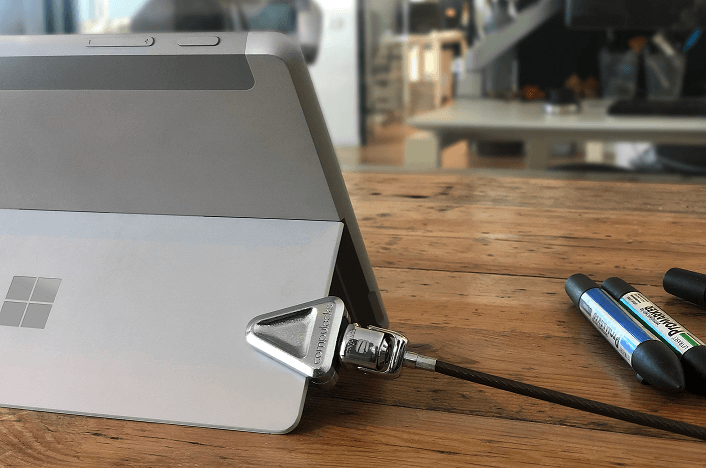 Secure Your Devices While Working Remotely
You want to have the most pleasant, productive experience as you possibly can while working remotely, wherever that may be. In order to do that, you need to make sure that your devices stay safe – because who wants to unnecessarily buy (or pay out for) a new device, in these times? Not to mention losing all your information, and having to restore all the passwords used for different accounts…
Maclocks has a range of security options to do just that – because nowadays when everywhere is a potential health risk, it doesn't need to be a potential security risk too.