Compulocks Introduces The Best Way to Secure Intel NUC
The Intel® NUC is a powerful 4×4-inch mini PC with entertainment, gaming, and productivity features, including a customizable board that is ready to accept the memory, storage, and operating systems that you want.
Fortunately, it doesn't get much easier when looking to securely mount your new Intel NUC. The Intel NUC Lock and Mount allows you to fix the security bracket to any flat surface. You can safely screw the mount to a wall, desk, underside of a table, cabinet and even the back of a monitor. Once the bracket is secured all you need to do is slide your Intel NUC into the mount, align the cables with the patented cable trap and connect the lock. The ventilated design protects your device against overheating and wireless signal loss while giving you total access to the power button, USB, HDMI & Ethernet ports to ensure a complete user experience.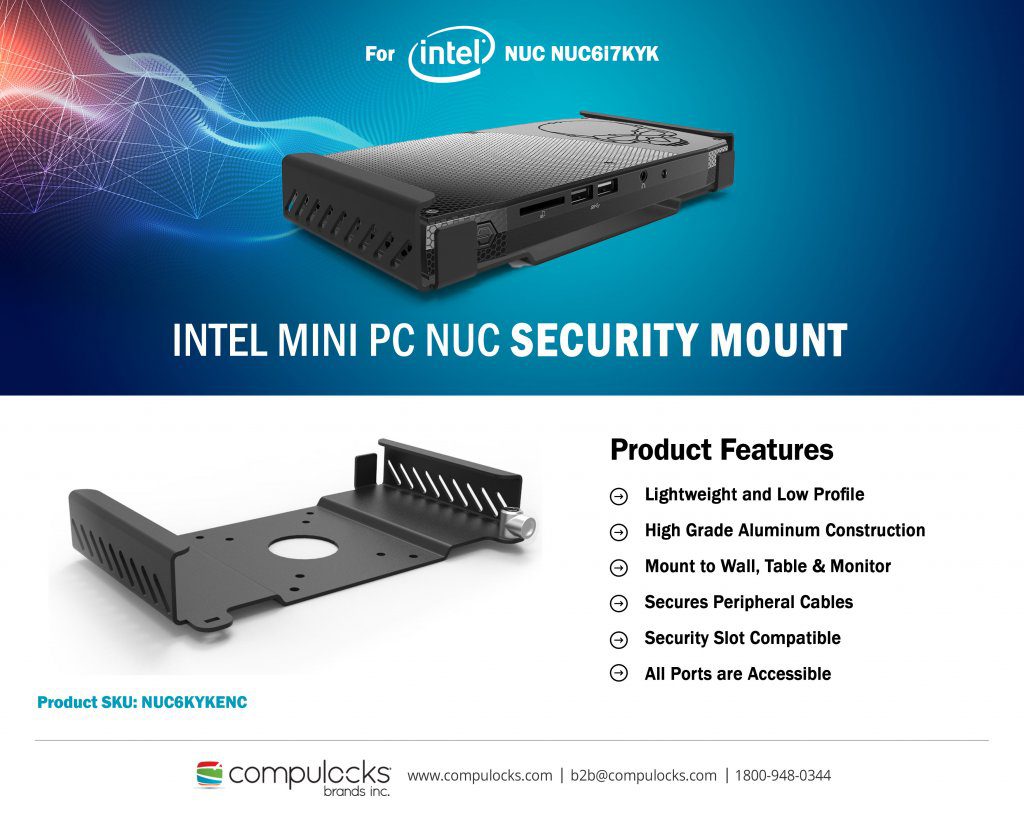 NUC6i7KYK is a gaming machine that looks nothing like the rest of Intel's signature line of tiny computers.  It's the first NUC Intel has pushed this way, and the approach includes superior integrated graphics, however,  this mini-PC is also powerful for non-gaming purposes.  This completely revamped NUC raises the bar for what a mini-PC can do, handling both content-creation tasks and 1080p gaming with ease.
Intel NUC Enclosure Includes:
•    Intel NUC Security Enclosure Mount
•    Security Locking Head
•    Set of Keys
Dimensions (WxHxD) 8.3 x 4.6 x 1.1″ / 210.8 x 116.8 x 27.9 mm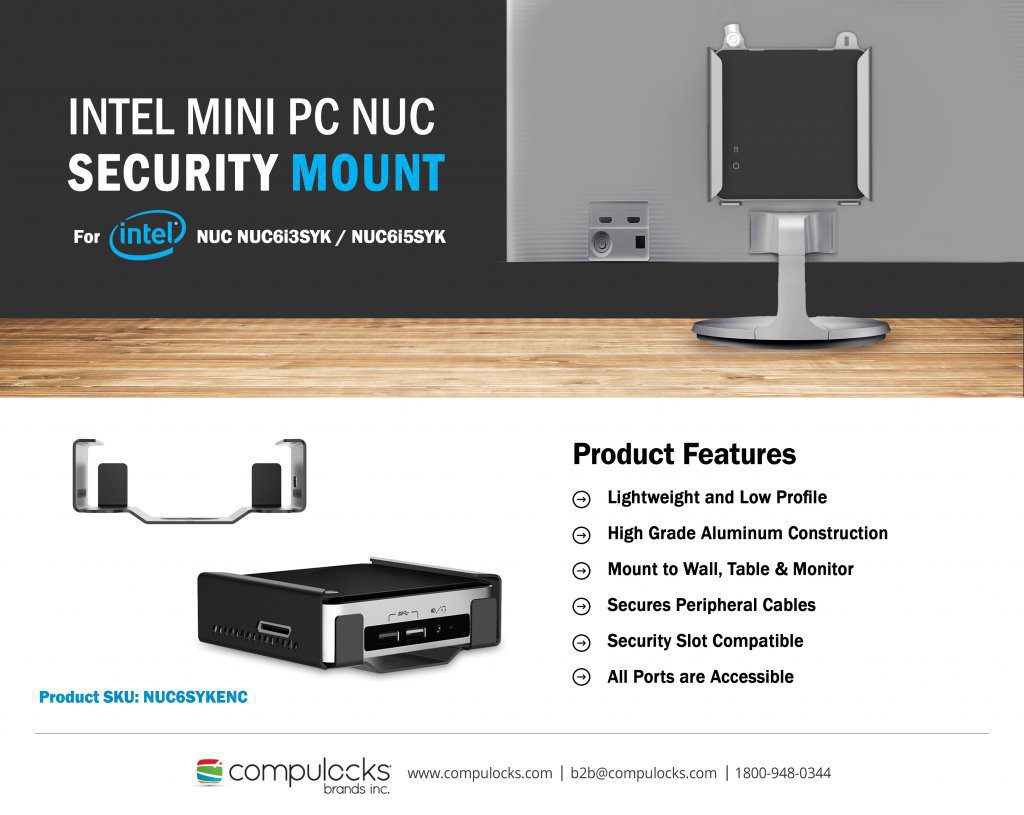 The NUC613SYK and NUC615SYK are the low-profile mainstream Intel Core i5 powered models that  have the same internal components, but the NUC6i5SYK comes with an enclosure that doesn't support the room required for a 2.5″ storage drive while the NUC6i5SYH comes with a taller enclosure and cables that does support a 2.5″ drive. Both models feature the same hardware inside and have the same level of performance.
Intel NUC Enclosure Includes:
•    Intel NUC Security Enclosure Mount
•    Security Locking Head
•    Set of Keys
Dimensions (WxHxD) 4.5 x 4.4 x 1.3″ / 11.5 x 11.1 x 3.2 cm