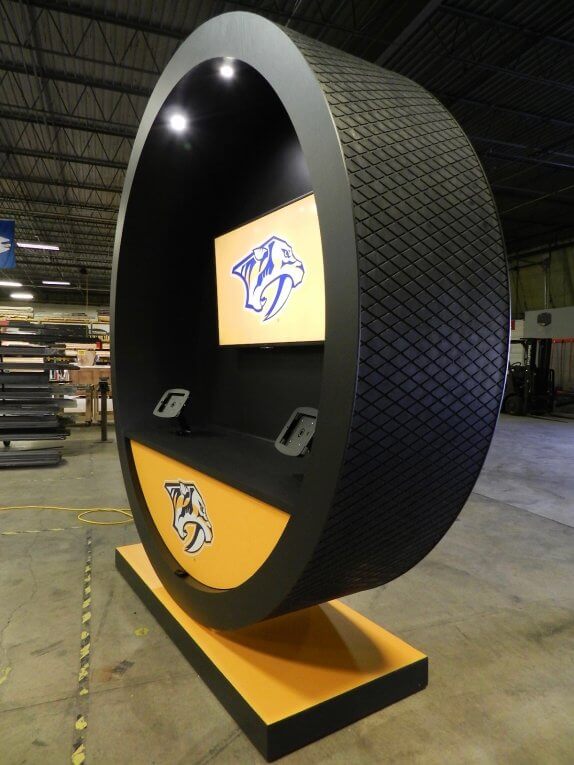 Maclocks at NHL Playoffs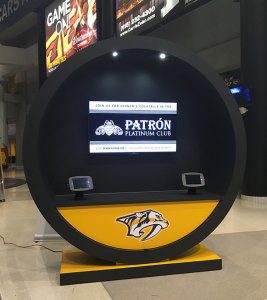 For the 2016 NHL playoffs, the Nashville Predators wanted a new info kiosk for the lobby of Bridgestone Arena. While the structure was completely functional as an informational desk, the idea was to make it look like a giant hockey puck, so fans could take photos with it as well. Inside the puck structure were two Space iPad Kiosks from Maclocks.
This state of the art information kiosk was designed and established by the MadeFirst team, a full-service creative design and fabrication company with facilities in Nashville, TN. They provide their customers with superior service and quality craftsmanship at competitive prices. Their diverse client and project bases regularly challenge them to create cost-effective methods of planning and fabrication. It is their innovation, attention to detail and dedication to their clients that makes MadeFirst the right partner for creative endeavors.
The Space iPad Enclosure features rounded edges and open corners for improved ventilation and allows for limited access to buttons and inputs. Included is a removable home button cover to restrict access to the main button. As with all our iPad lock and tablet lock devices, the tablet can be continuously be charged while in the enclosure and have peripheral cables plugged in while mounted. Our 360 stand is a longtime best-seller intended for counter-top use as a secure interactive display or kiosk. The combination of the Space enclosure and 360 base allows you to display your iPad in a professional manner with a clean and comfortable look.
This counter-top iPad Kiosk has full screen tilt that allows you to reverse the screen to show your customer, visitor, or clientele the on-screen information. The mount allows you to easily rotate your iPad between portrait and landscape modes and the base can be securely bolted to the counter.
Features:
• High Grade Aluminum Enclosure
• iPad Adapter Kits for Multi-Generation iPad Compatibility
• Continuous Charging While Mounted
• Quick Lock and Unlock Keyed Lock
• Unlimited Tilt for Versatile Viewing
• Rotate Between Orientation Modes
• Compatible with our Security Cable Lock
360 All In One Kiosk base specs:
• Length: 4.72 inches
• Narrowest point: 4.33 inches
• Widest point: 5.43 inches
• Height to the hinge: 7.1 inches