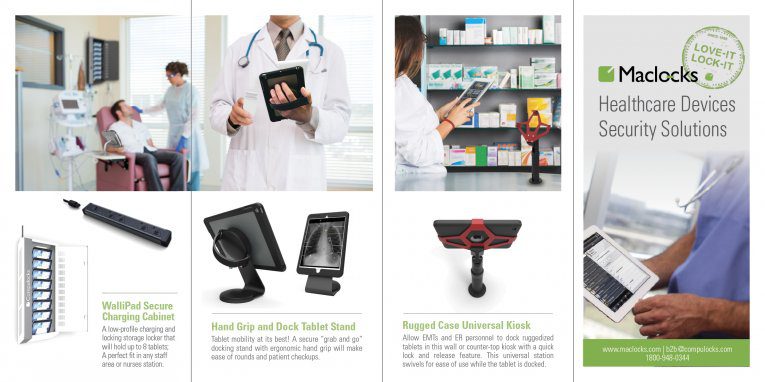 Maclocks in the Healthcare Sector
Tablets have had a significant and lasting impact on both the way that hospitals work and patients are treated.
Maclocks' appreciates the many different ways tablets are used in the healthcare industry which overtime has resulted in our development of the widest range of hardware security and display solutions for healthcare mobile computing devices. Maclocks Healthcare Solutions provide necessary security for the tablets which will increase employment efficiency, reduce hospital costs and improve patient care.
The rapid adoption of tablets has put pressure on the healthcare industry to evolve and truly embrace this new technology. Majority of hospitals require every physician, nurse, pharmacist and administrative staff to rely on tablet technology daily.  These professionals are constantly on the go from one patient exam to the next and they actually carry these devices around, so the convenience, mobility and weight of these devices are all important factors.
Maclocks is focused on providing security and display solutions for all mobile technology devices to strategically support our customers' business requirements.
Here are some of our featured Healthcare products, many of which were recently debuted at HIMSS 2016 in Las Vegas.
Please message [email protected] to learn more about ordering
Maclocks Healthcare Devices Security Solutions.