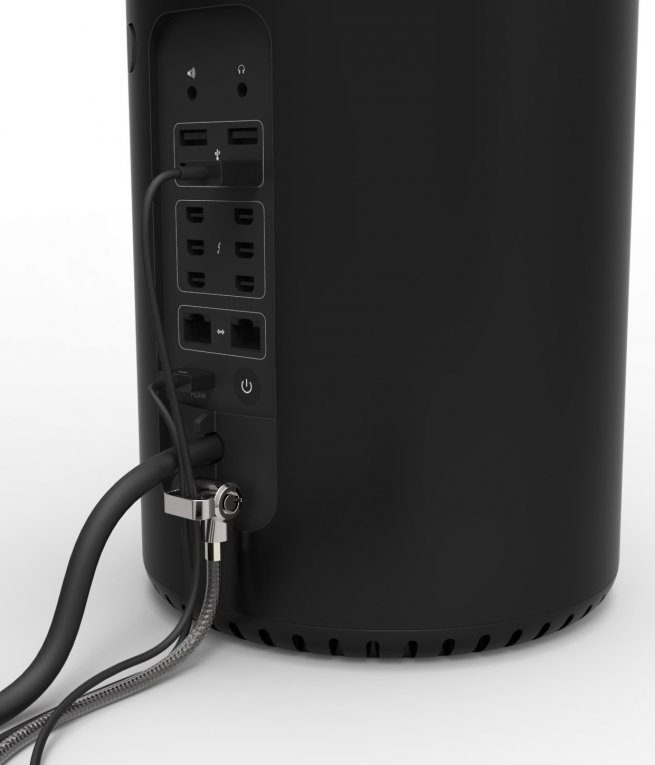 Maclocks Mac Pro Lock is Still the Safest Bet, Now for the Best Price
Maclocks Mac Pro Lock can be purchased as the Mac Pro Adapter for $49, or as the Mac Pro Lock Bundle (Mac Pro Adapter along with Security Cable Lock) for $69.
Austin, TX
Maclocks was determined to create the perfect security solution for the 2013 Mac Pro when it came out with no security slot, and were the first to introduce a Mac Pro Locking solution. Since then, it has been the best-selling Mac Pro Lock on the market. It is the solution of choice by Ivy League Schools, Fortune 500 Companies, premium design houses, and many more.
Maclocks has recently introduced a new offering structure in 2 configurations.
The Mac Pro Adapter with the peripheral cable trap is the stand-alone bracket version. It secures the Mac Pro from theft and from being opened, and it can work with almost any cable lock. It also protects the peripheral and charging cables from being stolen or unplugged without obstructing the computers vent. This feature makes it the only real solution to provide security for the Mac Pro as well as its peripherals. The Mac Pro Adapter is available now for $49.
The second option being offered is a Bundle version at a discounted price of only $69. This Bundle includes the Stainless Steel Adapter Plate, a Security Cable Lock with 2 keys, and Maclocks' patented Peripheral Cable Security Trap.
"Our R&D team created and produced this unique security solution, and we know the importance of accommodating the different needs of our customers which is why we have decided to offer this new pricing structure" says Assaf Katan, Maclocks CEO. "We worked tirelessly to not only be the first to market, but as always offer the best locking solution for the best price".
The Maclocks Mac Pro adapter (that is included in both offers) fits comfortably underneath the cylinder lid with an extended rim to connect the included Security Cable Lock. The high security stainless steel bracket plate is designed to sit securely over the power cable, ensuring the lid cannot be opened without unlocking it first. The simple design of the Mac Pro Lock system making it very easy to setup and secure your Mac Pro in minutes.
The Mac Pro Adapter is available for $49 or the Mac Pro Lock Bundle for $69 at Maclocks.com.