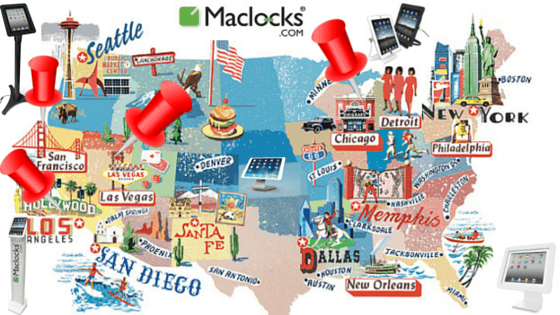 Maclocks Map of America
Every year, Maclocks attends and exhibits at hundreds of trade-shows, exhibitions and conferences world-wide. Whatever the industry the show is targeting, it always provides the perfect platform to display and share our solutions with the public. They also provide us with a great opportunity to travel around and find our security display solutions in the field.  This is just a taste of some of the solutions we found in Chicago, California and Las Vegas.
Airport – Maclocks BrandMe Tablet Floor Stand at Los Angeles Airport (LAX). It was being used by the attendants to check and manage reservation information.
Hotel – Maclocks Adjustable iPad Floor Stand being used by The Stanford Hotel in San Fransisco for guest information and interaction
Restaurant – A Sandwich and Coffee Shop in Chicago using Maclocks Swan iPad Stand to display "specials of the day" and to provide details regarding items on their menu (nutrition information, ingredients, etc.)
Retail – Inglot Cosmetics Retail Store in Las Vegas using Maclocks iPad Locking Security Cover and Security Rotating Stand for customers to find other store locations and to check the online inventory
Trade-Shows – At the NRA Show 2015 in Chicago we found many companies using Maclocks in their booths, here are are two examples: Leapset using Maclocks iPad Enclosure Kiosk and LRS using Maclocks Space iPad Enclosure Kiosk.