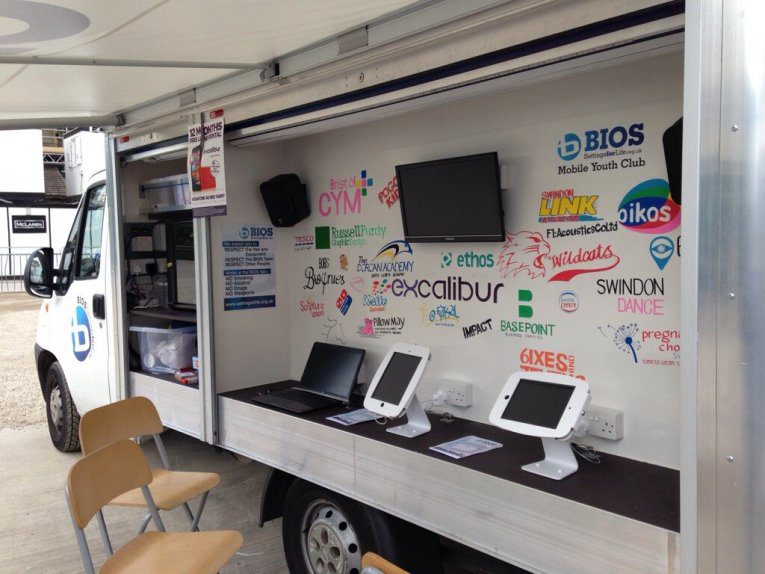 Maclocks Supports UK Based Youth Work
BIOS is a youth related organization based out of Swindon, UK. They have a long track record in supporting young people and helping them to contribute to their local communities. In order to reach more at risk youth, they decided to go to wherever the kids are. The BIOS Van is a pimped up delivery van that visits young people and provides food, entertainment, sports equipment, music and crafts.
The van is equipped with a PS4, an Xbox One, internet access, a laptop and iPads, music equipment and sports equipment. It has mobile seating, games, activities and refreshments facilities.
Chris from the charity contacted Maclocks looking for a solution for installing kiosk style iPads onto the Mobile Youth Club vehicle and Maclocks were only too pleased to support the charity by supplying the stands free of charge.  As soon as Chris described what they needed, the Maclocks representative he spoke with instantly knew that the Maclocks Space Enclosure would be perfect for the van.
Chris commented, "Maclocks Space iPad Enclosure stands are perfect, beautifully designed, so functional and incredibly secure. Installing them was really easy and we are really grateful to Maclocks for their support".
Each week the Van works with over 350 young people tackling anti-social behavior and encouraging them to make positive life choices which will help them have a better future. One such example is Tom, an intelligent young man with a great sense of humor. At school he was underachieving, not engaging and being unpleasant to other students. After spending time with BIOS youth worker Rosie, he is making much more positive choices – Tom says, "Since working with BIOS I have stopped getting into trouble – no detentions anymore where I used to get 3 a week. I now don't do stupid things like I used to."
Judah Kirsch, Head of Business Development for Maclocks said, " When Chris fist approached us, we felt so strongly for his cause that we just had to help out any way we could and donate those enclosures. We are so honored to be a part of such an important initiative.  The Space Enclosure is one of our most popular units for Education and Youth Organizations, so it was a no brainer when hearing what Chris needed".