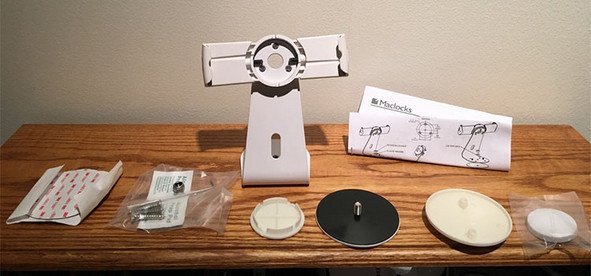 MacNN Review : Cling 2.0 Universal Tablet Security Stand
May 12, 2016 by MacNN Staff for MacNN Review
Your iPad is capable of doing so much more than browsing Facebook and playing cat videos on YouTube and chances are you already know that. The problem, though, is that your iPad is also fairly defenseless and might need a little help in situations where it's expected to transcend its role of humble social media companion. That's where the Cling 2.0 comes in, an ultra-secure stand that helps keep your iPad right where you need it.
Familiar
The Cling 2.0 is still built out of the same high quality metal as the Grip and Dock we'd looked at before, is available in black, silver, or white, and has a sleek professional look to it. You can still turn your iPad from portrait to landscape easily, which is great for switching between tasks on the fly.
The Cling 2.0 would look at home either on a desk or in a kiosk, on a night-table stand or on a workplace counter top. It's a great way to keep your iPad handy if you're a small business owner who uses an iPad in lieu of a point-of-service machine or credit card reader. Like the Maclocks stand we've looked at before, you've also got the option to either adhere the stand to any surface you choose via a large, 3M adhesive pad, or via bolting it down to the desk with a few large screws, which (thankfully) are included.
Yet Different

There's some obvious advantages to this design over the last Maclocks stand we looked at – the biggest being that you don't have to permanently glue anything to the back of your iPad. After all, it's quite superior for those of us who aren't looking to have our iPads stuck to something for the rest of eternity. Even though you're not sticking your iPad to the stand permanently, the arms of the stand are adjustable via hex key (Allen wrench) and are capable of holding your iPad safely, securely, and keeping it out of the hands of those with sticky fingers.
Less Assembly Required
The Cling 2.0 is touted as being "ready to go" right out of the box, though that's not quite true. It's mostly assembled and ready to go, but ours had a few pieces that needed to be attached to each other to make the product fully functional. This is still a far better upgrade compared to what we had dealt with before, which is why we're thinking that the not-so-mechanically savvy might find this to be the perfect solution: just open the box, snap on the plastic covers, secure your iPad into the arms, and you're good to go.
Universally Universal
While we're writing from the perspective of an iPad owner, it's worth noting that this is very much a universal tablet stand. It'll hold all sorts of tablets, including all iPads (even the 12.9 inch one!), all Galaxy Tabs, The Surface 3, Surface Pro 3 and 4, the Kindle Fire, and many tablets in the Lenovo line. It's pretty much capable of fitting any tablet that's 13 inches or under, which makes it an attractive stand for multi-tablet households.
But Not Without A Price
Our biggest issue with the Cling 2.0 is the price point. It's not cheap. In fact, it's the opposite of cheap: it's very expensive for all the more that you're getting. We're not "hip to" the price of machined aluminum is these days, but we cannot imagine that it costs what they're asking. The Cling 2.0 comes in at a steep $160, which might put it out of range of the average home user who is just looking for a more comfortable way to watch videos on their iPad while sitting at their desk, but might be worth it to the small business owner who is looking for an tablet that isn't easily lifted by petty thieves and ne'er-do-wells.
The Verdict:
We like the stand. We like the stand a lot, in fact. We like the fact that Maclocks has taken the time to think about how a stand could and should be used. It's a great design, it feels secure, and it's easy enough for anyone to operate. We're still not sold, however, on the price which feels far too steep for the average home buyer. If you're interested, though, the Cling 2.0 is available for purchase from the Maclocks' site for $160, and will fit any iPad.
Who the Cling 2.0 is for:
Small business owners who use their iPads to help keep their business organized and functional will probably find this to be a wonderful helper that protects their iPad while keeping it front and center. For this use, we consider it a four-star product.