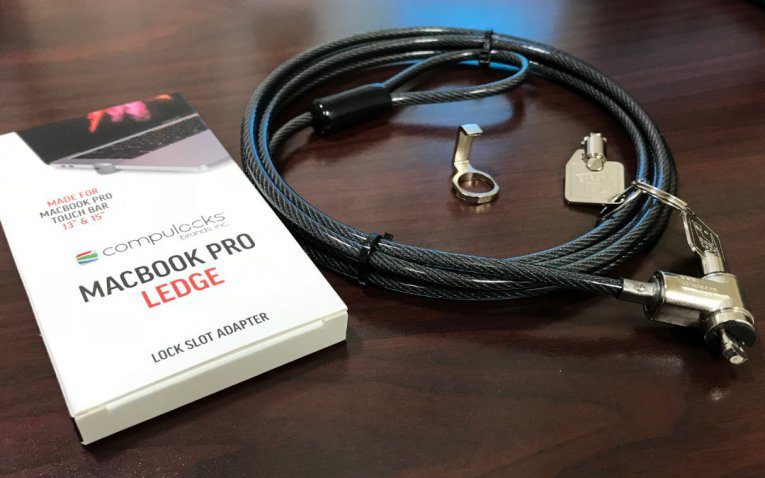 MacSources Reviews MacBook Ledge Lock

Secure your MacBook Pro when you're in public, with MacBook Pro security lock adapter
Robyn from MacSources, reviewed our macbook pro security lock adapter and here is what MacSources have to say.
"When you work in an open-office setting, you want your belongings to be safe.
When you have a laptop, there aren't a whole lot of options and when you have an Apple computer, there are even fewer options for securing your laptop while you are using it.
Laptop locks are typically something that PC computers have without fail, but Macs are just not equipped with the locking adapter.
Compulocks, a company that specializes in computer locks, has an entire line of security devices for MacBook computers." The security solutions for Apple products are under the Maclocks Brand.
"Because I have a MacBook Pro with Touch Bar, I took a special interest in their Macklocks Ledge MacBook Pro with Touch Bar Lock Adapter."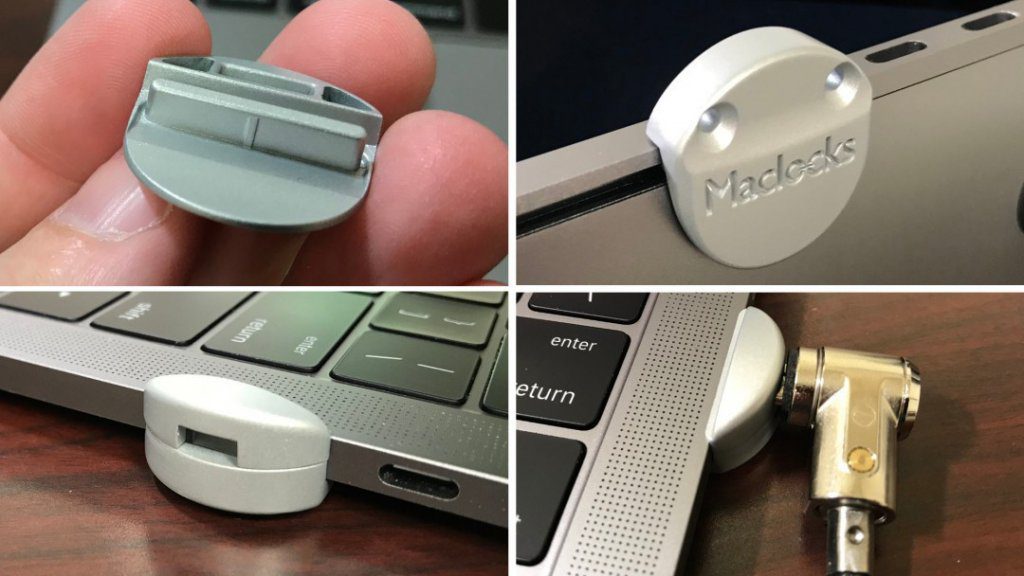 "The locking cable and lock mechanism are similar to if not identical to other laptop locks. When I unpackaged it, it was a very familiar site to me. The magic of the Maclocks is in the adapter.
It's the smallest MacBook lock slot adapter available to consumers. Even though it ships with a lock/cable, it is compatible with standard t-bar cable locks. The design of the adapter should work for both 13 and 15-inch  models of the 2016/2017 MacBook Pro with Touch Bar. This adapter is absolutely not compatible with non-Touch Bar models of the MacBook Pro. The product is designed to provide the user with a quick and easy installation.
The Ledge Lock Slot adapter comes packaged along with a cable lock and installation hardware kit. The instructions are available in the form of an illustrated guide on the back of the adapter box.
My Ledge Lock adapter arrived inside a small Ziploc bag along with its cable lock. The box is nicely labeled, but I thought the bag with the cable was a little too nondescript. I would rather see a larger package with branding and details on the product outlined on the outside then a plastic bag with a generic label. This is a very functional way to deliver the product to a consumer, but I think it would be more appealing in a branded box.
One of the features of the Ledge lock that is really cool is that it's designed to work with the MacBook Pro's native design.
You don't have to alter your computer in any way or worry about adhesives marking up your computer shell. The lock slides into the vent slot on the right-hand side of the computer and then the top slides down into it.
The screws that you use to connect the two pieces of the adapter are security screws so you would need a special screwdriver in order to detach them from the adapter. I was surprised at how well the adapter integrated with the MacBook's design.
I was even able to close the lid with no issues. The adapter does stick out a tiny bit from the side, but it's so slim that you can still use it with laptop bags or sleeves. I confirmed this by sliding my MacBook Pro into the computer backpack I am using. It has a very slim design and doesn't allow for much clearance for laptops. My MacBook Pro with the adapter attached still slid in easily.
I didn't have any issues with installation although having instructions that were a bit more descriptive would be a nice touch. I like having a visual representation as well as wording that describes how I should be installing the device. I was able to figure it out (it's fairly intuitive) by the images, but some wording would also be nice."
Conclusions
"The MacBook pro security lock adapter is a really nice accessory for any MacBook Pro user to have.
Even though I reviewed the version for my laptop, Compulocks has options for all types of laptops.
Being that I am constantly on the go with my laptop, I love having this added bit of security. If I go to a local coffee shop or even library, I know that I can loop the cable around a table and lock my computer up while I'm working.
Let's say I am working on a research project and I have to make several trips to a bookshelf or journal record. It's a hassle to have to pack my belongings up every single time I have to get up.
Knowing I can now just lock my laptop with the Compulocks' MacBook pro security lock adapter gives me the peace of mind that my computer will be safe when I'm in public. It's also nice to know that I can secure my backpack, too, by simply looping the cable through the handle of the bag."

 To learn more about our security solutions click here