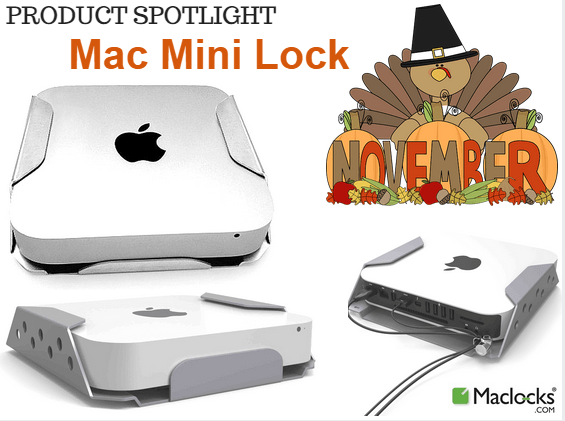 PRODUCT SPOTLIGHT – MAC MINI LOCK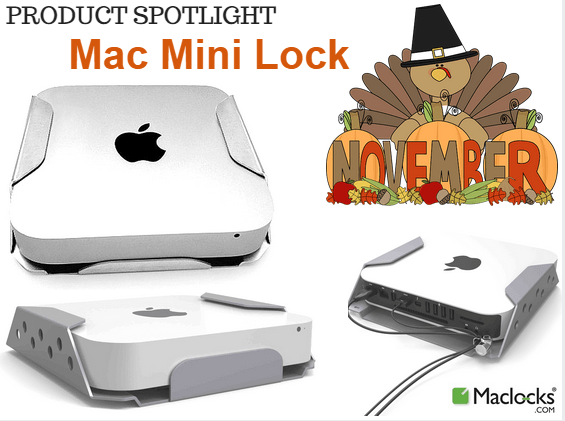 November is all about giving thanks, spending time with loved ones, gobbling up anything that has pumpkin in it and waiting for the BEST SALES of the year! That's right guys, Black Friday and Cyber Monday are just around the corner so your shopping list better be ready, and if you know what is good for you it better have the Mac Mini Lock on it!
The Mac Mini Mount Lock is the best option for securing your Mac Mini. It is made from 100% solid high grade aluminum, and the brushed look compliments the stylish design of the Mac Mini.  The Mac Mini Lock and Mount allows you to fix the security bracket to any flat surface with the standard 75 or 100 VESA mount holes. You can safely screw the mount to a wall, desk, underside of a table, cabinet and even the back of a monitor.
Once the bracket is secured all you need to do is slide your Mac Mini into the secured mount, align the cables with the patented cable trap and attach the lock. With the Maclocks Mac Mini Mount you don't need to sacrifice form over function. Our ventilated design protects your device against overheating and Wi-Fi signal loss and gives you total access to the power button, USB, HDMI & Ethernet ports to ensure a complete user experience.
For an added level of security and mobility you can add one of Maclocks Security Cable Locks to your order. This option allows you to secure your Mac Mini mount without having to deal with any screws or tools. The loop-ended security cable is made of galvanized steel and the cable can be looped around a stationary object.
The countdown to Thanksgiving is on! Stay tuned to this space for our Black Friday and Cyber Monday Sale information.