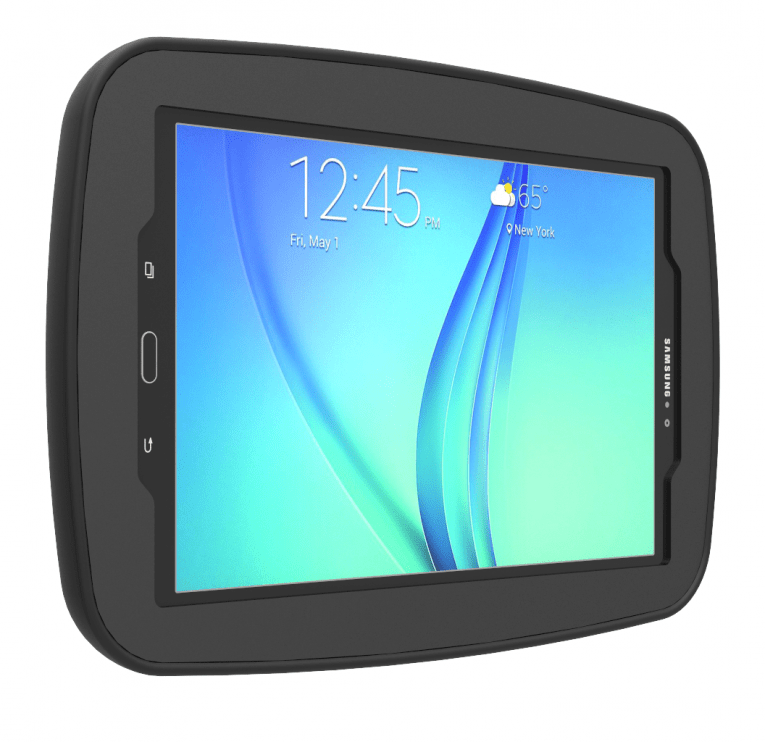 Retailers Modernize Customer Experience with Compulocks' Secure Rugged Tablet Enclosure
HyperSpace Kiosk pairs with all POS software / Bluetooth peripherals and offers full cable management.
Austin, TX
Compulocks' newest Galaxy Enclosure, HyperSpace, is a masterpiece of tamper-proof design, ideal for any retail environment looking to integrate an easy to use Tablet POS Kiosk. Built for Galaxy Tab A 10.1 protection and security, it brings POS accessibility to a new level. As with all Compulocks solutions, it is designed to handle the daily use at restaurants, coffee shops or any large or small retail establishment.
The HyperSpace Galaxy Enclosure is as attractive as it is secure. Two high-grade aluminum plates secure a molded rugged tablet support that grips the Tab A safely in place providing device damage protection. The rubberized holder comes equipped with 4 panels stored within the frame so the user can control what level of access is given to the tablet. Each panel can be slotted to cover the volume rocker, on/off button, audio jack or micro-USB.  The rear plate has a standard VESA mount pattern and a center wiring channel for cable management.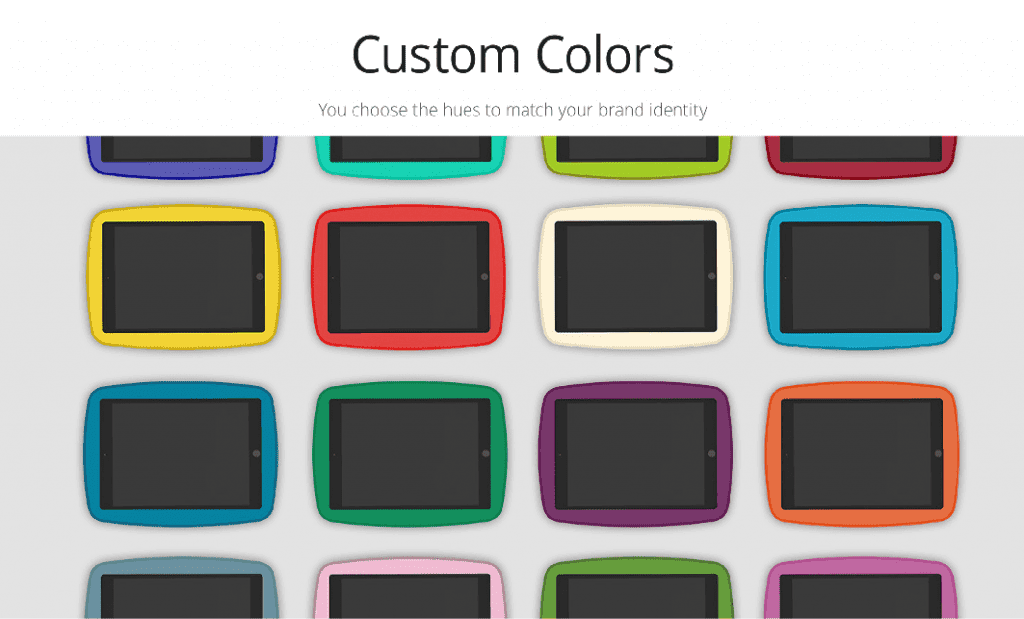 Compulocks new Galaxy Enclosure is available in a mix of black and white combinations, but can be custom ordered in any color variation. The recommended pairing is with the Rise pole stand, available in 4 heights, but is compatible with all Compulocks stands and mounts. This pairing is recommended for those who wish to operate the enclosure as a Galaxy POS Kiosk or self-checkout station. The Rise Hyperspace is sure to transform and improve customer experience, allowing them to conveniently order, grab-and-go and avoid long lines at the cashier.
When the HyperSpace Galaxy Enclosure is combined with Compulocks Hand Grip, it really shows off its versatility and portability. The ergonomically designed hand grip adheres to the tablet with 3M VHB bonding tape and has an adjustable strap for a comfortable fit making it the perfect mobile tablet security solution.
HyperSpace is currently deployed in two large scale retail projects. It combined with a tablet and POS software, aka the 'magical triangle, has received highly positive feedback and has led to more relevant, personalized and engaging customer interactions.

About Compulocks
Compulocks is the premier designer and manufacturer for innovative security and display solutions of the highest quality for all tablet devices.