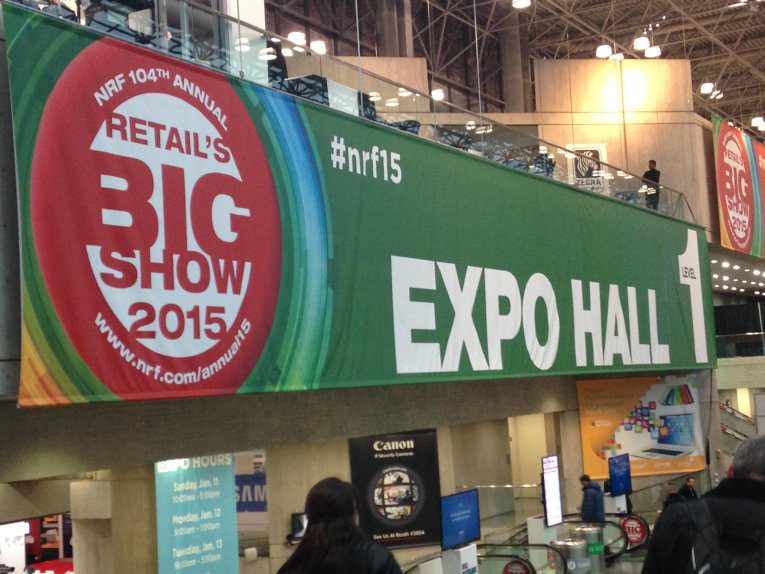 Reviews from CES 2015 and News from NRF 2015
The first week of 2015 has been one of the busiest for us. Maclocks attended both The International Consumer Electronics Show (CES) and The National Retail Federation Show (NRF). One obvious theme from both shows was the necessary presence on Apple and Samsung in order to be noticed in the tech world, and that certainly confirms how essential our solutions are to the future of every business.
CES
CES is the world's gathering place for all who thrive on the business of consumer technologies. The show is a collection of innovative products, and this year it was all abuzz with 3D printers, wearable technology, smart cars and connected homes. In the middle of all the futuristic displays was Maclocks, showcasing and announcing new security and display solutions for the computer and tablet industry. We were happy to be there as the makers of security solutions for Apple and Samsung, and to be showing off our state of the art products, including iPad locks, iPad enclosures, iPad POS stands, MacBook locks, Apple TV mount, tablet charging carts and laptop carts.
CES HIGHLIGHTS
While guests were fascinated by all we had to show off at our Maclocks booth, there were a few solutions that certainly stole the show. The retail folks were lining up for the Slide Pro iPad POS Kiosk, the restaurant rep's made huge orders for the Space 360 and everyone wanted a chance at the Glacier.
It is exciting to see what is coming to market over the next year, especially in regards to solutions creating a smart home, and also fitness wearables. Our team did not have much time to wonder and explore, but when we did we found a few favorites. For the smart home, there was a video doorbell with one-way video and two-way audio communication. Also impressive was the smart smoke alarm and carbon monoxide detector which features integration with Apple HomeKit and has apps available for iOS and Android.  For those looking for healthcare wearables, the most revolutionary was certainly the AmpStrip, which tracks heart rate, activity, respiration, skin temperature and posture all within a device as discrete and comfortable as a Band-Aid.
NRF
NRF is the world's largest retail trade association show where all companies who fall into the retail category gather to see what they need to run a smoother business. Maclocks was excited to attend because our goal is to make it simple for business owners to get the right equipment they need to make the most of their point of sale systems.  While we were excited to show off our locks, stands, enclosures and charging carts, our focus was on our wide range of POS Kiosk solutions. Our hardware solutions offer security, simplicity and functionality for any tablet or computer of your choice.
To stay up to date on where Maclocks will be next, check our Events Page.