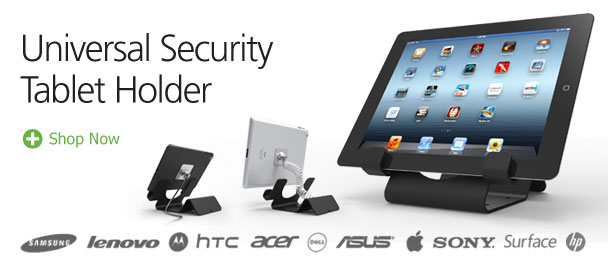 Simplicity and Compatibility Not Lost on Maclocks New Tablet Securtiy Stand
Maclocks.com provides a universal solution with the new Tablet Security Stand!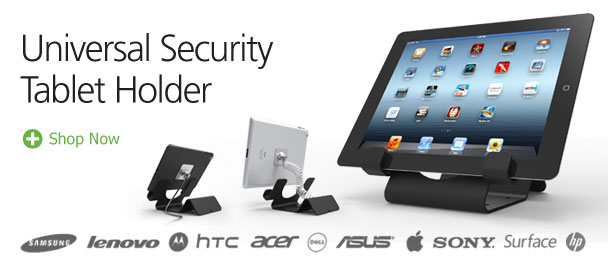 With the growth of the tablet computing market the demand for Maclocks to produce a tablet security stand has been met. The new  Maclocks Tablet Security Stand is compatible with all the leading tablets (7 inches or more) from the top brands.
The new Tablet Security Stand's compatibility makes it the ideal fit for any display setting whether it's a retail store, corporate office, school lab, VIP lounge or even as an addition to your personal home entertainment system.
The simplified design still has its unique features that distinguish it from the cluttered pack of tablet stands on the market. Positioned at a 45 degree angle for optimal viewing with an open back design to fit the locking point and security cable. The stand has a patented balance stabilizer that serves as a cable trap to keep your cords in order and from being stolen.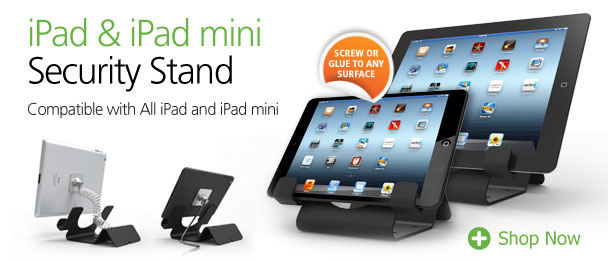 Made of high grade aluminum construction with a sleek black finish that compliments your device's design and style. Lightweight, but still extremely durable so the metal won't bend or warp and can withstand any attempt to pry from it's moorings.
You can pre-order the Tablet Security Stand now for only $59.95 with a shipping date of August 1st 2013.
[hr]