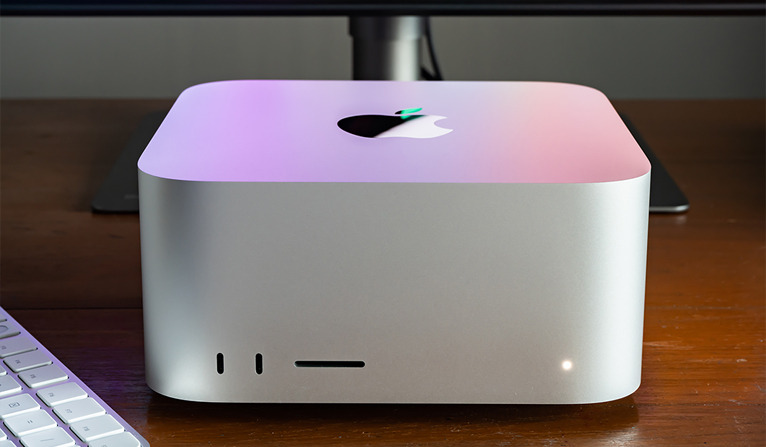 The New Mac Studio
Apple's Mac Studio is a powerful silicon-based Mac that provides a wide variety of ports combined with intense performance. It is placed as a cross between a Mac Pro and a Mac Mini. The Mac Studio is designed to be taller than the Mac mini, and as the name suggests, it is created for studio professionals and has Apple's strongest M-series chips.
Apple claims that the Mac Studio provides excellent performance, easy connectivity, and new features in a compact form, converting any small space into a studio. Moreover, the Mac Studio is developed for noise-free operation. It has a remarkable thermal structure that pulls air in through the airflow inlets using two-sided blowers underneath and pushes it out through perforations on the back of the chassis.
Benefits Of the Mac Studio
The Mac Studio has some very obvious advantages:
It takes up very little desk or floor space and is easy to move around.
Its curvaceous aluminum body is not designed to vanish into the backdrop.
It has many ports, so you would want it near your workspace to easily access all of the ports.
This is a go-to product for people who want an elevated desktop.
It has a quiet operation and does not get heated efficiently even after hours of function.
It has built-in speakers.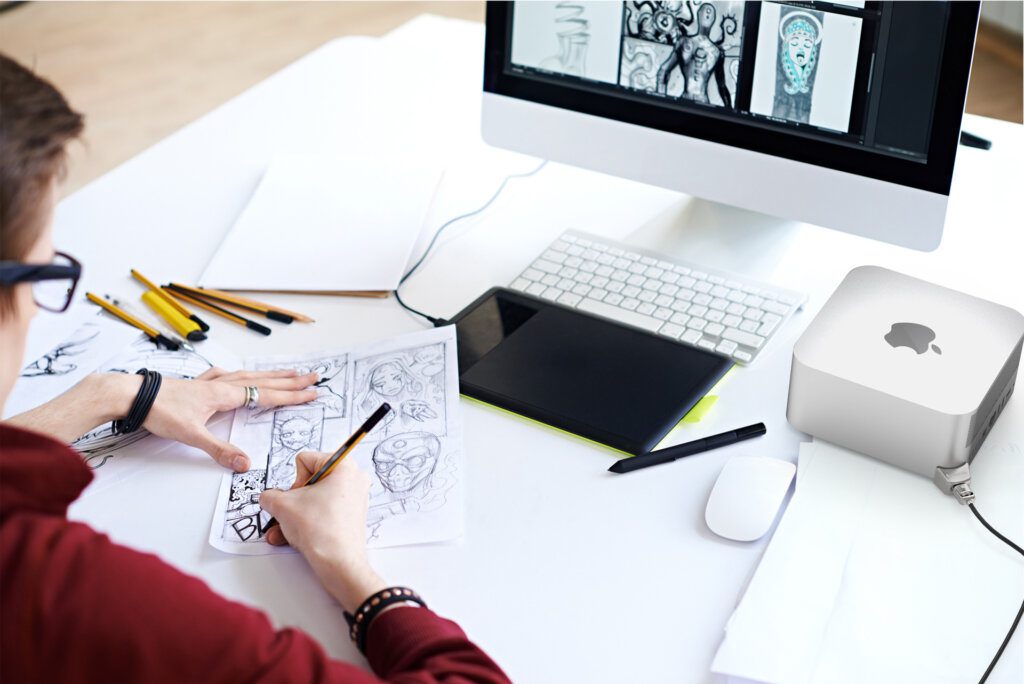 Other than programming professions like video editing and animation rendering, there are many fields where Mac Studio can be beneficial. Companies need to equip their employees with the Mac Studio, and universities and schools might want to purchase it for effective teaching. Macs are used in nearly all jobs in film, TV, music, publishing, design, and advertising.
Mac Studio Ports
This standalone computer is packed with multiple ports, making it easier for individuals to customize workspaces and multitask according to their needs. The Mac Studio has 12 ports; 3 on the front and 9 on the back.
The Thunderbolt 4 ports on the back of the Mac Studio attach USB devices, monitor displays, and other devices. Thunderbolt ports deliver sufficient bandwidth for connecting high-speed gadgets.
You will see the Ethernet port on the back, which can create a connection between servers, computers, gaming consoles, routers, printers, and WiFi.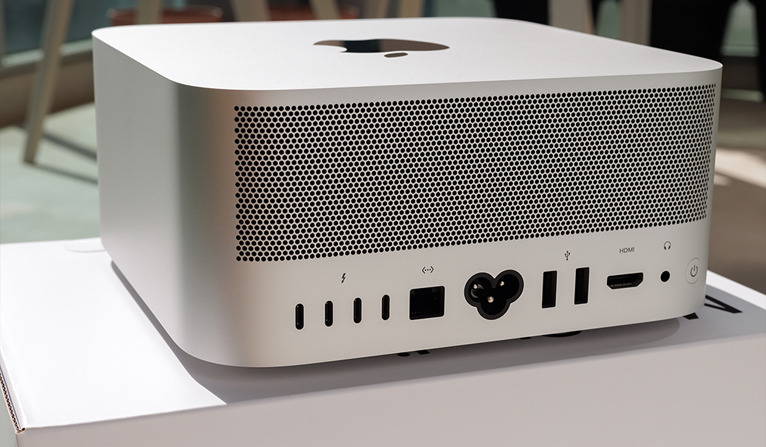 The 2 USB A ports on the Mac Studio connect or charge different devices without an adapter.
The 2 USB C ports are just like USB A ports but for the latest technology. Moreover, USB C ports are found on the front of the Mac Studio for quick and easy access.
Another port on the back of the Mac Studio is the HDMI port. This port links with an HDMI cable to transmit and acquire audio and video between devices, like televisions and external displays.
The headphone jack on the back and SDXC slot on the front is also among the Mac Studio ports.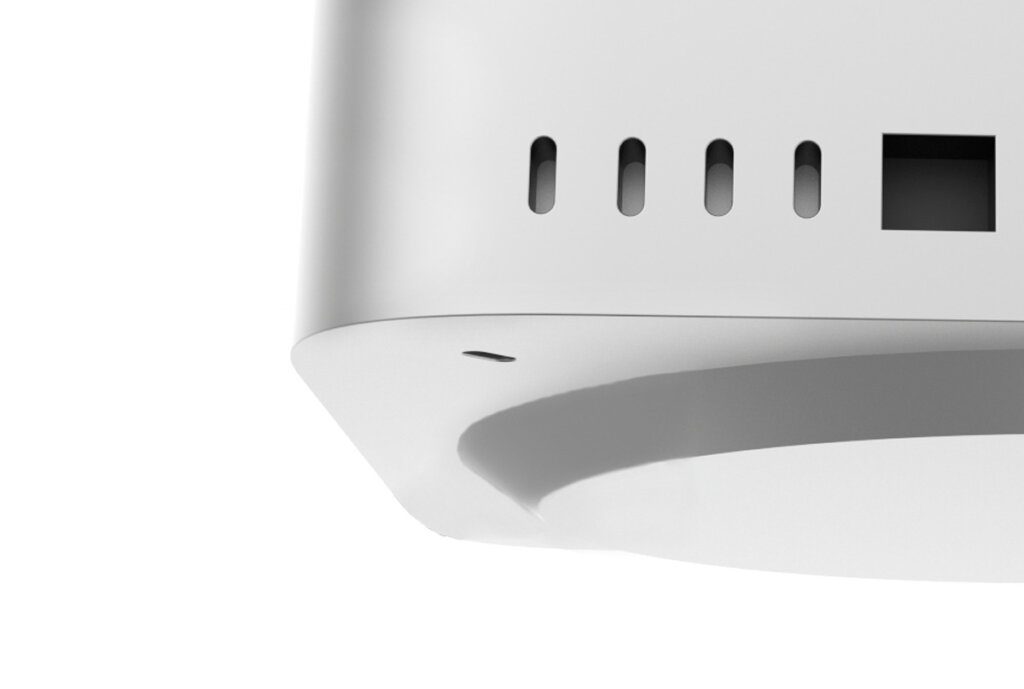 The slots at the ‌Mac Studio‌ base are assumed to be Kensington locks. But, the Kensington lock is too big to fit underneath the ‌Mac Studio‌. Rather, Apple has claimed it to be a lock adapter that will help consumers to secure their ‌Mac Studio‌ without altering or damaging it.
But how do these locks work? Are there locking solutions for the Mac Studio?
---
---
3 Locking Solutions For The Mac Studio
1. Mac Studio Security Lock-Ledge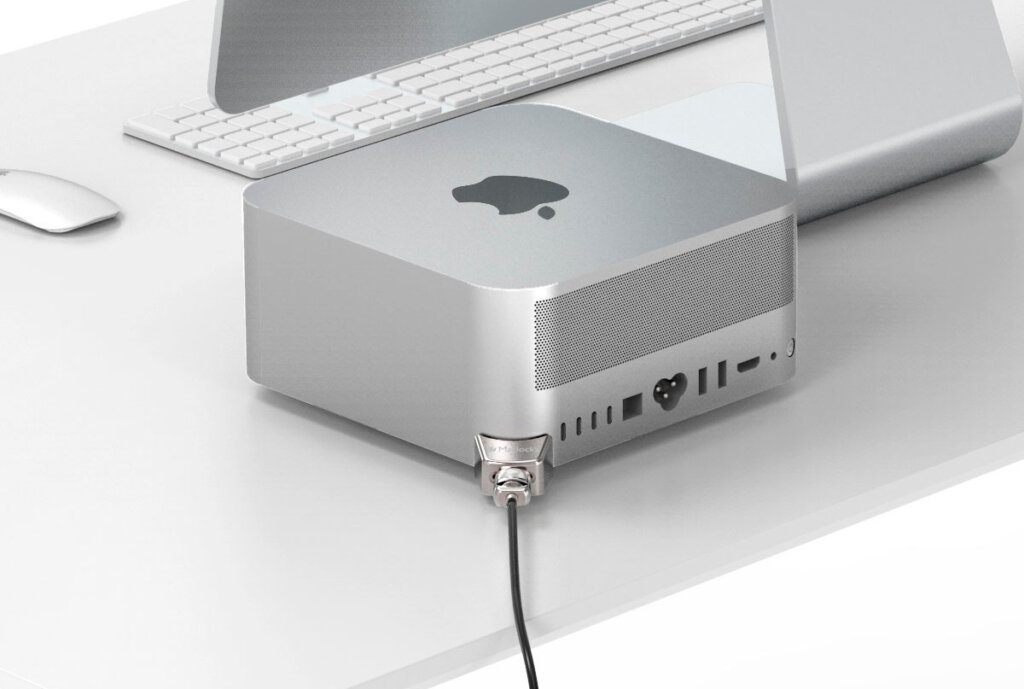 Mac Studio Security Lock Ledge is an ingenious, patented innovation exclusive to Maclocks. Its simple yet exceptional design observes Apple's elegant aesthetic and delivers a non-invasive security locking solution.
Maclocks' Apple Mac Studio Security Ledge Lock shields the Mac Studio without manipulating or damaging the device. This product belongs to Maclocks' security and locking solutions series for Apple devices like iPad, Apple TV, MacBook, and Mac mini.
The Ledge Adapter contains two parts, a T-Bar dish that matches the lock slot below the Mac Studio and an adapter that can accept all regular T-Bar cable locks. The Ledge has the Kensington slot at the bottom of the Mac Studio to a standard side lock. This lock allows you to protect the Mac Studio without damaging or manipulating the device.
Specifications
SKU (Stock Keeping Unit): MSLDG01
UPC (Universal Product Code): 819472024441
Weight: 1 pound
Compatible devices: M1 max chip and M1 ultra chip
2. Mac Studio Security Stand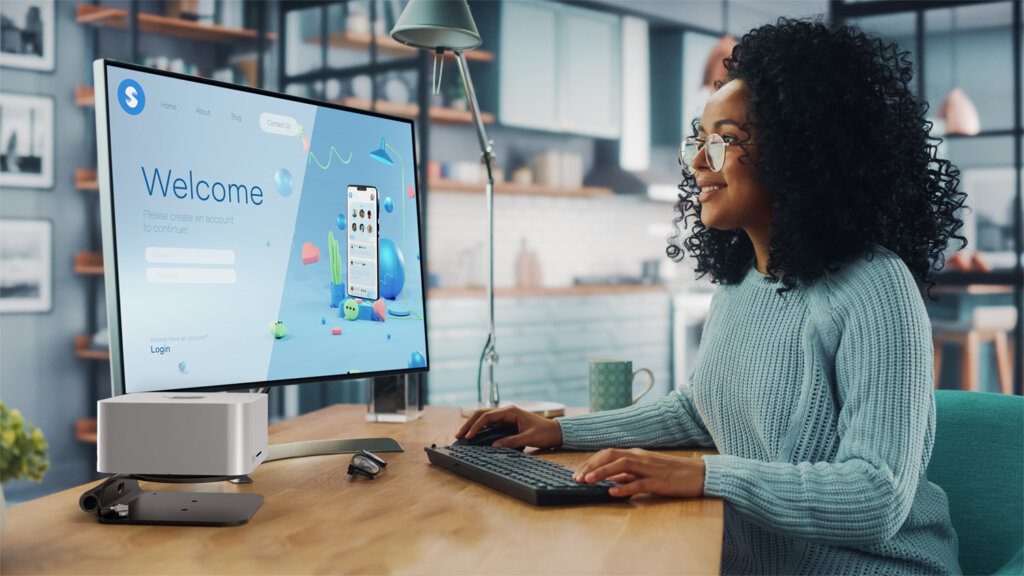 Upgrade your office space with this Mac Studio Security Stand. This display will secure your Mac Studio without altering or damaging the machine.
This security solution prevents dust collection and keeps the workspace clean. Moreover, it safeguards the Mac Studio by preventing it from rubbing with its two lock slots. It also offers easily manageable cables. You need this desktop solution in your workstation.
Specifications
SKU (Stock Keeping Unit): MSSTD01
UPC (Universal Product Code): 819472024618
Weight: 2 pounds
Compatible devices: M1 max chip and M1 ultra chip
3. Mac Studio Security Mount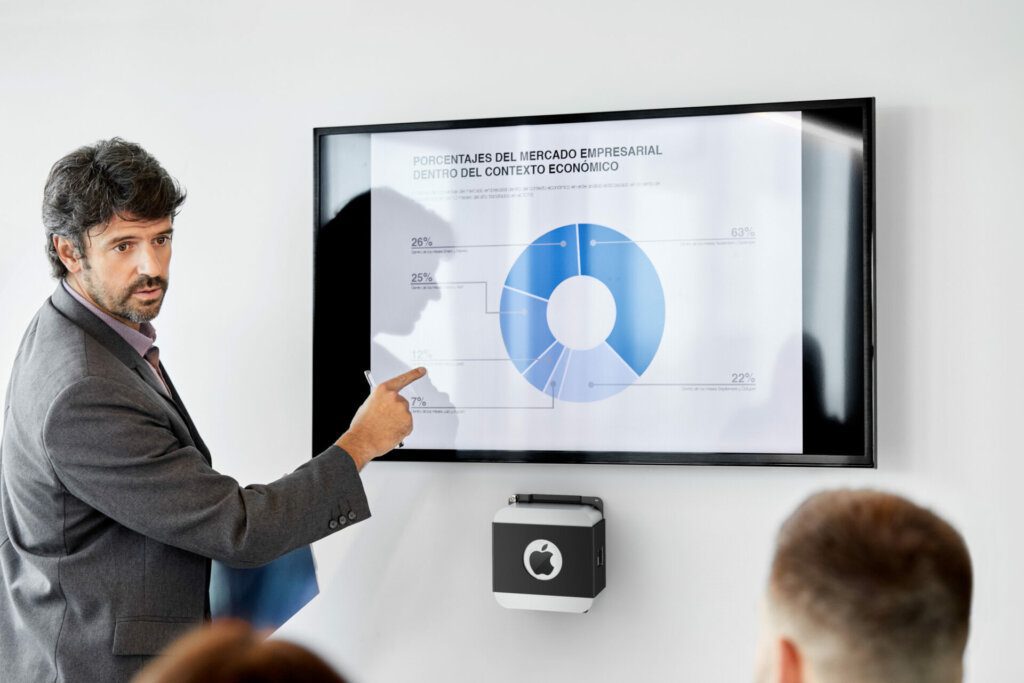 This solid Mac Studio Security Mount allows you to plug and unplug SD cards without the PC sliding around. If you are looking for a locking solution for your Mac Studio that offers good display and security, this is the product for you! This mount is essential for constructing a tidy and clean space, whether in the office or at home.
The Mac Studio Security Mount delivers complete security for your device with a keyed lock. This product is made of stainless steel, mounted on a counter or wall, and offers uncomplicated cable management. Besides being easy to set up, the Mac Studio Security Mount display and locking solution are perfect for any work setting.
Specifications
SKU (Stock Keeping Unit): MSBKT01
UPC (Universal Product Code): 819472024625
Weight: 2 pounds
Compatible devices: M1 Max chip and M1 Ultra chip
Conclusion
The Mac Studio is an outstanding device that guarantees excellent performance, connectivity, and modularity for singers, videographers, photographers, engineers, and architects. Hopefully, you found the above-mentioned locking solution for your Mac Studio helpful!