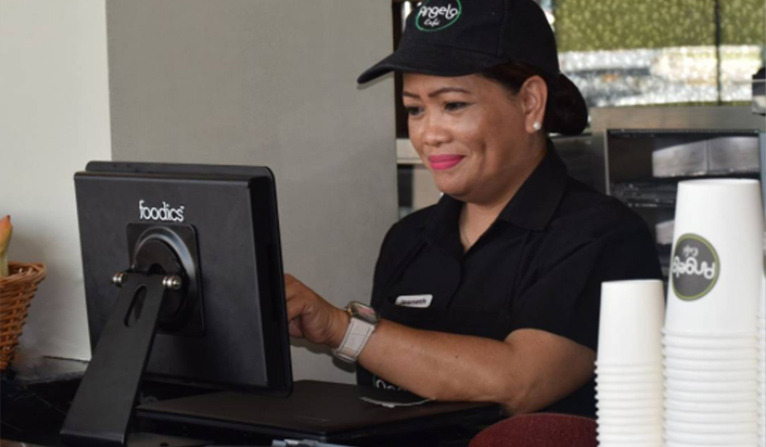 All You Need to Know About Maclocks' VESA Mount for Tablets, TV, and Monitors
The VESA Mount – Everything You Need to Know
Maybe you've never wondered how your TV or monitor can effortlessly tilt, swivel or turn, but it's all thanks to a nifty little fixture called a VESA mount.
VESA mounts (for monitors, walls or any other fixed surface) are the international standards used for all display mounting systems, allowing you to hang the monitor on a wall or a stand, move your device's screen, while keeping it fully secured to a vertical or horizontal surface.
Maclocks' VESA mounts are 100/75 mm, and are the perfect solution for tablets and monitors around 20 inches.
What's the VESA Standard Mount?
VESA standard mounts allow you to quickly, easily and cost effectively mount your display devices onto surfaces, all the while allowing you flexible, ergonomic viewing and use.
The 'VESA standard' refers to the dimensions of the four-hole attachment interface on the back of your display device, with the pattern on the display and the VESA standard mount matching up perfectly. That means, no matter the display device, you'll be able to buy a VESA mount with full confidence that it will fit!
VESA Mount Patterns and Sizes
VESA mount sizes can be determined based on the size of your Tablet, TV or monitor.
Since VESA standard mounts come in sizes of either 100 x 100 (for tablets), 200 x 200 (for TVs and monitors up to 32 inches), 400 x 400 (for TVs and monitors up to 60 inches) and 600 x 400 (for TVs over 60 inches), all you need to do to work out the VESA mount stand you need is to measure your TV or monitor.
How to Determine the VESA Mount Size you Need
Working out the size of the VESA mount for monitors, or a suitable VESA mount for TV is very straightforward.
First, you need to find the 4 holes on the back of your tablet enclosure, TV or monitor. Then, you need to measure the distance between the holes, both horizontally and vertically. From there, you'll be able to know the size of the VESA mount you need to buy.
So, if your tablet enclosure has holes 100 mm horizontally apart, and 100 mm vertically, the correct VESA mount for the tablet enclosure that you'll need to buy is 100 x 100 mm.
What Can I Connect to a VESA Mount?
Pretty much anything and everything over a certain size!
Maclocks has a solid range of VESA mount wall adapters and more, including for Apple TV devices, and for Mac Minis.
For just the VESA mount itself, the VESA swivel plate mount for rotating wall or countertop mounting, the VESA wall mount bracket and the Kiosk VESA 45-degree mount provide you with everything you need for quick, seamless VESA mounting for TVs and monitors.
Otherwise Maclocks' custom-designed and manufactured VESA mount solutions have everything you need to securely VESA mount your tablet devices!
For a universal, 100mm x 100mm tablet mount, compatible with all tablets from 7"-13", the Cling VESA Universal Tablet Wall Mount will have everything you need to securely display your tablet device, no matter the brand, securely and effectively.
The 360 VESA stand Mount is a 100mm x 100mm VESA mount – a bestseller – allows you to mount virtually any tablet brand, with a 90-degree screen rotation, and allows full reverse screen tilting. It can be bolted to any surface, stand, counter or a wall, for the utmost in security and usability!
The Flex Arm VESA Mount Security Arm is a bendable VESA mount, making it a perfect solution for tricky corner displays, VESA wall mounting and wherever your counter space might be limited. It's another universal tablet solution – although you should note that it doesn't come with an option for screwed-in base attachment.
The Rise Stand VESA Mount provides you with a VESA mountable stand on a variety of 3 different heights (10/20/40cm), compatible with a range of security locks, for extra certainty. This is a fantastic solution for retail display kiosks, information stands or POS systems in areas with a high footfall.
For a more personalised solution, the Brandable VESA Mount gives you the best of both worlds – a secure, VESA mount for your tablet device, along with a branding opportunity! The stand can be easily bolted to the floor for extra security, and the device can be tilted across both landscape and portrait modes.
How to Attach Apple Displays to VESA Mounts
Each of the above VESA mount products have one thing in common, other than their VESA mounting abilities: they're all universal tablet solutions, designed for any and every size and brand of tablet on the market.
That's not to say that Apple products can't be fixed to a VESA wall mount or stand; it just means that you'll need to buy an adapter for your Apple device, before attaching the VESA mount, as you would with other brands – having an enclosure with the VESA inlet to attach to a stand.
Having said that, Maclocks' range of Apple-specific VESA enclosures for iPads are plentiful, with a range of options for every need and use!
The Rokku 360 iPad Enclosure Kiosk has a tamper-proof aluminum enclosure, with unlimited tilting capabilities. It comes as standard with a 360 VESA mount base, with countertop mounting screws. It's ideal for use in kiosks and retail spaces.
The Rise Space Dual iPad Kiosk is compatible with most iPad models, and contains two individual iPad mounts. The second screen is VESA mounted, allowing for easy customer-to-team member POS, with the stand available in a variety of heights.
For iPad VESA wall mounting, the Space Swing iPad Enclosure Stand is constructed of high-grade aluminum, and is compatible with most iPad models. You can easily tilt, pan and swing across multiple display angles, with easy wall mounting.
The Bottom Line on VESA Mounts for your Monitors and TVs
You're likely more familiar with VESA mounts than you might realize; now you know a little more about finding the correct VESA mount for your TV and monitors, it's time to find the right one for you!
Easily, and securely display your TV and monitor with Maclocks range of custom-designed VESA mounts, for your every display need.