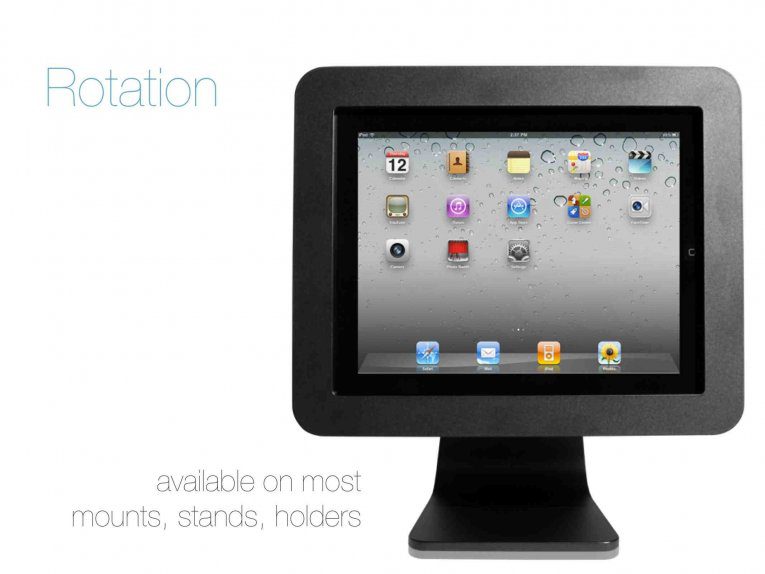 Choosing the right iPad Display Solution
When it comes to costumers engagement brands & companies invest large budget in creating digital content, enabling their audience to connect to their beloved brand within a single 'touch screen' click, at home, on Facebook and other social media websites, through company mobile websites and even through mobile apps, on their own private iPad.
Translating audience engagement to an increase within company's ROI can be easier once you have your costumer in public places, where you manage to choose the content displayed for the costumer, whether it's in local malls, retail stores, airports, trade shows, education,government & health institutions- enabling your audience to interact with your brand can leave a remarkable experience of accessibility, modern and above all- the costumer feels he's a part of it- engagement it is.
Displaying your digital content in public places and exposing your costumers to the content you'd like them to be exposed to is a 'call to action' move and will be translated immediately  to the desired results.
With Maclocks wide range of iPad Security & display solutions, each solution has its features and common uses, if you find it hard to choose (so do we 🙂 ) this guide is the right place to start. If you still didn't manage to choose we'd love to give you a hand with it!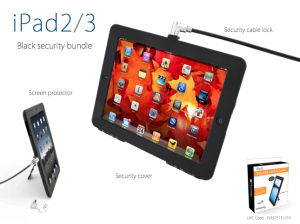 The first component of the  iPad Lock is a hard, clear plastic case you can leave on for everyday protection.  That way you can lock the security cable to the case, and loop the cable's other end around a fixed object (like a table). Once the case and cable are locked together, case cannot be detached without damaging the iPad.
Why choosing the Bundle? A classic solution to be placed on a counter/ desk.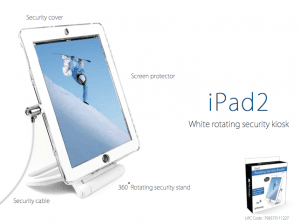 Like the bundle it fits to iPad2/iPad 3 tablets with an addition of Rotating Security Stand. It's Case locks in seconds onto the iPad Rotating Security stand, keeping it effective and very clean looking.
Why choosing the Kiosk? Placed on a counter, it enables to change the iPad's orientation dynamically as it rotates all around- landscape/portrait- just get it your way.
Maclocks 'best-seller' high grade aluminum enclosure is completely tamper-resistant. The iPad Enclosure can accommodate a cable lock or be mounted flush on the wall, making it ideal for education, health-care, corporate, retail and point of sale environments.
Why choosing the mount? A classic point of sale solution. Its bi-functional capabilities provide the user a private and comfortable way to interact.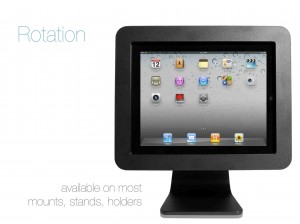 iPad 360 Executive Business Stand
Combines all the advantages of the new iPad Enclosure and Security Lock, with an all-in-one counter-top bracket, making it a perfect all-inclusive iPad security kiosk, iPad Kiosk for education, health-care, corporate, retail and point of sale environments.
Why choosing the stand? A classic B2B solution, can be rotated and swiveled. Enables extensions such as card readers (iDynamo  for instance), bar-code scanners etc…
Upgrading the security level with this solution, with an all-in-one counter-top and wall mount bracket, making it a perfect all-inclusive iPad security kiosk, iPad Kiosk for education, health-care, corporate, retail and point of sale environments.
Why choosing the enclosure kiosk? No need for a cable lock to secure the iPad- it is mounted for any chased surface.
This new and exciting product line of iPad lock Security Flex Arm is expected to follow in the footsteps of the Maclocks security line which has positioned Maclocks as the global leading brand in the mac security category.
Why choosing the flex arm? Its extremely STRONG yet modular arm gives this product its unique feature of multi functionality- just twist it.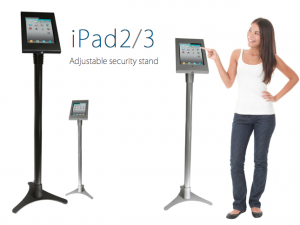 iPad Adjustable Security Stand
This Security Stand is perfect for Point of sales, Point of display and customer interface and being used by the leading banks, airlines, restaurants and hotel chains, hospitals and government agencies worldwide. Maximum stability with attractive styling.
Why choosing the adjustable stand? Perfect point of display, adjust easily to different heights, easy to install and can be used to every purpose.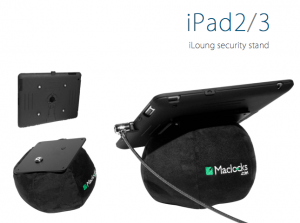 iPad S3 Security Stand (iLoung)
Once you attach the S3 Security stand to your iPad, you'll wonder how you ever lived without it! This stand allows you to easily position your iPad to whatever angle and location you need it. It's the perfect companion for your lap and curling up on the couch. The bag conforms to most surfaces and the vibration dampening makes it a great choice for avid screen-typers and vehicle use. Not to mention stylish, so you can easily pack it in your bag and take it with you wherever you go!
Why choosing the S3 Security Stand (iLoung)? Easy to carry and place everywhere, can be logo customized, can be used either B2C/B2B solution.
What is your preferable solution?
[hr]