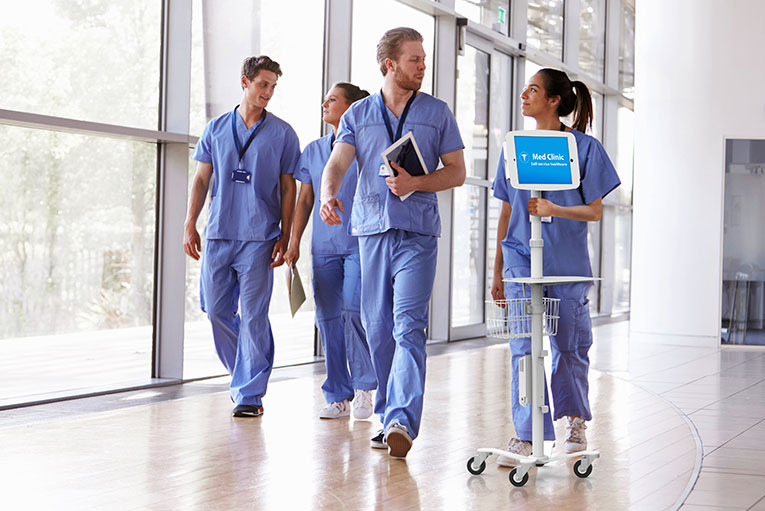 How to Effectively Utilize Tablets in the Healthcare Industry
With pandemics, a shortage of medical staff and who knows what else around the corner, the healthcare industry is having to constantly upgrade and innovate to give its patients (and staff) a safe environment while keeping up with the work overload.
And, one of the best ways to do this is to use technology for patients communication and self service stands, in order to improve the patient and staff experience alike!
Protecting Your Tablets, Protecting Your Patients
Using tablets can massively upgrade any healthcare setting – but they have a lot of weight to carry! Not only do tablets have to be –
Reliable – when it comes to medical care of any sort, having the most up to date information – even in real-time – is the most important factor. That and, ensuring that your tablets don't run out of battery, cut-out or freeze.
Durable – healthcare is an expensive business, with countless costly machinery, and equipment. You want to invest in life-saving machinery or drugs, and save your money in other places. Keeping your tablets protected and secured can be easily done.
Secured – Not only do you want to prevent theft of your tablets but also have a duty of care towards patients and staff in keeping their details protected too!
…but they also have to be strategically placed and function perfectly. 
The Role of Tablets in Telemedicine
Tablets have so many uses in the telemedicine world, it might be quicker to list what they can't do (as in, actually treating patients).
Telehealth and patient communication
Possibly one of the most important uses of a tablet in telehealth, is the way that doctors and medical staff can use them to instantly communicate and interact with patients, while not putting their own lives at risk. That's particularly important during a pandemic, but also has other applications: for cutting down medical staff's transportation time between patients; allowing translators to easily join a remote call should a patient not speak the language of the conversation; to advise when texts are being self-administered by patients and even for internal medical staff discussions and meetings.
Self-check in and reporting kiosks
Tablets allow you to easily alleviate and reduce your administrative staff's workload, by empowering patients to self check-in, pay for services, schedule further appointments and check information. It enables to provide the patients with a better experience, to shorten waiting times, and to maintain social distance between patients in waiting rooms.
Patient connectivity and entertainment
Especially during a pandemic, but also during more 'normal' times, tablets allow patients to remain connected to loved ones via video chat and instant messengers, as well as provide them with entertainment – while hospitalized, while waiting in line, or while waiting for other testing and appointments.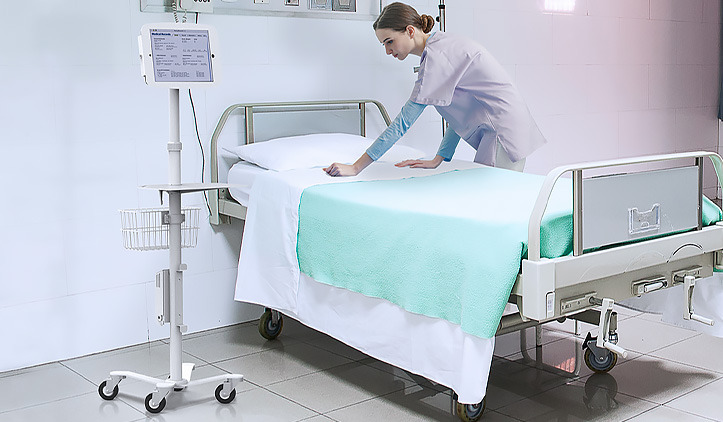 Tablet Security Solutions
As mentioned above, protecting your tablet devices against breakages, falls and other accidents – as well as securing them from theft or misplacements – is part of the security concerns you need to take into consideration in a healthcare setting.
Luckily, Maclocks has a range of custom-designed and manufactured security stands and display mounts for tablets and monitors, all of which are perfect solutions for use in the healthcare industry: 
Patient Communication
This rolling tablet stand allows for a smooth medical rolling cart and workstation, that can fit in tight places and reach all the way up to the patient's bed. It offers a fully adjustable height and tilted, swiveling display. It's ideal for video communication or patient interaction, and comes as standard with lockable wheels, a lockable battery box and cable management, and accessories including a storage basket and workspace.
Revolutionizing the security tablet stand space, the Magnetix tablet stand allows you to mount any tablet to any VESA stand, easily securing it by way of magnets!
This is a universal solution allowing you to easily adapt any and every tablet of all sizes and brands. It's an easy way to upgrade existing, legacy devices and computer products into secure, and more portable devices that are easy to use at any height, sitting or standing. 
Self Check-In
Easily secure tablets to the countertop or wall, for a tilted (30-degree on the counter and 60-degree on the wall) security tablet stand. Storage area and cable management are available at the back of the console for a clean look, and for concealing items such as a Battery Pack to allow for freedom of movement without the constraints of a charging cable.
Perfect for grabbing and docking, this universal tablet solution has an ergonomic, adjustable hand grip strap, and optional swivel base plate too. It's an ideal solution for nurses walking between the rooms, for patient communication, and doctor communication too.
A VESA-mounted security stand for tablets and monitors alike, this product has an added panel for custom design – such as branding, or other important messaging. It also comes with an optional tray for installing a hand sanitizing station, as well as a printer for guest badges and stickers. It's a perfect solution for check-in stands and self-service activities. 
Patient connectivity and entertainment
With an adjustable, ergonomic bedside arm, this product can easily tilt, swivel and pan, all while taking up very little space, and easily storable. It's a secure tablet stand that patients will highly appreciate, and which will vastly improve their experience, all while supporting social distancing and international safety guidelines. 
Utilizing Tablets to Revolutionize the Healthcare Industry
No matter which part of the healthcare industry you work in, and no matter whether there's a pandemic or a more 'normal' time, the fact of the matter is that we're at a breaking point: in terms of patient numbers, in terms of staffing and in terms of space.
Deploying tablets effectively – via medical rolling carts, for patient entertainment, and for doctor communication, among many more ways – will only help save on costs, time and space. That means, medical staff can focus on actually treating patients, while patients can empower themselves to find information, book appointments, and therefore speed up processes.
Compulocks' range of innovative healthcare industry-specific security stands for tablets is growing: find a telemedicine tablet security solution for you today!