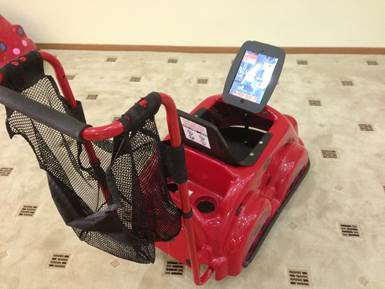 Stroller Company Uses Maclocks "Space" iPad Enclosure
A reputable company that offers special services to large malls and shopping centers through the introduction of their various types of commercial strollers, mobility scooters, shopping carts and is the first in the world to bring kids carts with viewing screens.


They offer various types of commercial strollers for kids,  mobility scooter for people with special need,  durable shopping carts and the world's first stroller with viewing screens for children programs,  mall advertising and promotional campaigns and a touch-screen panel as a locator guide.
The company chose Maclocks "Space" iPad enclosure because it is a lockable iPad kiosk that fits all iPad generations and is a top security version of our best-selling iPad Lock and Security Case Bundle.
The high grade aluminum enclosure secures the iPad against theft and is completely tamper-resistant. All Wi-Fi, Blue-tooth and 3G radio frequencies are uninterrupted by the metal enclosure, while allowing for restrictions on the home, volume and power buttons.
The iPad Space Enclosure can accommodate a cable lock or be mounted flush on the wall, making it ideal for education, healthcare, corporate, retail and point of sale environments.
[hr]