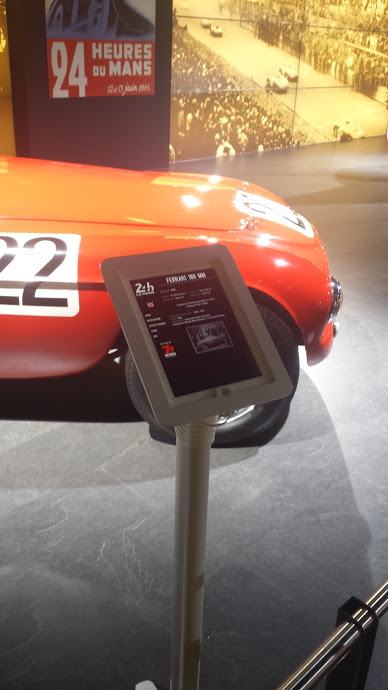 Maclocks iPad Kiosk at the 2014 Geneva Motor Show
People from all over the world attended the Geneva Motor Show to see the "next big thing" in the automotive industry, and the Maclocks iPad Floor Display Stands were stylishly incorporated into the presentations as the digital display sidekick.
Since the start of the automobile boom in 1905, The International Geneva Motor Show has been the main stage for major automotive companies to introduce their newest super-cars to the industry. Exhibitors and attendees were equally pleased with this year's event, and many have already secured their place for the 2015 show.
It goes without saying that the guests were extremely impressed by what the automobile designers had to show. However, they were also fascinated by the exhibition's digital displays set up alongside every car and platform.  The digital display is attractive because it allows the exhibitors an ideal way to present their new offerings to the audience in a modern and interactive way. Vendors no longer need to waste money printing catalogs or pamphlets that usually don't even make it out of the show. Many vendors were able to turn their standard tablets into interactive information centers by using the Maclocks Adjustable iPad Floor Stand. This security stand is also optimal for Point of Sale use.
Maclocks has worked with a wide range of auto companies such as Mercedes-Benz, Renault, and Volvo. Every collaboration has resulted in a boost in sales, brand recognition, and improved customer experience. The Maclocks iPad Floor Stand is just as beneficial for use in car dealerships, showrooms and smaller scale car shows.
The Adjustable iPad Floor Stand is made from high grade aluminum with a cast iron base for maximum stability with attractive styling. To not take focus away from the cars, the exhibit designers chose a white stand with a white Executive iPad Enclosure (secures iPad 1/2/3/4/Air). All of Maclocks products are easily assembled and disassembled, and will last for countless shows.
This stand can be set up at various heights, which made it the perfect sidekick to be placed next to each car presented at the show. When investing in your next car or iPad, be sure to go the safest way possible and lock it up!
[hr]