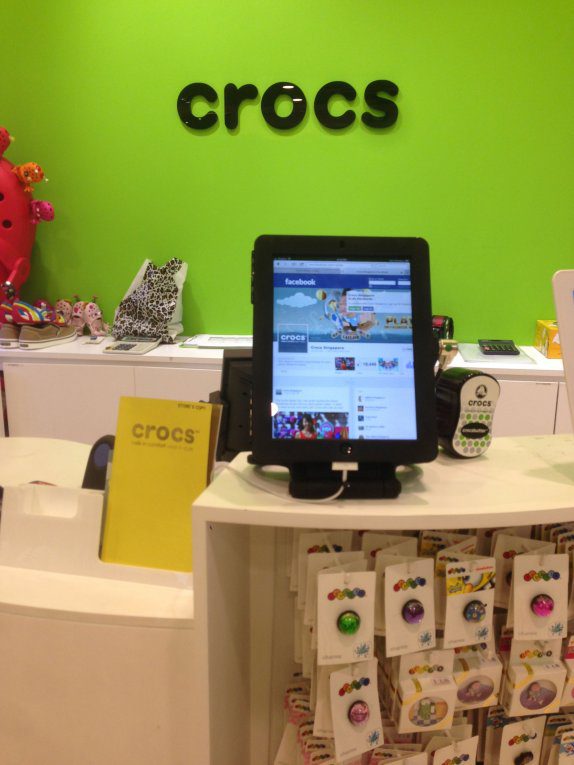 Maclocks iPad locks in Crocs stores in Singapore
This blog post is taken from Tourispads.com, our friends from Singapore who make iPad rental projects across the country. Here is their iPad deployment story at Crocs stores in Singapore that was combined with a special promotion:
"Run sailor run was a 2 weeks long promotional event by Crocs with special support from Fly Entertainment artiste Tosh Zhang which ended recently on 3 May. To reward loyal customers of Crocs, all they needed to do was to play a simple game and get 20% off their purchase. TouristPads came to the management's mind immediately because of our vast experience in supporting events with our iPad rental and we are using the stylish Maclocks iPad lockable case with a rotating stand to secure the iPads at the six Crocs branches at Tampines Mall, Parkway Parade, Marina Bay Sands, Marina Square, Plaza Singapura and Junction 8. We are really pleased to have members of the public asking about the casings as we are doing the setup at some places!
After the event, we spoke to some of the staff at Crocs to talk about the impact on sales using our iPads for this particular event. Many of them believed that having a shiny iPad with Retina display with a beautiful casing right in front of the cashier helped attracted customers and in the process, allowed them to know about the promotion and helped achieve more sales!
Curious how our iPads looked like on display? We have attached 3 pictures for your reference and we would like to thank Maclocks for providing a great product! For more information on our iPad and/or accessories rental, please visit us at TouristPads or drop us an email at [email protected]"
[hr]