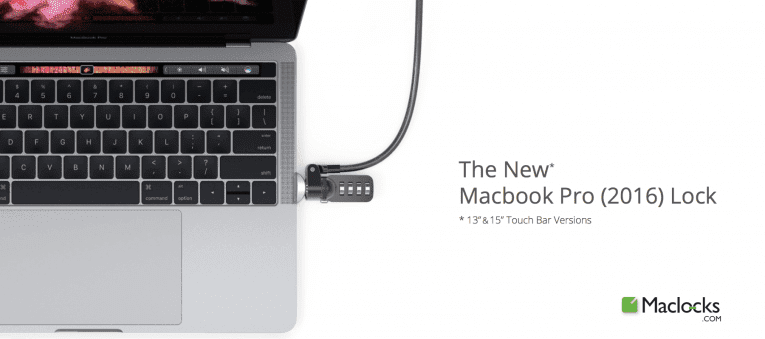 Maclocks Releases Images of New MacBook Pro Touch Bar Security Lock
Apple lock specialists introduce the only lock custom made to secure the New MacBook Pro Touch Bar; featured on 'Cult of Mac's Best Mac Accessories of 2016'. 
Austin, TX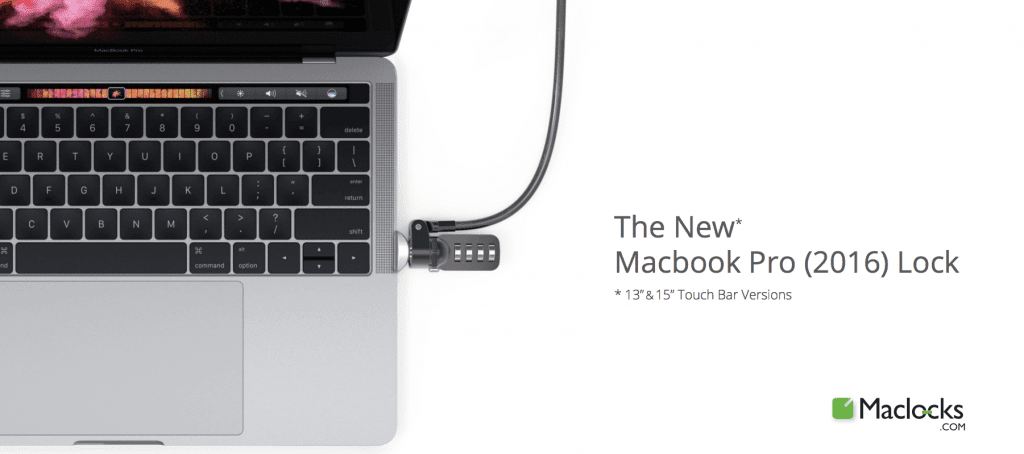 The New MacBook Pro 13" & 15" models are the first Apple laptops to feature the interactive Touch Bar and Touch ID. While this addition increases productivity and value, it also makes it one of the most targeted objects for theft. Since it does not include any physical security solution, Maclocks has just designed the New MacBook Pro Lock. It is the only lock on the market uniquely designed as a security solution for the New MacBook Pro lineup. The proprietary design of the lock shows that it is the first to not require any adhesive or alteration to the body of the MacBook Pro when attaching this custom Ledge Lock.
The New MacBook Pro Lock slot can be quickly and easily installed on both the left or right side of the MacBook Pro, and it does not affect any functionality of the MacBook, particularly the opening and closing of the lid. The slim design of this extremely secure lock slot adapter integrates seamlessly with MacBook's minimalist appeal, and is ultra-lightweight at less than 0.1lb allowing for the MacBook Pro to fit in a sleeve or bag.
With high demand and sales of the MacBook Pro Touch Bar and Touch ID models, Maclocks knew it was important to have a security solution ready as soon as possible. The revolutionary MacBook Ledge Lock that secures the previous generation of MacBook has been redesigned for an equally impressive MacBook Pro Touch Bar Lock.
Most insurance policies only cover a stolen MacBook if it's been firmly locked down, and even then, they can't pay for lost data. For ease of mind when leaving the ultra-portable MacBook alone at the office or in a public space, the New MacBook Pro Lock fastened with a loop-ended steel cable can be secured around any stationary object. It is also available with an anchor point for a permanent personal locking post.
The New MacBook Pro Lock is available now for pre-order.
About Maclocks
Maclocks is the premier designer and manufacturer for innovative security and display solutions of the highest quality for all Apple devices.