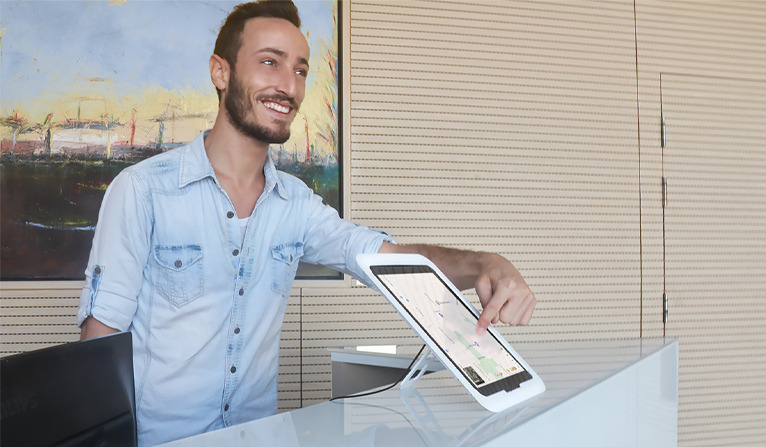 Wow Your Customers at First Sight – How to Harmonize Secured Display Solutions With Your Reception Area
It's no longer good enough for your reception area to just function nicely – it has to look good, and be a place where people are happy to spend some time. Not only that, but your reception area does the heavy lifting: it provides your customers with that all-important first impression of your business overall.
Any gym, hotel, restaurant – and even corporate buildings, medical clinics and more, know that competition for customers is fierce, which makes that first impression even more important.
That means your business needs to do two things at once: both have a range of digital solutions to upscale your operation and customer service, and look great while doing it!
Maclocks' range of upscaled business solutions provide full-functionality, all the while protecting your devices, and looking fabulous doing so! 
Walking the Walk, While Talking the Talk: Looking Good, Staying Secure
Compulocks' security enclosures range across every and any tablet device on the market – and then some. No matter the brand, no matter the screen size, your tablets can be stylishly displayed and protected, thanks to a range of cutting-edge, custom designed and manufactured security solutions.
Every reception area, and by extension, every business, can massively benefit from a stylish, secure upgrade.
Tablets are nowhere near as widely used as they should be – and they really should be allowed to do some of the heavy lifting in your business.
For example, tablets are a great way of guiding visitors to the right area of a building, locating offices, signing in visitors and even issuing guest pass cards.
In restaurants – customers will love using self-service to explore the menu, and even order and pay for their food.
Across the hospitality sector – tablets mean guests no longer need to wait for a team member to check them in, and can even do this themselves; choose activities and upgrades, and even offer anonymous feedback!
Even in the healthcare industry, tablets can provide life-saving resources, without the risk of spreading infectious diseases – staff can consult patients without being physically present, and can share information in real-time – potentially even saving lives!
Your security solutions need to be easy to use, enabling full self-service from customers (shortening waiting times and customer frustration in the process – a priceless by-product!), not to mention, fully secure the device.
But, practical functionality is only one side of the coin – your devices need to look attractive and inviting to customers, without compromising on the security of the device. Not only do the devices have to display nicely, but they need to be easy to position, and even fit into the tiniest of nooks and crannies, all the while remaining fully functional. That's a lot to ask of one security enclosure! 
Fully Functional, Beautifully Designed
Each of the following solutions could be just what you need to upgrade your entire reception area, no matter the industry – both for functionality and interior design purposes!
The iPad Lock and Security Case Bundle – one of Compulocks' best sellers!  – beautifully displays all iPads 10.2". It makes it easy to carry your tablet, hold, set-up, and display gorgeously in any location or environment – from retail, to corporate, to hospitality, and beyond!
The bundle comes complete with discrete lock slots and cable lock for all of your security needs, as well as a kickstand for easy horizontal or portrait display. You'll have the option of adding in an iPad Edge Case and Screen Shield too, for extra security.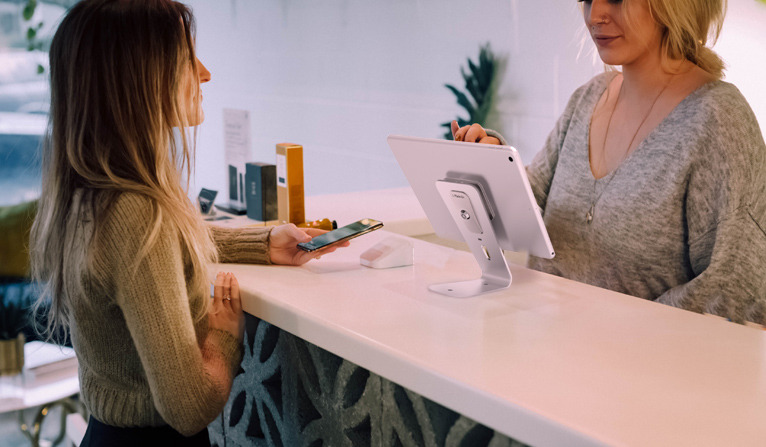 The Magnetix Counter Stand is the ultimate in style, elegance and innovation! Secure your tablet devices via magnetic plates, for easy docking, grabbing and display! The easily attachable magnetic plate means it's never been easier to turn your tablet device (any brand!) into a magnetically-secured one! Designed for mPOS, self-service kiosks and any customer interaction, with a variety of available stands, the Magnetix is the all-in-one universal solution for every tablet on the market!
The Space 360 iPad Enclosure Stand is compatible across iPad Mini, Air and Pro models, and is the perfect, most aesthetically-pleasing countertop solution – it's why it's been one of our longest term bestsellers! The stand comes as standard with keyed lock, securing the tablet to the enclosure, as well as a lockable high-grade aluminum enclosure for counter-top mounting.
The HoverTab Security Tablet Stand will give your entire reception area a modern, clean look – all the while providing the utmost in tablet security. It's a universal tablet solution, and consists of two parts – an adhesive steel plate attaching to the back of your device, and a six-inch stand sloped at 60-degrees for the optimal viewing angle.
The Flex Arm VESA Mount Security Arm will answer all of your security needs, while allowing the tablet to bend and flex at your customers will! Compatible with all 100mm x 100mm VESA-mounted devices, the bendable arm is a fantastic solution for those tricky corners, wall mounts and any place where your counter space is otherwise limited. 
Upgrade Your Reception Area In the Click of an Enclosure
Upgrading your reception area is easy and quick, thanks to Compulocks' innovative display and security stands.
No matter the brand of your tablet, no matter the space of your display area, and no matter what you'd like to use your tablets for, the above solutions are everything you need for both style and functionality. 
Your tablets need to remain secured, all the while being fully functional – and look attractive and inviting.
Check out Compulocks' range of highly secure, custom-designed, and manufactured stands, and upgrade your reception area quickly and easily.