Review live on MacNN
Sturdy stand combines with ultra-secure handgrip for multi-faceted tablet protection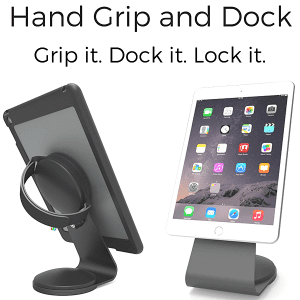 There's no denying iPads are great, but out of the box they can be a little limiting in some pretty common scenarios. Carrying one around is somewhat cumbersome due to their size, and leaving one out in the open isn't exactly the smartest idea either. Luckily for us, the Grip and Dock by Maclocks is designed to keep your iPad secure, whether you're toting it around town, or have it hanging out on your desk.
The hand grip is a large, circular protrusion with an adjustable strap on the back to slide your hand through. It's fairly comfortable when you've got your hand resting on it, as it's designed to be gently cupped in your hand. The hand grip rotates, so flipping your iPad 360 degrees is easy, making it an attractive option for working in landscape or portrait mode. We thought it made it feel rather secure as well. We actually held our iPad upside down, and shook it rather violently, and not once did we feel like the hand grip was going to detach.
The "dock" part of the Grip and Dock is a heavy, metal stand that sits upright. By itself, it's not terribly attractive, but once you slide the hand grip onto it, it becomes decent looking, if not a bit utilitarian. We found that the stand held the iPad at the perfect viewing angle for typing with a Bluetooth keyboard, or watching videos at your desk.
If you use your iPad as a kiosk for business transactions, the stand can be screwed onto a desk or table with included hardware, and the iPad can be secured to the stand via a lock and key system. This allows the iPad to be removed at the end of the day when business is finished, but prevents it from being lifted by those with sticky fingers. The stand also has a pretty keen swivel feature, which allows you to rotate it a full 360 degrees to face it wherever you may be standing.
Here's something worth noting: if you're going to get the Grip and Dock, you might want to purchase a cheap case to attach to your tablet, unless you're looking for a permanent solution. The industrial-strength adhesive tape on the back of the hand-grip is no joke and was designed designed to be a permanent solution, so the option of pulling it off of your beloved iPad is going to be virtually impossible. Fortunately, it's easy enough to find cheap iPad cases on Amazon for under $10, which is what we ended up doing.
So what's our final ruling? The Grip and Dock isn't going to win any beauty contests, but what it lacks in form it more than makes up in function. If you're interested, the Grip and Dock is available from Maclocks for the not-insubstantial price of $150, but we will say that this is an extremely well-designed, solid stand.
Who should snag the Grip and Dock:
If you often find yourself needing to take your iPad with you as you're walking, or if you use your iPad in an area where you sometimes need to leave it unattended, this is a great, secure option that we think you could benefit from.
— Amber Neely (@SurferAmber)