iPad Medical Rolling Cart - Rise Freedom Extended
- VESA plate tilts up 90 degree & down 90 degree
- Pan Tablet Arm for the Perfect Viewing Angle
- Two articulating 6" arms provide 12" of Extension
- Adjusts to True Sitting and Standing Height
- Locking casters keep the wheeled stand in an anchored position
- Smooth powder-coated surfaces stand up to commercial cleaning
- Through Pole Cable Management

Accessories available:
- Tray
- Basket
- Lockable Utility Box w/ Cord Management Cleat (secures cord, power adaptor, and cables)
- 10,000 mAh Battery Pack compatible with Locking Utility Box From $659.90 You save 0 (0%)
iPad Medical Rolling Cart - Rise Freedom Extended
The Rise Freedom Extended is a full-featured iPad Rolling Cart, with a dual articulating arm that provides 12" of extension, is great for bedside applications among others. 
The Space iPad Enclosure features rounded edges and open corners for improved ventilation and allows for limited access to buttons and inputs. The tablet can be continuously charged while in the enclosure and have peripheral cables plugged in while mounted.

The sleek rolling Rise Freedom Extended is a specialized product; with the appropriate accessories gives you the ability to pair an iPad and keyboard on a highly mobile sturdy kiosk. The adjustable metal pole is the core of this product offering full cable management and it is made up of the highest quality materials. It allows you to change the height of this workstation on the fly and lets users sit or stand for a healthier way to work.  This iPad kiosk also features four non-marring locking grey casters, and a lock slot for a cable lock to keep the kiosk where you park it.  

Create your own mobile iPad workstation to suit your workflow with additional accessories such as a keyboard shelf with handles, a basket, a secure utility box with cord management cleat, and even a pass-through battery pack (daisy chain them for longer mobile use!).  Simply pick a color in the pulldown for the base model and check the boxes for the accessories needed to build your perfect kiosk, and don't worry about matching the color, as we match the accessories ordered to the color of the Rise Freedom Extended automatically.

This is a versatile rolling work station, perfect for integrating and deploying tablets/screens into a variety of mobile-connected environments.
- Hospital and clinic medical cart/workstation
- Warehouse or retail work station, easily keep tabs on inventory and provide in-store customer service
- Visitors registrations and check-in for tradeshow and events
- Freestanding mobile point of sale terminal for busy shopping events and holidays
- Temporary office work station for crowded offices or alternative to the traditional desk
- Mobile podium for lectures, religious service, musical performances, and conferences

Minimum/Maximum Rise Freedom Extended Height Range:
Min Height: 45.5" / 116 cm
Max Height: 62.5" / 159 cm

Rise Freedom Extended  base model Includes:
* Locking Caster Wheels Base
* Adjustable Height pole
* Two 6" extension arms (12 inch total reach)
* Lockable High-Grade Aluminum iPad Space Enclosure
The Rise Freedom Extended fully configured model has these options (not included):
- Lockable Utility Box w/ Cord Management Cleat
- Basket
- Keyboard shelf
- Battery Pack 10,000 mAh (pass-through power)
- 6ft 10 pin (lightning) iPad charging cable
- Universal Cable Lock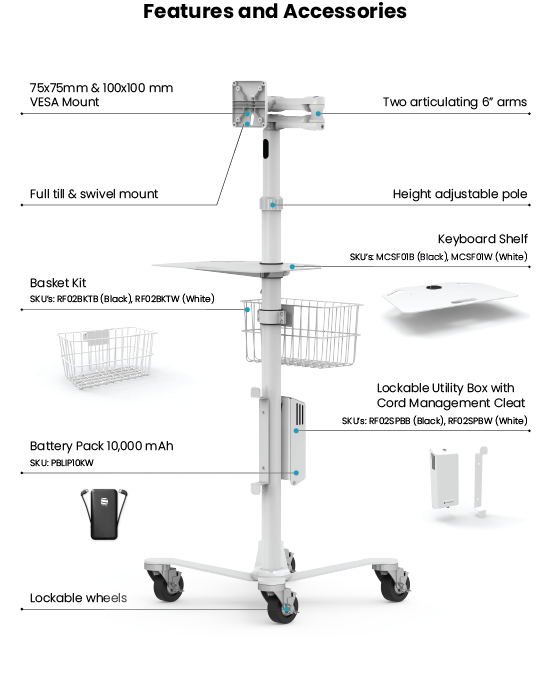 Choose Stand Color

Name

Sku

Compatible devices

Rolling Rise stand Extended - White

MCRSTDEXW

100mm x 100mm and 75mm x 75mm VESA Compatible Mount

Rolling Rise stand Extended - Black

MCRSTDEXB

100mm x 100mm and 75mm x 75mm VESA Compatible Mount

Choose Enclosure Model & Color

Name

Sku

Compatible devices

iPad Air 10.9, "Space" Enclosure - White

109IPDSW

iPad Air (4th gen.) | 10.9" | 2020 | A2324, A2072, A2316, A2316

iPad Air 10.9, "Space" Enclosure - Black

109IPDSB

iPad Air (4th gen.) | 10.9" | 2020 | A2324, A2072, A2316, A2316

iPad 10.2" 7-9th Gen (2019-2021), "Space" Enclosure - White

102IPDSW

iPad (7th gen.) | 10.2" | 2019 | A2197, A2200
iPad (8th gen.) | 10.2" | 2020 | A2270, A2428, A2429, A2430
iPad (9th gen.) | 10.2" | 2021

iPad 10.2" 7-9th Gen (2019-2021), "Space" Enclosure - Black

102IPDSB

iPad (7th gen.) | 10.2" | 2019 | A2197, A2200
iPad (8th gen.) | 10.2" | 2020 | A2270, A2428, A2429, A2430
iPad (9th gen.) | 10.2" | 2021

iPad Pro / Air 10.5", "Space" Enclosure - White

275SENW

iPad Air (3rd gen.) | 10.5" | 2019 | A2152, A2123, A2153, A2154
iPad Pro | 10.5" | 2017 | A1701, A1709

iPad Pro / Air 10.5" Space Enclosure - Black

275SENB

iPad Air (3rd gen.) | 10.5" | 2019 | A2152, A2123, A2153, A2154
iPad Pro | 10.5" | 2017 | A1701, A1709

iPad Pro 12.9" (3rd - 5th gen), "Space" Enclosure - White

299PSENW

iPad Pro (3rd gen.) | 12.9" | 2018 | A1876, A1895, A2014, A1983
iPad Pro (4th gen.) | 12.9" | 2020 | A2229, A2069, A2232, A2233
iPad Pro (5th gen.) | 12.9" | 2021 | A2379, A2461, A2462

iPad Pro 12.9" (3rd - 5th gen), "Space" Enclosure - Black

299PSENB

iPad Pro (3rd gen.) | 12.9" | 2018 | A1876, A1895, A2014, A1983
iPad Pro (4th gen.) | 12.9" | 2020 | A2229, A2069, A2232, A2233
iPad Pro (5th gen.) | 12.9" | 2021 | A2379, A2461, A2462

iPad Pro 11" (1st - 3rd gen), "Space" Enclosure - White

211SENW

iPad Pro | 11" | 2018 | A1980, A1934, A2013, A1979
iPad Pro (2nd gen.) | 11" | 2020 | A2228, A2068, A2230, A2231
iPad Pro (3rd gen.) | 11" | 2021 | A2301, A2459, A2460

iPad Pro 11" (1st - 3rd gen), "Space" Enclosure - Black

211SENB

iPad Pro | 11" | 2018 | A1980, A1934, A2013, A1979
iPad Pro (2nd gen.) | 11" | 2020 | A2228, A2068, A2230, A2231
iPad Pro (3rd gen.) | 11" | 2021 | A2301, A2459, A2460

iPad 9.7", "Space" Enclosure - White

224SENW

iPad (2nd gen.) | 9.7" | 2011 | A1395, A1397, A1396
iPad (3rd gen.) | 9.7" | 2012 | A1416, A1403, A1430
iPad (4th gen.) | 9.7" | 2013 | A1458, A1459, A1460
iPad (5th gen.) | 9.7" | 2017 | A1822, A1823
iPad (6th gen.) | 9.7" | 2018 | A1893, A1954
iPad Air (1st gen.) | 9.7" | 2013 | A1474, A1475, A1476
iPad Air (2nd gen.) | 9.7" | 2014 | A1566, A1567
iPad Pro | 9.7" | 2016 | A1673, A1674, A1675

iPad 9.7", "Space" Enclosure - Black

224SENB

iPad (2nd gen.) | 9.7" | 2011 | A1395, A1397, A1396
iPad (3rd gen.) | 9.7" | 2012 | A1416, A1403, A1430
iPad (4th gen.) | 9.7" | 2013 | A1458, A1459, A1460
iPad (5th gen.) | 9.7" | 2017 | A1822, A1823
iPad (6th gen.) | 9.7" | 2018 | A1893, A1954
iPad Air (1st gen.) | 9.7" | 2013 | A1474, A1475, A1476
iPad Air (2nd gen.) | 9.7" | 2014 | A1566, A1567
iPad Pro | 9.7" | 2016 | A1673, A1674, A1675

iPad Mini, "Space" Enclosure - White

235SMENW

iPad Mini (1st gen.) | 7.9" | 2012 | A1432, A1454, A1455
iPad Mini (2nd gen.) | 7.9" | 2013 | A1489, A1490, A1491
iPad Mini (3rd gen.) | 7.9" | 2014 | A1599, A1600, A1601
iPad Mini (4th gen.) | 7.9" | 2015 | A1538, A1550
iPad Mini (5th gen.) | 7.9" | 2019 | A2133, A2124, A2126, A2125

iPad Mini, "Space" Enclosure - Black

235SMENB

iPad Mini (1st gen.) | 7.9" | 2012 | A1432, A1454, A1455
iPad Mini (2nd gen.) | 7.9" | 2013 | A1489, A1490, A1491
iPad Mini (3rd gen.) | 7.9" | 2014 | A1599, A1600, A1601
iPad Mini (4th gen.) | 7.9" | 2015 | A1538, A1550
iPad Mini (5th gen.) | 7.9" | 2019 | A2133, A2124, A2126, A2125

iPad Mini 8.3" (6th gen), "Space" Enclosure - White (ETA - early January)

830IPMSW

iPad Mini (6th gen.) | 8.3" | 2021 |

iPad Mini 8.3" (6th gen), "Space" Enclosure - Black (ETA - early January)

830IPMSB

iPad Mini (6th gen.) | 8.3" | 2021 |
Customers also bought these products