Galaxy Tab Medical Rolling Kiosk - Rise Freedom
- Compatible Versions: Galaxy Tab: Galaxy Tab A, Galaxy Tab E, Galaxy Tab S, Galaxy Tab Pro S.
- 75x75mm & 100x100 mm VESA Mount Compatibility
- VESA plate tilts up 90 degree & down 10+/- degree (limited by screen size)
- Pan Monitor Arm for the Perfect Viewing Angle
- Adjusts to True Sitting and Standing Height
- Locking casters keep the wheeled stand in an anchored position
- Smooth powder-coated surfaces stand up to commercial cleaning
- Through Pole Cable Management
Accessories available:
- Tray
- Basket
- Lockable Utility Box w/ Cord Management Cleat (secures cord, power adaptor and cables)
- 10,000 mAh Battery Pack compatible with Locking Utility Box From $589.90 You save 0 (0%)
Galaxy Tab Medical Rolling Kiosk - Rise Freedom
The ENCLOSED Rise Freedom Tablet Rolling Kiosk is a full-featured secure Tablet work station perfect for integrating and deploying Galaxy Tabs devices into a variety of mobile-connected environments.
- Hospital and clinic medical cart / mobile workstation
- Warehouse or retail work station, easily keep tabs on inventory and provide in-store customer service
- Freestanding mobile point of sale terminal for those busy shopping events and holidays
- Temporary office work station for crowded offices or alternative to the traditional desk
- Mobile podium for lectures, religious service, musical performances and conferences
The sleek rolling Rise Freedom is a specialized product; it gives you the ability to pair a tablet and keyboard in one base. You can choose from a number of configurations to have it fit your specific needs. The adjustable metal pole is the core of this product offering full cable management and it is made up of the highest quality materials. It allows you to change the height of this workstation and lets users sit or stand for a healthier way to work. 
Rolling Kiosk Height Range:
Min Height: 42" / 107 cm
Max Height: 59" / 150 cm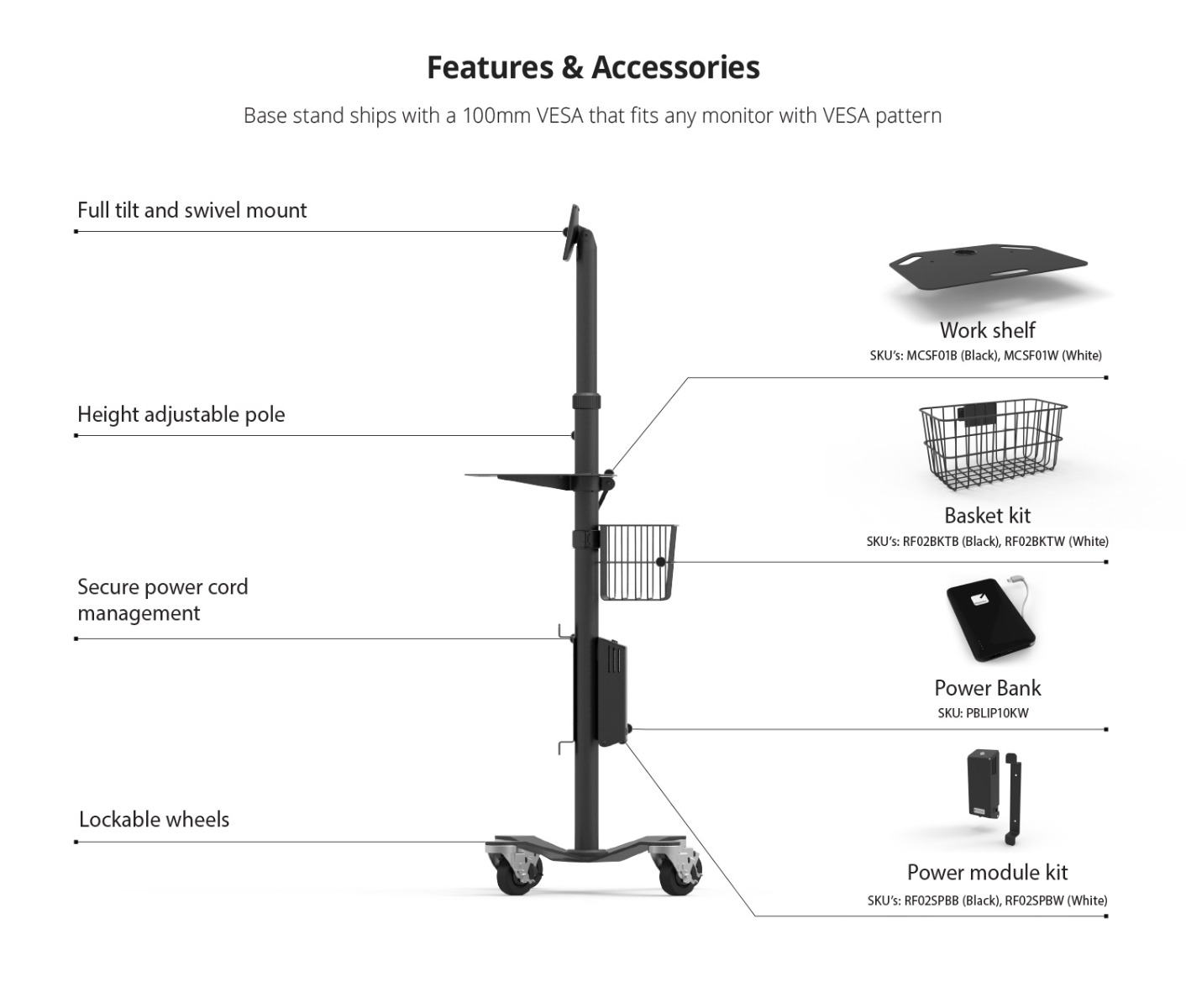 Rise Freedom Kiosk

Name

Sku

Compatible devices

Rolling floor stand - White

MCRSTDW

100mm x 100mm and 75mm x 75mm VESA Compatible Mount

Enclosure Tablet Model & Color

Name

Sku

Compatible devices

Galaxy Tab A 10.1" (2019), "Space" Enclosure - White

1910GASW

Galaxy Tab A | 10.1" | 2019 | SM-T515, SM-T510

Galaxy Tab A7 Lite 8.7" Space" Enclosure - Black (ETA Nov 1st)

870GA7SB

Galaxy Tab A7 Lite| 8.7"| 2021 | SM-T225, SM-T220

Galaxy TabPro S, "Space" Enclosure - White

912SGEW

Galaxy TabPro S | 12" | 2016 | SM-W700, SM-W703, SM-W707, SM-W708, SM-W708Y

Galaxy Tab A 10.1" (2019), "Space" Enclosure - Black

1910GASB

Galaxy Tab A | 10.1" | 2019 | SM-T515, SM-T510

Galaxy Tab A 8.0" (2018/19), "Space" Enclosure - Black

1980GASB

Galaxy Tab A | 8.0"| 2018 | SM-T387 & SM-T387aa
Galaxy Tab A | 8.0"| 2019 | SM-T200 (wifi), SM-T250 (LTE), SM-T295 & SM-T387AA

Galaxy Tab A 8.4" (2020), "Space" Enclosure - Black

2084GASB

Galaxy Tab A | 8.4"| 2020 | SM-T307U

Galaxy Tab A7 10.4" Space" Enclosure - Black

104GA7SB

Galaxy Tab A7 | 10.4"| 2020 | SM-T500, SM-T505

Galaxy Tab S6 LITE 10.4" Space" Enclosure - Black (ETA October 28th)

104GS6LSB

Galaxy Tab S6 lite | 10.4"| 2020 | SM-P610N, SM-P615, SM-P610
Customers also bought these products