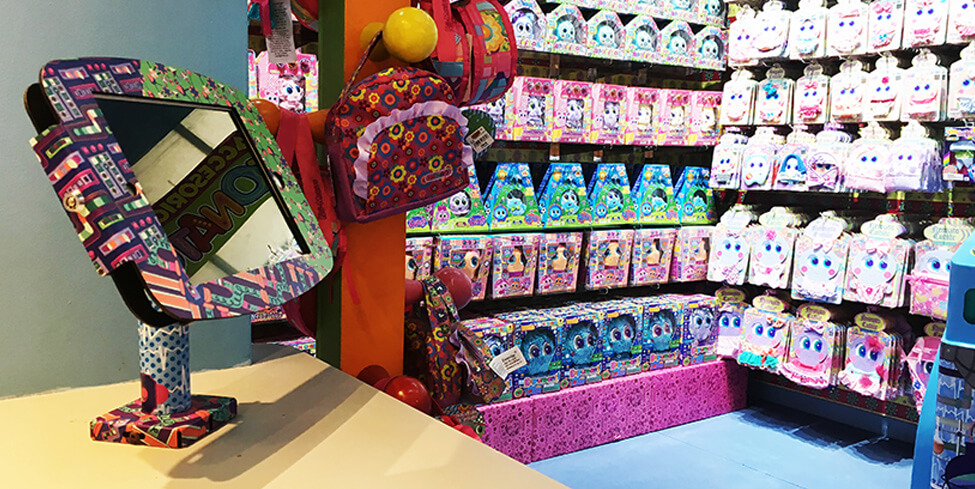 Featured products: Space Enclosure for iPad 9.7" with Rise Stand | Industry: Retail | Client: Distroller World
---
The Customer
Distroller World is a whimsical Mexico-born retail chain store of toys, multimedia and product franchise where shopping is a full-on sensory experience. Distroller originated in 2004 and has more than 60 locations throughout Mexico, both stand-alone and shops inside bigger department stores. Standing as an icon of irreverence and unique joviality in the market, Distroller makes the ordinary something extraordinary.
The Challenge
Distroller looked to convert their infamous doll hospital exhibit into a Point of Sale station, with the addition of secure iPad Kiosks. It was important for Distroller to find an iPad Kiosk that met the high standards required for any product they integrate into their store environment - quality, security and comfort. Ideally, the product needed to have cable management, allow for full customer and employee interaction and look good! They chose Compulocks to help them meet their expectations.
The Solution
Space Enclosure for iPad 9.7" with Rise Stand (20 cm). Rise Space Kiosk is a premium iPad security display with adjustable screen angles and full cable management. Ideal for use as a retail display kiosk or information stand specifically in high volume areas. The Space iPad Enclosure features rounded edges and open corners for improved ventilation and allows for limited access to buttons and inputs. As with all our tablet lock devices, the tablet can be continuously charged while in the enclosure and have peripheral cables plugged in while mounted.
Customer Feedback
"In Distroller, we make sure to work with state of the art suppliers that offer the best quality products and understand the company requirement to obtain best results; Compulocks offered us the perfect combination of the best iPad stand versus many competitors in the market and perfect functionality at the point of sale."
Items used and similar solutions