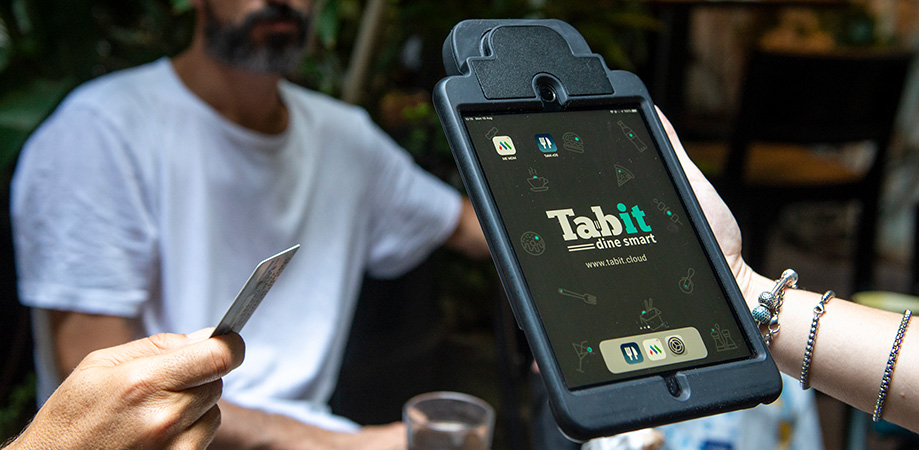 Industry: Hospitality | Client: TabIt
---
The Customer
Tabit is a tablet-based point of sale and table-side ordering system for the hospitality industry. It prides itself on operating as a mobile-first solution to streamline restaurant operations, resulting in making every aspect of the customer experience more efficient and connected.

The Challenge
As a tablet-based operation, Tabit needed a mobile point of sale (mPOS) hardware security solution that was lightweight, durable and functional.
Tabit's previous mPOS hardware enclosure solution was poorly constructed, resulting in a difficult to hold tablet that would damage easily. Comprising of a basic case and credit card swiper dongle, when staff needed to collect payment using the tablet, the credit card swiper dongle would detach, at the same time losing the wireless connection needed to process payment. This would cause the entire tablet to malfunction and slow down the process of collecting payment.
Tabit would find itself continuously paying to fix broken tablets and card swipers, contributing to a significant, unnecessary and ongoing loss. Not only did this inconvenience affect the restaurant's workflow, causing it to look unprofessional in the process, not to mention the customer experience.
Tabit wanted a hardware enclosure solution that was lightweight, secure, and that would protect the credit card swiper element sufficiently, while at the same time improving the customer experience.
The Solution
Compulocks provided Tabit with a full ecosystem solution: it designed a lightweight but durable mPOS security enclosure (complete with shock-absorbing protection in case of accidents), allowing staff to both easily and securely carry their tablets. It also developed a fixed POS stand for hostesses, made of the same shock-absorbing material for the card reader.
Compulocks specifically focused on protecting and integrating the credit card swiper dongle into the portable tablet's case itself, in order to prevent any dongle detachment or loss of wireless connection. Compulocks also included the functionality for the tablet to be docked on a stand, allowing tablets to be easily and quickly detached, improving the customer experience and environment.
Compulocks designs and manufactures custom hardware enclosure security solutions.