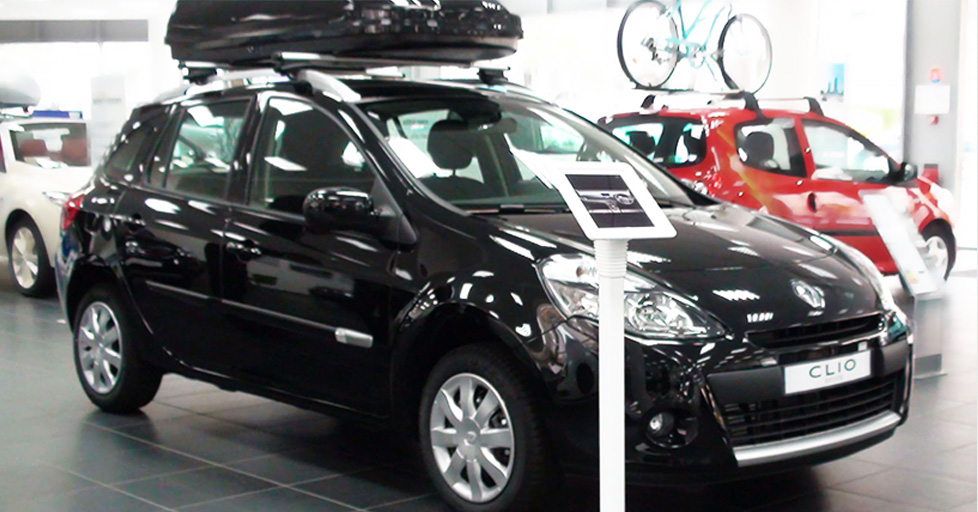 Featured products: Adjustable Rokku iPad floor Stand | Industry: Automotive | Client: Renault S.A
---
The Customer
Renault S.A. is a French multinational vehicle manufacturer established in 1899. The company produces a range of cars and vans, and in the past, trucks, tractors, tanks, buses/coaches and autorail vehicles. As part of the Renault–Nissan Alliance, the company is the fourth-largest automotive group in the world.
The Challenge
The worldwide car manufacturer wanted to establish its digital media 'revolution' using iPad in-store interactive catalog information stands within the group's showrooms across France. They specifically wanted an adjustable kiosk so the exhibit display can be at different heights and entice guests as they walk by the exhibit displays. Also, it was important for them to have an enclosure which had the capability of keeping the home button hidden to keep demonstrations going without interruptions.
The Solution
The Adjustable iPad floor Stand with a Metal Executive iPad Enclosure. The stand is made from high grade aluminum with a cast iron base for maximum stability with attractive styling, and is available in three color options. It can be set up at various heights, and it has a compartment below the enclosure that allows for the storage of the iPad charging cube. A lockable security cable can be used to secure the stand to a fixed object while still allowing mobility.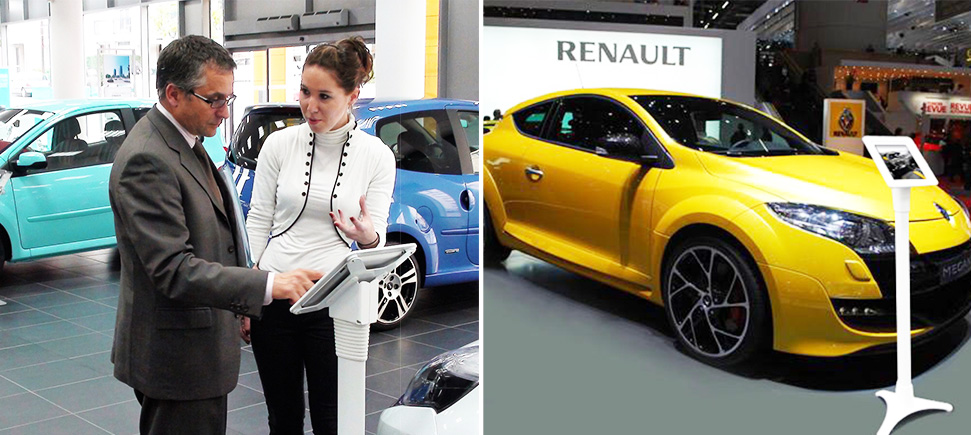 Customer Feedback
"We have chosen Maclocks to establish our digital media 'revolution' in every one of our France showrooms. This resulted in Maclocks providing 4000 units of two of their best-selling solutions. Their stands are engineered to deliver an "Apple" themed elegant design, oer the best protection & are very easy to use."
Items used and similar solutions