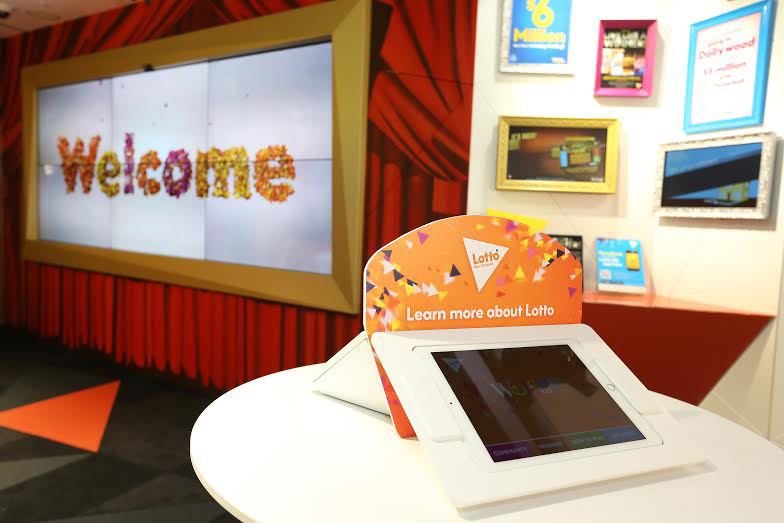 Featured products: Capsule | Industry: Retail | Client: Lotto NZ Flagship Store
---
The Customer
Lotto NZ Flagship Store has declared success for its first own-branded "concept" store which recently opened in Auckland. Lotto NZ had received a lot of positive feedback, and it creates a more engaging experience for regular players, giving them opportunities they can't get with existing outlets. The new store will also be a place to test new ideas and get feedback from customers. The store's unique design is successfully engaging and surprising customers with a range of interactive content and activities, while better connecting them with Lotto NZ's games, winners and community benefits.
The Challenge
Since this is a flagship store, the decor standard needed to be set with a secured display that is sleek and stylish. The store is a small area, so it was important to choose an iPad enclosure that would not take up too much space and could be table, counter or wall mounted. Their goal was for a clean display design with a simple and secure mounting system, and a Kiosk that offers flexibility in installation, while still giving employees easy access to the iPad for maintenance.
The Solution
The Capsule design includes a recessed frame & sloped kiosk for a full tamper proof enclosure. Access to the On/Off & volume buttons are blocked while still allowing for charging and limited audio port access. The fully enclosed kiosk creates a secure storage area for peripheral devices & cabling, like our battery pack, and can be mounted to a wall or counter-top.
Customer Feedback
"The kiosks displayed the iPads beautifully. The convertible design meant that we could install them in a way that worked for us, either on a wall or on a table. Not only did they look good and fit in with the aesthetic we were after, we were also happy that our iPads were safe and secure."
Items used and similar solutions